Ce lundi est férié, on profite donc de ce long week-end pour partir à New York. Départ le vendredi soir en bus et pour la première fois on utilise la compagnie Megabus : des bus colorés à deux étages, avec wifi et prise de courant. A cause des embouteillages d'un vendredi soir sur Boston, d'un accident et de travaux on arrive avec deux heures de retard à New York. La ville correspond bien à la description '' qui ne dort jamais'', puisqu'on a même le droit à un embouteillage à l'arrivée alors qu'il est près de minuit… On marche 10 minutes jusqu'à notre hôtel super bien situé près de Penn Station.
Le lendemain on se lève de bonne heure pour arriver avant la foule au Top of the Rock (plateforme d'observation en haut d'un building du Rockfeller Center). Sous un soleil magnifique, et avec tout de même un peu de monde, on profite de la vue magnifique sur Central Park d'un côté, et l'Empire State building de l'autre.
This Monday is a public holiday, we take advantage of this long week end to go to New York City. We leave Friday evening by bus and for the first time we use the Megabus company : colorful double-deck buses, with wifi and power outlets. Due to usual Friday evening traffic in Boston, an accident and road works, we arrive in NYC 2 hours late. The surname of NYC : "the city that never sleeps" is true because we even have a traffic-jam in the city although it is nearly midnight ... We walk 10 minutes to our hotel which is very well located close to Penn Station. The next day we wake up early to arrive before the crowd at the Top of the Rock (an observation platform at the top of one of the Rockfeller Center's building). Under a radiant sun, and even with some tourists, we enjoy the magnificent view on Central Park on one side, and the Empire State building the other side.

On redescend ensuite sur la terre ferme, et on fait un tour dans le quartier de Midtown, le quartier situé juste au sud de Central Park, où on trouve certains des buildings les plus iconiques de Manhattan : Empire State Building, Chrysler Building, mais aussi la gare Grand Central Station. On entre dans un superbe palace : le Waldorf Astoria, avec un très joli hall Art Déco et des toilettes plus grand que notre appartement… On finit la balade par une petite pause dans le très joli Bryant Park, entouré de gratte-ciels.
Then we come back on the ground and we have a walk in Midtown area, the district located just South of Central Park, where we find some of the most iconic buildings of Manhattan : Empire State Building, Chrysler Building, but also Grand Central Station. We enter in a superb palace : the Waldorf Astoria, with a very nice Art Deco style hall and restrooms bigger than in our apartment ... We end the walk with a little break in the very nice Bryant Park, surrounded by skyscrapers.
L'après-midi on se dirige vers Central Park. On commence par le American Museum of Natural History, un très joli musée à l'américaine. Puis petite balade dans Central Park autour du Lac (où des tortues profitent du soleil), jusqu'à Bethesda Fountain (ce n'est pas encore la saison des mariages, donc on ne voit pas de mariés en train de se faire prendre en photo, mais tout de même quelques couples prennent la pause avec des professionnels…) et pour finir la statue d'Alice au Pays des merveilles (comme d'habitude prise d'assaut par des enfants).
The afternoon we take the direction of Central Park. We start with the American Museum of Natural History, a great museum like Americans can make. Then, we have a walk in Central Park around the Lake (where turtles enjoy the sunny day) to Bethesda Fountain (this is not the marriage season yet therefore we don't see any bride being photographed, even so we still can see some couples being photographed by professionals ...) and to finish the statue of Alice in Wonderland (as usual with many children on it).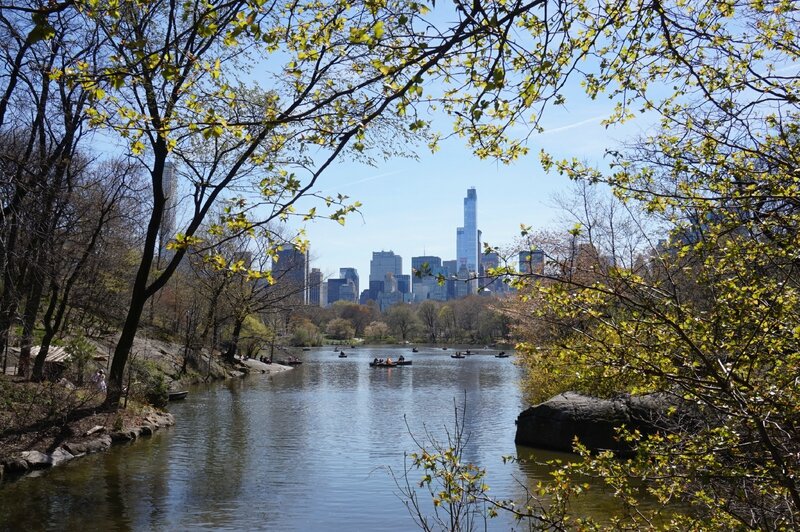 On va ensuite au Metropolitan Museum. Ce musée est immense, on décide de n'en faire qu'une petite partie, et on se dirige vers l'immense collection de peintures européennes. On voulait aussi faire un tour sur le Rooftop Café pour voir la superbe vue sur Midtown, mais la terrasse n'est pas encore ouverte pour la saison. C'est vrai que le temps est tellement exceptionnel qu'on en oublie que c'est seulement mi-avril… (La terrasse a ouvert depuis, Léo et AnneCha vous pouvez voir que cette année l'œuvre exposée est beaucoup mieux que l'année dernière ! )
Pour finir la journée on se dirige vers Little Italy pour déguster une délicieuse pizza dans la première pizzeria ouverte aux Etats-Unis : Lombardi's Pizza.
Then we go to the Metropolitan Museum. This Museum is huge, we decide to visit just a few rooms and we head for the immense collection of European paintings. We also would have liked to go to the Rooftop Café to watch the superb view of Midtown, but the rooftop was not open for the season yet. With such an exceptional weather, we forget this is only mid April ... (The rooftop has opened since, Léo and Annecha you can see that this year the work of art that is exposed is a lot better than last year !) To end the day, we head towards Little Italy to enjoy a delicious pizza in the first pizzeria opened in the us : Lombardi's Pizza.
La suite ici.