18 juin 2016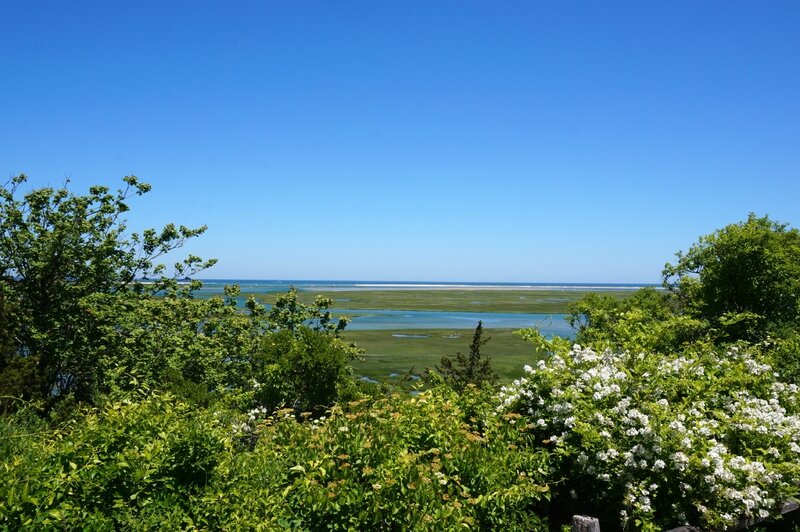 Ce week-end Tristan et Pauline sont venus nous rendre visite. Il fait beau et chaud, direction la plage au Cape Cod. On commence par s'arrêter pour manger un déjeuner léger : un lobster roll (sandwich au homard). On se promène ensuite le long de la mer, en passant devant la maison du baleinier Penniman et son arche en os de baleine. On rejoint ensuite notre motel à North Truro, presque au bout du cap, et on profite de la plage privée. On part ensuite visiter Provincetown, la ville tout au bout du cap. Pour dîner, on mange le traditionnel homard à la vapeur, c'est toujours aussi bon !
This weekend, Tristan and Pauline came to visit us. The weather is nice and warm, we head towards the beach at Cape Cod. We begin by stopping to eat a light lunch : a lobster roll (a sandwich with lobster). Then we walk along the sea, passing in front of the house of the whaler Penniman, with his whalebone ark. Then we go to our motel in North Truro, almost at the end of the cape, and we enjoy the private beach. Then we go to visit Provincetown, the town at the end of the cape. For dinner, we eat the traditional steamed lobster, which is as good as last time!
Le dimanche on commence la journée par monter en haut du Pilgrim Monument. Cette tour en granit a été érigée en 1907 pour commémorer l'arrivée des premiers colons aux Etats Unis, les 'Pères pèlerins' à bord du Mayflower en 1620. En effet, même si Plymouth est considérée comme la première ville fondée aux Etats-Unis, le bateau des pèlerins a d'abord accosté à Provincetown. Mais la terre a été jugée trop sableuse, donc les colons ont explorés tout le cap avant de décider de se fixer à Plymouth. On monte les 116 marches jusqu'au sommet, d'où on a une jolie vue sur le cap. Au loin, on peut même apercevoir Boston (avec beaucoup d'imagination…) Au pied de la tour on trouve un musée qui raconte l'histoire des pèlerins, et celle de la ville.
On Sunday, we begin the day by climbing up the Pilgrim Monument. This granite tower was erected in 1907 to commemorate the arrival of the first settlers in the USA, the 'Pilgrim Fathers' on the Mayflower in 1620. Even if Plymouth is considered as the first city founded in the USA, the pilgrims' boat first landed in Provincetown. But the land was considered too sandy, so the settlers explored the entire cap before deciding to settle in Plymouth. We climb the 116 steps to the top, from where we have a nice view on the Cape. In the distance we can even see Boston (with a lot of imagination ...) At the bottom of the tower there is a museum that tells the story of the pilgrims, and the one of the city.
Du haut de la tour, on a vu de jolies dunes qu'on a envie d'aller voir de près. On se gare donc au niveau de Pilgrim Heights Road, et on commence notre promenade au milieu d'étang. On rejoint ensuite une piste cyclable qui longe les dunes. Puis finalement on trouve une route de sable qui va vers la côte. On marche 2 minutes, quand on entend une voiture derrière nous. Une jeep s'arrête à côté de nous, et nous propose de nous emmener à la plage. On monte, et c'est parti pour un tour de jeep dans les dunes. On arrive sur la plage, et on voit des 4x4 garés à perte de vue le long de la mer ! Les américains ont sortis leur barbecue et leurs drapeaux… On se pose sur le sable, et on aperçoit quelque chose bouger dans l'eau. Des phoques s'amusent à moins de 25m du rivage ! On les regarde de loin, on ne les rejoint pas car à l'entrée de la plage des panneaux préviennent : les phoques c'est de la nourriture pour les requins qui rodent… De toute façon l'eau était trop froide !
From the top of the tower, we saw beautiful dunes we want to see closer. We park our car at the level of Pilgrim Heights Road, and we start our walk between ponds. Then we join a bike path along the dunes. Finally there is a sandy road leading to the coast. We walk 2 minutes, when we hear a car behind us. A jeep stops besides us, and offers us to take us to the beach. We go into, and let's go for a jeep ride in the dunes. We arrive at the beach, and we see 4x4 parked out of sight along the sea ! Americans have their grills and flags ... We lay down on the sand, and we see something moving in the water. Seals are having fun within 25m of the shore ! We watch them from the shore, we can't join them in the water because at the beach entrance there are warning signs : seals are food for the sharks that are hunting ... Anyway the water was too cold !

Après cette journée pleine de surprises, on reprend la route pour la maison.
After this day full of surprises, we hit the road for home.
11 juin 2016
Il reste encore quelques musées qu'on n'a jamais visités à Boston, cette après-midi direction le Isabella Stewart Gardner Museum. Ce musée a été ouvert par Isabella Stewart Gardner en 1903. Cette riche collectionneuse voulait exposer ses nombreuses œuvres d'art, et ouvrir sa maison au public.
There are still some Museums we have never visited in Boston, therefore this afternoon we go to the Isabella Stewart Gardner Museum. This museum has been open by Isabella Stewart Gardner in 1903. This wealthy collector wanted to exhibit her many art works, and opened her house for the public.
La maison est construite sur le modèle d'un palais vénitien. D'extérieur ce n'est pas génial, mais l'intérieur est très sympa. Toutes les salles sont situées autour d'un très joli patio. Les salles ne sont pas organisées comme les musées dont on a l'habitude, mais comme des pièces à vivre, avec un amoncellement de tableaux aux murs. Ca ne met pas forcément les œuvres en valeur, mais c'est original. On trouve de nombreux tableaux, mais aussi des ''bouts d'églises'' importés d'Europe : chaires, rosace, vitraux…
The house has been built based on a venetian palace. From outside this is not great, but the inside is very nice. All rooms are located around a very nice patio. Rooms are not organized like we are used to see them in a traditional museum, but as living rooms, with a ton of paintings on the walls. It does not necessarily put the work in value, but it is original. There are many paintings, but also some "church's furniture" imported from Europe, chairs, rose windows, stained-glass windows ...
Le musée est aussi tristement célèbre pour avoir été le théâtre du plus grand vol d'art dans une propriété privée : en 1990 des hommes déguisés en policiers ont volé des tableaux estimés à 500 millions de dollars…
The museum is also notorious for being the scene of the largest art theft of private property: in 1990 men disguised as policemen stole paintings valued at $ 500 million ...