25 septembre 2016
Rappel : après deux jours dans Yosemite National Parks, on quitte le parc le matin du 6 Septembre
Previously : after 2 days in Yosemite National Park, we leave the park September the 6th in the morning.
On arrive à Mono Lake vers 7h30, le soleil est encore bas. Mono Lake est un lac juste à la sortie est de Yosemite. Son eau est pleine de minéraux, ce qui a entraîné la formation de Tufa, ces pics rocheux qui poussent comme des stalagmites dans l'eau. A cause de la sécheresse en Californie, de nombreuses rivières qui alimentaient le lac ont été détournées pour donner de l'eau aux grandes villes, du coup le niveau du lac baisse, et les Tufas deviennent visibles. Un chemin de terre de 2km nous permet de rejoindre la plage de South Tufa en voiture. Sur le parking se trouvent des tables de pique-nique, on en profite pour petit déjeuner avec une superbe vue sur le lac.
We arrive at Mono Lake around 7:30am, the sun is still low in the sky. Mono Lake is a lake just at the East exit of Yosemite. Its water is full of minerals, which lead to the formation of Tufa, rocks pinnacles which grow like stalagmites in water. Because of the drought in California, many rivers that supplied the lake have been diverted in order to provide water towards big cities, thus the lake level decreased and Tufa got visible. A 2km-dirt path allows us to join the South Tufa's beach by car. On the parking there are picnic tables, we take advantage of this superb view to have breakfast.

On suit ensuite une promenade sur un ponton de bois jusqu'au lac, tout est très bien aménagé. On est seul au monde avec les lapins et les lièvres qui s'enfuient si on les approche de trop près. On admire les formations rocheuses, avec la Sierra Nevada au loin.
Then we follow a wooden path toward the lake, everything is very well fitted. We are all alone in the world besides rabbits and hares who run away if we approach too closely. We admire those rocks formations, with the Sierra Nevada in the distance.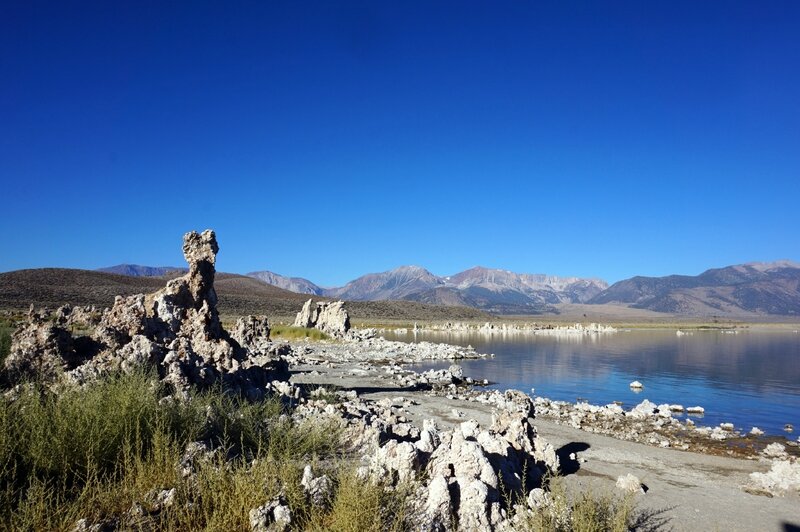 Après une bonne promenade on se décide à partir. Le programme du reste de la journée est moins excitant : on doit rejoindre les parcs nationaux de l'Utah, c'est parti pour 700 km ! On traverse le Nevada, où il n'y a rien à perte de vue… On enchaîne des lignes droites qui s'éternisent (jusqu'à une heure sans tourner le volant !), personne en vue, que le désert sans un brin d'ombre… A une rare intersection un panneau nous met en garde : pas de station-service avant 250 km ! On croise quand même des chevaux sauvages qui manquent de se jeter sous nos roues, des vaches élevées en « open range » c'est-à-dire sans barrière (les cow-boys doivent s'amuser à les retrouver au milieu de tout ce rien) et des biches. Vers le sud on aperçoit des hautes barrières, c'est la limite de la zone de test nucléaire du Nevada, une grande région de 3500 km2 où les premières bombes atomiques américaines ont été testées…
After this nice walk we decide to leave. The rest of the day program is less exciting : we must join the Utah National Parks, here we go for 700 km (434 miles) ! We cross Nevada, where the is nothing as far as you eyes can see ... There are non-stop straight roads (up to 1 hour without turning the wheel !), we see nobody, only arid lands without shaded area ... At a rare crossroads a sign warn us : next gas station : 250 km (163 miles) ! We still run into wild horses that fail to throw themselves under our wheels, cows raised in "open range" that means without barriers (cowboys must enjoy finding them in the middle of nothing) and deer. Towards the South we see high barriers, that is the limit of the nuclear testing area of Nevada, a large area of 3500 km2 where the first American atomic bombs were tested ...
On n'a malheureusement pas pris de photos, mais ce n'était pas palpitant… Pour s'occuper on écoute un audiolivre (la couleur des sentiments de Kathryn Stockett), le temps passe plus vite !
Unfortunately we didn't take pictures, but it was not exciting ... To pass time we listen to an audiobook (The Help by Kathryn Stockett), time goes faster!
Après 7h de route, on arrive vers 17h à Hurricane, Utah. On est fatigué, on veut un peu de confort (et surtout une douche !) du coup on se dirige vers un camping privé KOA (une chaîne commune aux Etats-Unis), et on peut même profiter de la piscine ! On prend le temps d'aller voir le coucher du soleil sur un petit lac voisin bordé de pierres rouges.
After a 7-hour drive, we arrive around 5.00 pm in Hurricane, Utah. We are tired, we want a little comfort (and especially a shower !), thus we head to a private campground KOA (a common chain in the US), and we can even enjoy the pool ! We take the time to see the sunset on a small nearby lake surrounded by red stones.
Le lendemain, direction Zion !
24 septembre 2016
Rappel : Nous sommes mardi 6 Septembre, c'est notre deuxième journée dans le parc de Yosemite.
Previously : we are Tuesday September the 6th, this is our second day in Yosemite National Park.
Aujourd'hui commence la journée par une randonnée. On a choisi de monter voir les chutes Vernal Falls, histoire de pouvoir voir une chute d'eau qui n'est pas à sec. On commence tranquillement sur un chemin goudronné, jusqu'à un petit pont. Puis les choses sérieuses commencent : 800m de marche presque verticale sur des escaliers de roche. C'est pas facile, mais la vue vaut le coup ! Cette randonnée est aussi la première partie de la randonnée qui monte jusqu'en haut du Half Dome : 5h de montée verticale avant de redescendre ! Il nous faut encore de l'entraînement pour pouvoir y arriver !
Today we begin the day with a hike. We chose to see the Vernal Falls, because we'd like to see falls that are not dry. The hike starts easily on an asphalt path to a small bridge. Then the hard work begins : an almost vertical 800m trail (2625 feet) on rocks stairs. That's not easy, but the view is worth it ! This hike is also the first step of the big hike which ends at the top of the Half-Dome : a 5 hours vertical trail to reach the top before you have to come back ! We need more training to be able to do that !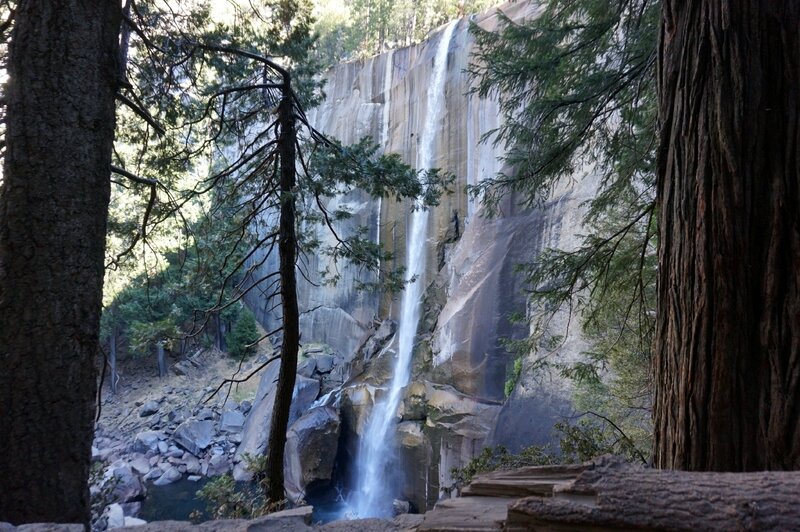 On reprend ensuite notre van, il est temps de quitter la vallée. Premier arrêt : Tunnel View, un joli point de vue sur la vallée. On a une superbe vue sur le Half Dome et El Capitan. On s'arrête ensuite rapidement au BridalVeil Falls (chutes du voile de la mariée) qui sont presque à sec…
We get back to our van, it is time to leave the valley. First stop : Tunnel View, a nice viewpoint on the valley. We have a superb view of the Half-Dome and El Capitan. Then we quickly stop at BridalVeil Falls, which are almost dry.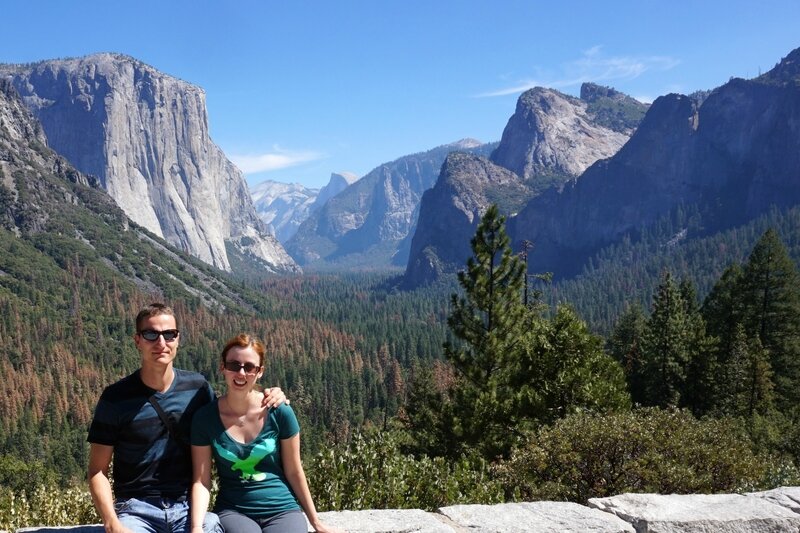 Puis direction Tuolumne Grove pour voir des Sequoias Géants. Une petite randonnée de 1h30 nous permet de voir ces arbres immenses. On voit aussi beaucoup de ces géants au sol, et même un tronc dans lequel a été creusé un tunnel pour amuser les touristes dans les années 1880.
Then we drive to Tuolumne Grove to see Sequoias. A small 1h30-hike allows us to see those huge trees. We also see many of those trees laying on the ground, and even a trunk in which a tunnel was dug in 1880 to entertain tourists.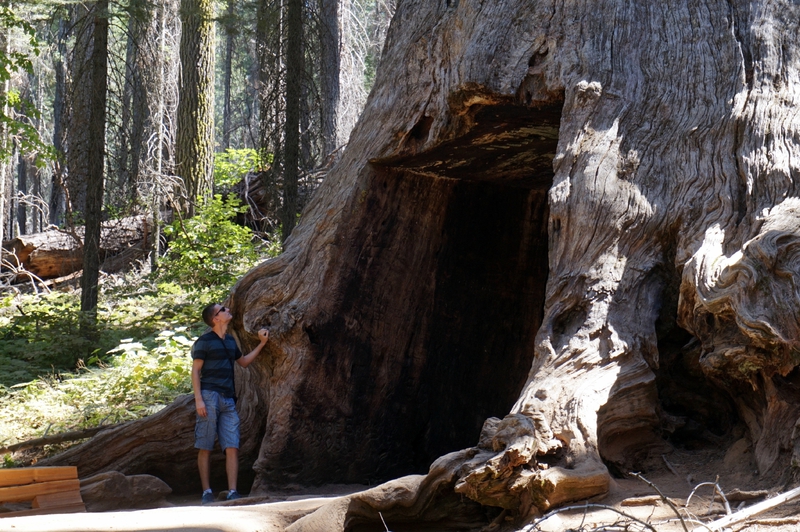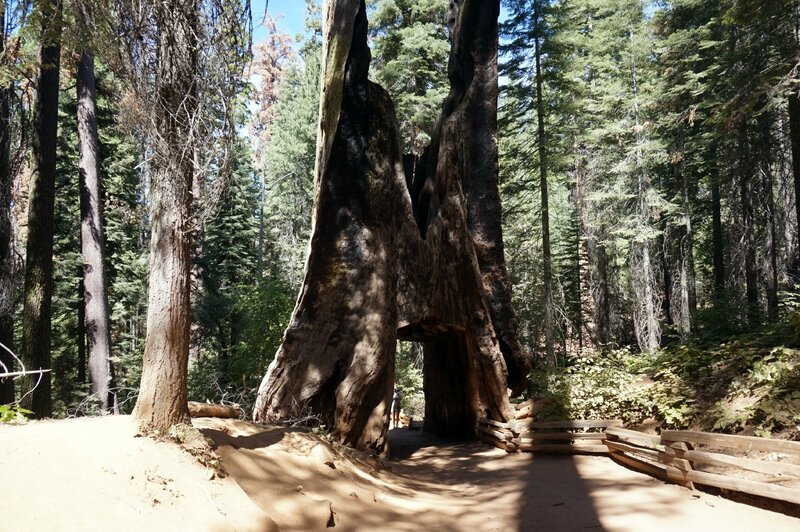 On s'arrête ensuite à Olmsted Point, un joli point de vue qui nous permet de voir le Half Dome de l'autre côté par rapport à la vallée.
Then we stop at Olmsted Point, a beautiful point of view that allows us to see the Half-Dome on the other side of the valley.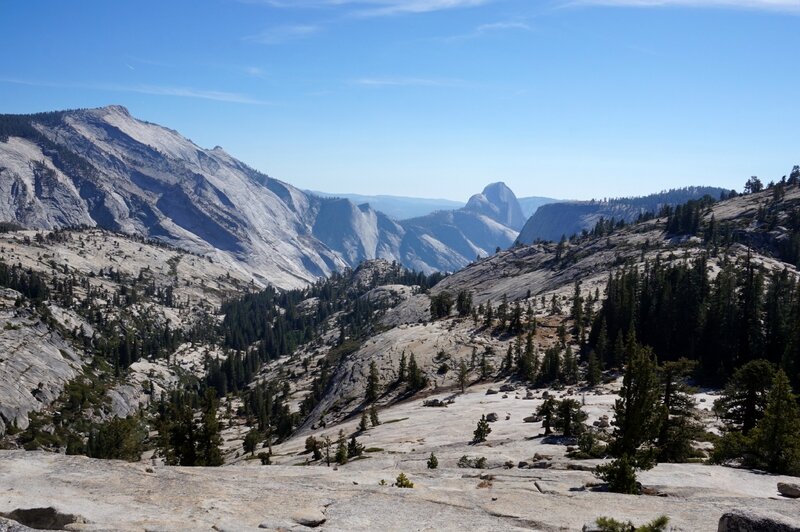 On arrive finalement à notre camping pour la nuit, à Tuolumne Meadows. On est sur le plateau, à 2600 m d'altitude. On fait une petite promenade dans la prairie, avec encore de superbes blocs de granits. On s'arrête ensuite au petit magasin du camping pour acheter du bois, un feu ne sera pas de trop pour nous réchauffer ! On est sur la route du Pacific Crest Trail, un sentier de randonnée de 4200km de la Californie à Washington (l'état au Nord Est), du coup le magasin est à moitié rempli de colis pour les randonneurs, qui se font livrer des provisions le long de leur parcours. Je vous conseille d'ailleurs le film Wild qui retrace cette randonnée avec de très jolis paysages !
Finally we arrive at our campground for the night, at Tuolumne Meadows. We are on the plateau, at 2600 m (8530 feet). We walk on the meadow, with again superb granite blocks. Then we stop to the campground's shop to buy some wood, a fire would be great to warm us up ! We are on the way of the Pacific Crest Trail, a 4200 km-trail (2600 Miles) from California to Washington State, thus the shop is half filled with postal packets for hikers, who have food or stuff delivered along their trail. By the way, I advise you the movie "Wild" which concern this hike with very beautiful landscapes.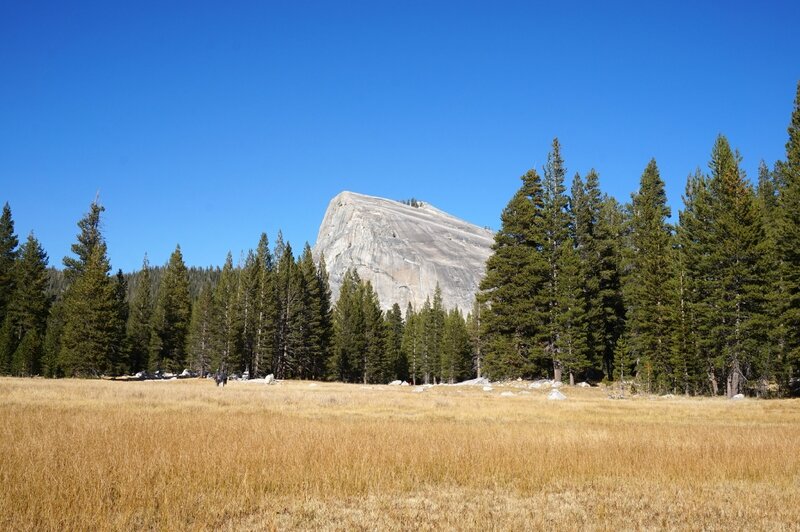 Malgré notre feu il fait pas chaud, on se réfugie rapidement dans le van. Le lendemain matin au réveil il fait plutôt froid, même si on n'a pas de thermomètre pour vérifier, je pense qu'il doit faire moins de 5°... On décide de ne pas s'éterniser et on quitte Yosemite, direction la suite !
Despite our fire, it is cold, we quickly move into the van. Next day in the morning when we wake up it is pretty cold, even if we don't have a thermometer to check, I think it must be less than 5°C (41°F) ... We decide not to stay here long and we leave Yosemite for the next step of our road trip !
Prochaine étape : Mono Lake !
Rappel : Nous sommes lundi 5 septembre, nous sommes sortis de la vallée de la mort pour dormir dans un camping à Lone Pine.
Previously : we are Monday September the 5th, we got out of Death Valley to sleep in a campground in Lone Pine.
Après avoir admiré le lever de soleil sur le lac, on part direction Yosemite. Après deux heures de route dans un décor désertique, on attaque la montagne de la Sierre Nevada. On passe le Tioga Pass, un col à 3000 m, la neige n'est pas loin ! Après un rapide passage au Visitor Center pour récupérer des cartes, on continue notre route pendant 1h30 jusqu'au cœur de la vallée. On arrive au camping, que j'avais réservé au mois d'avril ! En effet les campings dans la vallée de Yosemite ne sont pas très grands, et sont très demandés ! Du coup il y a un système de réservation en ligne. A une date et une heure données, toutes les places de l'été sont mises en vente, il faut être prêt à cliquer au bon moment pour réserver ! A l'entrée du camping on nous met en garde : nous sommes au pays des ours ! Il faut ranger toute notre nourriture dans des boîtes en métal verrouillées pour ne pas attirer les ours ! On prend le temps de s'installer dans notre emplacement ombragé, puis on décide de passer l'après-midi à visiter en utilisant les navettes gratuites.
After admiring the sunrise on the lake, we head towards Yosemite National Park. After 2 hours driving in an arid landscape, we arrive at the beginning of the Sierra Nevada mountains. We cross the Tioga Pass, a 9800 feet / 3000 m pass, snow is not far ! After a quick stop to the Visitor Center to get maps, we continue driving for one and half hour to the heart of Yosemite Valley. We arrive to the campground, which I reserved in April ! In fact, campgrounds in Yosemite Valley are not very big and very popular. Thus there is an in line reservation system. At one date and one accurate hour, all places for all summer are put up for sale, you have to be ready to click at the right moment to reserve ! At the entrance of the campground, rangers warn us : we are in bears territory ! We must put all our food in locked metal boxes not to attract bears ! We take time to install our camp in our shaded area, then we decide to spend the afternoon visiting the valley using free shuttles.
Premier arrêt au pied de El Capitan, une falaise de granit à pic, un paradis pour les grimpeurs. Sur place, deux grimpeurs avec des longues vues nous explique que la montée peut s'effectuer en un ou plusieurs jours. On peut voir deux groupes en regardant par la longue vue. Ils sont tellement hauts qu'on ne les voit pas du tout à l'œil nu !
First stop at the foot of El Capitan, a granite cliff, a paradise for climbers. On the spot, two climbers with telescopes explain to us that climbing the cliff could take from one to several days. Looking with the telescope, we can see two groups. There are so high that we can't see them with the naked eye.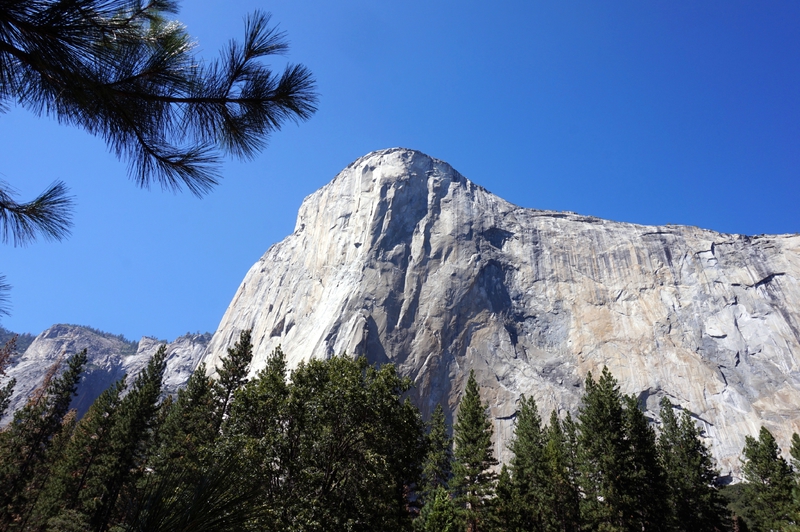 On fait ensuite une petite promenade au milieu des pins, au pied de nombreux blocs de granit : Cathedral Rocks, Sentinel Dome, et bien sûr le Half Dome, cette montagne en demi dôme symbole du parc. Les photos ne rendent pas du tout compte de leur grandeur impressionnante !
Then we have a short walk in the middle of pines, at the foot of several granite blocks : Cathedral Rocks, Sentinel Dome, and of course the Half Dome, that mountain with the shape of a half dome is the symbol of the park. Our photos do not show how tall they are !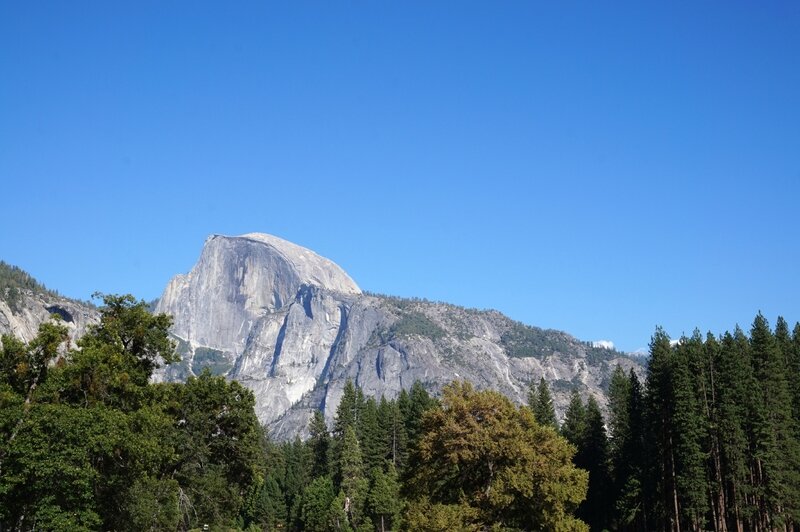 On va ensuite au pied des chutes de Yosemite, qui sont malheureusement à sec en cette saison. On voit les marques sur les rochers qui nous indiquent où les chutes se trouvent au printemps. On finit ensuite la journée en marchant jusqu'au camping, on voit des biches pas du tout effrayées par les voitures ou les dizaines de touristes…
Then we walk at the foot of the Yosemite Falls, which are unfortunately dried out in this period. We see marks on rocks which show us where the falls are during Spring. Afterwards we end the day walking to the campground, we see does that are not at all frightened by cars or tens of tourists ...

18 septembre 2016
Rappel des épisodes précédents : nous sommes toujours le dimanche 4 septembre, nous avons passé la matinée à visiter Las Vegas et récupérer le van.
Previously : we are still Sunday the 4th, we spent the morning visiting Las Vegas and picking up the van.
Après un rapide arrêt dans un supermarché, on prend la route de la Death Valley (2h30 de route). Ce parc national est l'endroit le plus chaud des Etats-Unis, et se situe en grande partie en dessous du niveau de la mer. Ce jour-là il fait plutôt frais pour la saison : 35° à l'ombre… sauf qu'il n'y a pas d'ombre… Pour ménager le moteur (comme conseillé par rangers du parc), on ne met pas la clim… on a chaud !
After a quick stop in a supermarket, we hit the road towards Death Valley (2h30-drive). This National Park is the warmest place in the United States, and is located for the most part below the sea level. Today is quite cool for the season : 95°F/35°C in the shade ... except there is no shade ... To spare the engine (as advised by rangers in the park), we don't put the AC on ... we are warm !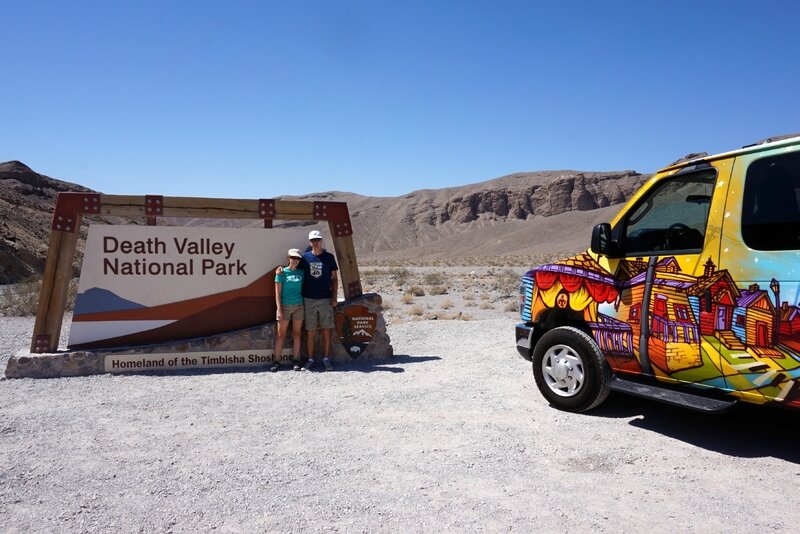 Premier arrêt : Zabriskie Point, un joli point de vue sur des montagnes plissées de différentes couleurs. C'est très joli, et très désertique ! Ensuite arrêt au Visitor Center pour payer l'entrée au parc (on prend le pass pour tous les parcs nationaux à l'année, qui sera bien rentabilisé durant ce voyage) et regarder un petit film sur l'histoire de la Death Valley, et des Native Americans qui y vivent. Un thermomètre au soleil indique 106°F – soit 41°C.
First stop : Zabriskie Point, a nice viewpoint on pleated and colorful mountains. This is very beautiful, and very arid ! Then we stop at the Visitor Center to pay the entry of the park (we buy the pass for all National park for one year, which will be well used) and watch a quick movie about Death Valley's history, and Native Americans who live here. A thermometer in the sun shows 106°F / 41°C.
On roule ensuite jusqu'à Badwater, le point le plus bas des Etats-Unis (-86m). Le sol est tout blanc car recouvert de plaques de sel. Un aquifère relâche de l'eau en surface et crée des mares, trop salées pour être bues (d'où le Badwater…). On reste que quelques minutes, il fait encore plus chaud qu'au Visitor Center !
Then we drive to Badwater, the lowest point of the USA (-86m / -282 feet). The ground is all white due to salt patches. An aquifer releases water to the surface and made ponds, too salty to be drinkable (that's why the name is badwater...). We stay a few minutes, it is warmer here than at the Visitor Center !
On prend ensuite Artist's Drive, une petite route au milieu des collines. Différents minéraux ont créés différentes couleurs : du rouge, du vert, du jaune… C'est très joli, et on aime beaucoup le contraste entre les collines et la vallée blanche en contrebas. Malheureusement le soleil tapait fort, du coup les photos ne rendent pas vraiment compte de ces couleurs…
Then we take Artist's Drive, a small road in the hills. Different minerals made different colors : red, green, yellow ... That is very beautiful, and we like a lot the contrast between hills and the lower white valley. Sadly the sun was shining a lot, thus our pictures do not give reality of the colors ...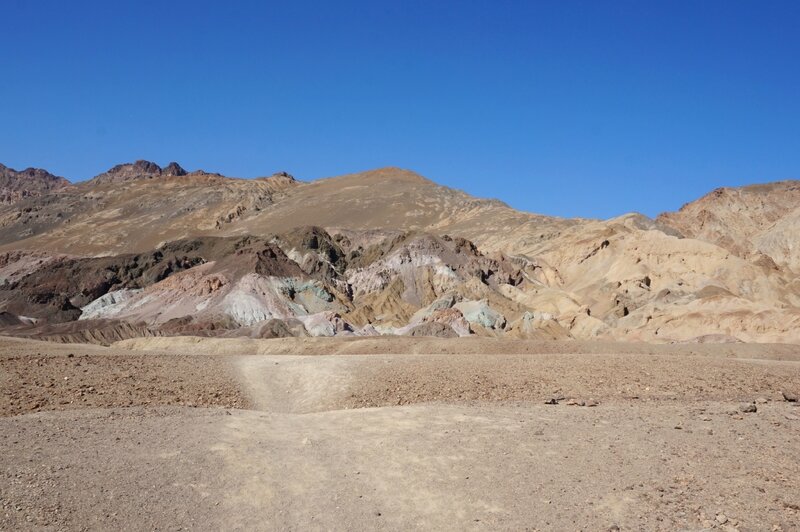 Pour finir, on se dirige vers les Mesquite Dunes. Des dunes de sable fin, ça change du désert de poussière et de petits arbustes qu'on voit ailleurs ! On aime beaucoup cet endroit, on reste un moment à se promener dans le sable.
To finish, we head to Mesquite Dunes. Some fine sand dunes, it's a change from the desert of dust and small bushes we see everywhere else ! We like this place very much, we stay a moment just walking in the sand.
On se décide à quitter la Death Valley, on n'a pas trop envie de dormir dans un camping qui ressemble plutôt à une plaque chauffante… On roule donc jusqu'à Lone Pine, à l'Ouest du parc. On arrive à la tombée de la nuit dans le camping Lake Diaz, un joli camping au bord d'un petit étang.
We decide to leave Death Valley, we don't really want to sleep in a campground which looks like a stove ... So we drive to Lone Pine, in the West of the park. We arrive at dusk in the Lake Diaz Campground, a nice campground at the edge of a small pond.
La suite : Yosemite !
Nous sommes arrivés à Las Vegas le samedi 3 Septembre à 22h. On a testé pour la première fois la compagnie aérienne Spirit, une low cost semblable à Easy Jet en Europe. Dans le billet de base, rien n'est compris à part le trajet (il faut même payer si on ne peut pas imprimer sa carte d'embarquement chez soi) mais au moins c'était vraiment pas cher ! Après une courte nuit à l'hotel Fortune (qui avait comme seuls avantages son prix faible et sa navette pour l'aéroport gratuite), nous sommes allés explorer un peu Las Vegas en attendant que notre van soit disponible.
We arrived in Las Vegas Saturday September the 3rd at 10pm. We tested for the first time Spirit Airline, a low cost company similar to Easy Jet in Europe. The price of your ticket includes only the flight and nothing else (you even need to pay your boarding pass if you can't print it yourself) but at least it was very cheap ! After a short night in the Fortune Hotel (which has the only advantages that it is cheap and has a free shuttle from the airport), we explored a bit Las Vegas waiting for our van to be available.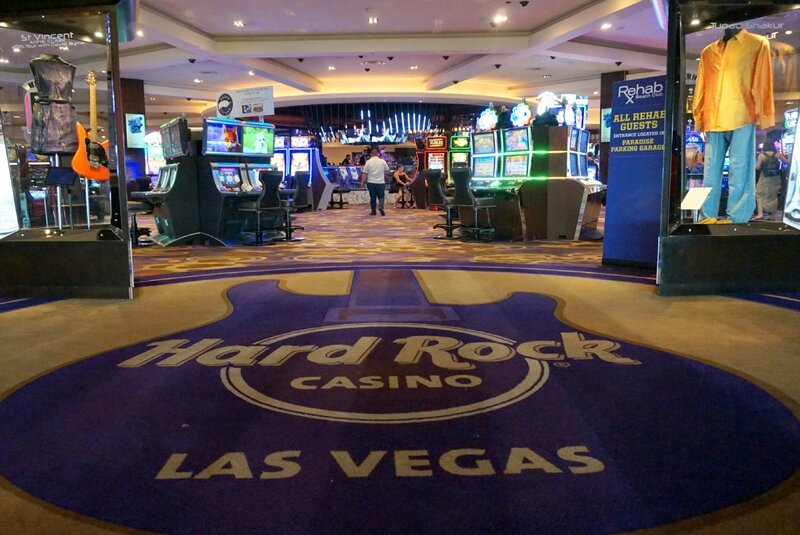 Nous avons fait un tour dans le Hard Rock Casino Hotel, qui est un peu à l'écart du Strip, la rue où sont concentrés la plupart des hôtels-casino. Ça nous a donné un aperçu de la folie vegasienne : des centaines de machine à sous et de table de jeux, avec des gens qui jouent tout seul à 8h du matin, un verre à la main… La décoration du casino est faite d'objets ayant appartenu à des stars du rock (enfin de toute sorte de star musicales en fait) : guitares, costume, de David Bowie à Beyoncé, en passant par les Beatles et Mariah Carey… C'était plutôt sympa… On a aussi fait un tour à la piscine, immense, avec une (petite) plage de sable… On lit dans le guide que la piscine se transforme en boîte de nuit select les soirs de week-end : tenue de plage classe exigée !
We went in the Hard Rock Casino Hotel, which is a bit away from the Strip, the street where are concentrated most of hotel-casinos. This one gave us a glimpse of the extravagance and madness of Las Vegas : hundreds of slot machines and gaming tables, everywhere there are people gambling alone at 8AM, with a drink in their hand ... The casino's decoration is composed of items that were owned by Rock stars (in fact every kind of music are represented) : guitars, costumes, from David Bowie to Beyonce, passing through The Beatles and Mariah Carey ... That was quite nice ... We also went around the swimming pool, huge, with a (small) sand beach ... We read in the guide book that the swimming pool turns into a select night club during the week-end nights : appropriate beach dress required !
On rejoint ensuite l'agence de location de van en bordure d'autoroute, et on découvre notre maison pour les 9 prochains jours : notre van s'appelle Bourbon Street, et est peint dans le style de la Nouvelle Orléans. Tous les vans de cette compagnie sont peints par des artistes de manière originale, une manière pour eux de se faire de la pub (et ça marche, un nombre incalculable de personnes ont pris notre van en photo durant notre voyage…).
Then we head to the van rental agency close to a highway exit, and we discover our home for the next 9 days : our van's name is Bourbon Street, and is painted in the New-Orleans' style. All vans in this company are painted by artists in a original style, a way for them to make advertisement (and that works, an incredible number of people took a picture of our van during our trip ...)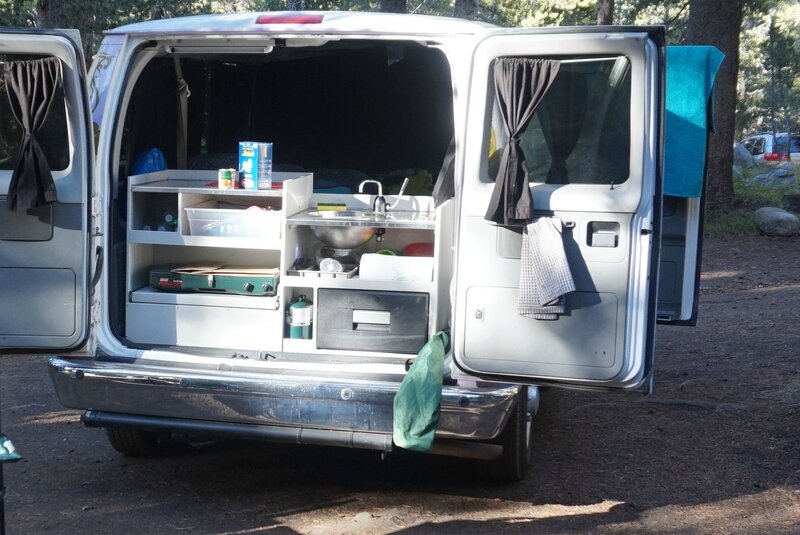 Derrière la cabine de conduite, on trouve un espace avec une table et deux banquettes, qu'on peut transformer en lit. Dans les faits on l'a laissé en lit tous les jours, il a fait tellement beau qu'on a toujours mangé à l'extérieur. Drap, couette et oreillers sont fournis, ce qui est bien pratique quand on vient en avion et qu'on n'a pas trop de place dans les bagages ! Au bout du lit on trouve des grands rangements. Au niveau du coffre, il y a une petite cuisine, avec une plaque de cuisson à gaz, avec deux feux, un petit frigo qui fonctionne sur une batterie indépendante (à énergie solaire) et un évier avec pompe à main. Vaisselle, bouteille de gaz et même deux chaises pliantes étaient fournis !
Vous l'aurez compris, on a vraiment beaucoup aimé notre van ! Si ça vous intéresse, voici l'agence qui nous l'a loué. Et pour finir une petite vidéo pour vous montrer tout ça en détail :
Behind the driving cab, we find a space with a table and 2 bench seats, that we can turn into a bed. In fact we left the bed every day, the weather was so nice that we always ate outside. Sheets, duvets and pillows are furnished, which is useful when we fly in and we don't have much space in our bags ! At the end of the bed we find big closets. At the location of the trunk, there is a small kitchen, with a 2-spots gas stove, a small fridge that works with solar panels batteries and a small sink with a hand pump to get water. Crockery, gas bottles and even 2 collapsible chairs were furnished !
You got it, we really enjoyed our van ! If you are interested in, here is the van rental agency website. And finally here is a short video to show you all this in details :
La suite : direction Death Valley
15 septembre 2016
Nous sommes de retour à Boston après un Road Trip de 12 jours dans l'Ouest Américain. On a fait le road trip « classique », celui qui passe par les grands parcs connus comme Yosemite ou Grand Canyon. Pour moi c'est un retour sur les traces d'un road trip que j'ai fait avec mes parents il y a 11 ans, pour Charly c'est une grande découverte !
We are back in Boston after a 12-days road trip in the American West. We did the classic road trip, the one which crosses over famous parks like Yosemite or Grand Canyon. I already did that kind of road trip with my parents 11 years ago but for Charly this is a great discovery.

Après avoir lu les récits de différents blogueurs sur le camping dans les parcs au Etats-Unis (entre autre sur le blog de Mathilde), j'avais très envie d'y goûter. Mais bon la tente c'est pas trop mon truc, surtout qu'au mois de Septembre les températures peuvent descendre bien bas… Le camping-car (ou RV comme ils disent ici) c'est tentant, mais on n'avait pas envie de conduire un engin aussi imposant… Du coup on a opté pour une option intermédiaire : le van. Il s'agit d'une petite camionnette aménagée avec lit à l'arrière, réchaud au gaz, et même un petit évier avec une pompe à main ! On n'a pas regretté notre choix ! On a pu dormir dans des endroits magnifiques, le lit était confortable, et pas de tente à démonter et remonter tous les jours !
After reading blogger's stories about camping in parks in USA (in particular le Blog de Mathilde), I really wanted to try it. But camping in a tent is not my thing, particularly in September because temperature could be very cold at night ... A RV was tempting, but we didn't want to drive a vehicle that big ... Thus we opted for an intermediary option : the van. This is a small truck equipped with a bed in the rear, portable gas stove and even a small sink with a hand pump to get water ! We didn't regret our choice ! We were able to sleep in wonderful places, the bed was comfortable, and no tent to set up and disassemble every day !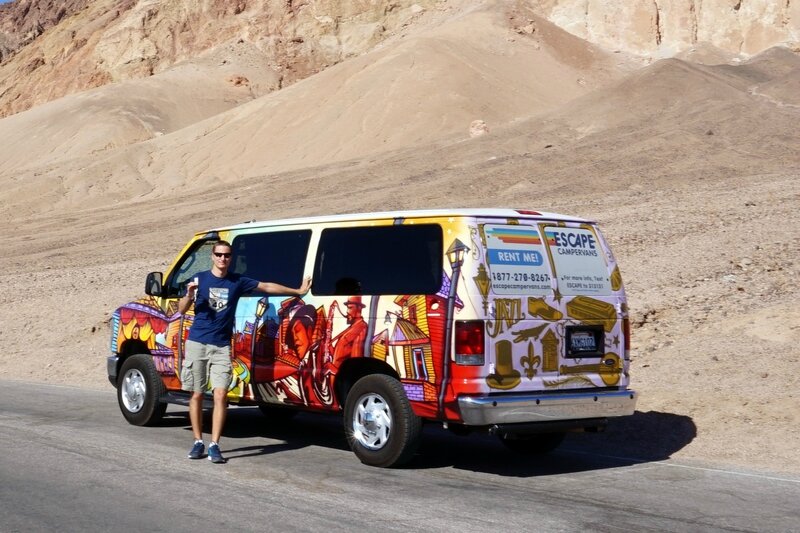 En attendant des articles détaillés par étapes (on a plus de 1000 photos à trier) voici une carte de notre parcours et quelques chiffres :
- 2118 miles, soit 3409 km en 9 jours
- 5 National Parks
- 2 parcs Navajo
- 2 National Recreation Area
- Des températures extrêmes de 5° et 45°
Before articles with step by step details (we have more than 1000 photos to sort out) here is a map that represent our road trip and some numbers :
- 2118 miles, or 3409 km in 9 days
- 5 National Parks
- 2 Navajo Parks
- 2 National Recreation Area
- Extremes temperature from 5°C to 45°C (from 41°F to 113°F)
Les différentes étapes :
- Une journée dans la Death Valley
- 2 jours à Yosemite
- Passage à Mono Lake, puis une journée de route entre Californie et Utah
- Une journée à Zion Canyon
- Une matinée à Bryce Canyon
- Une après-midi au bord du Lake Powell
- Une matinée à Antelope Canyon
- Une journée à Monument Valley
- Une journée à Grand Canyon
- Deux jours à Las Vegas