31 octobre 2016
Après vous avoir raconté notre Road Trip en texte et photos, voici le film !
25 octobre 2016
Rappel : Après une journée au Grand Canyon, on est le 13 septembre, il est temps de retourner à Las Vegas.
Previously : we are September 13th, it is time to drive back to Las Vegas.
On commence la journée par aller voir le célèbre signe « Welcome to Fabulous Las Vegas ». En fait il s'agit d'un grand parking au milieu de la route, avec le signe. On doit faire la queue pour se faire prendre en photo dessous, on préfère passer notre tour…
We start the day seeing the famous "Welcome to Fabulous Las Vegas" sign. In fact, it is a big parking in the middle of the highway, with the sign. We have to queue to take a picture with us and the sign, we prefer not to wait and take a picture with the sign only...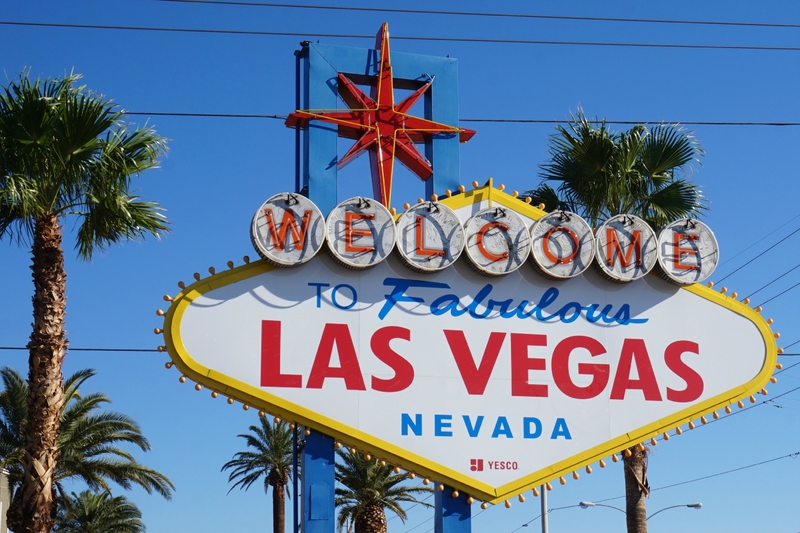 Après avoir rendu notre van, direction notre hôtel : l'Excalibur. Notre chambre est immense, avec une superbe vue sur l'hôtel New York New York. On part ensuite à la découverte du Strip, la grande avenue autour de laquelle se trouvent tous les hôtels casinos.
After giving our van back, we head to our hotel : The Excalibur. Our room is huge, with a superb view on the New York New York hotel. Then we start walking on the Strip, the big avenue with all the hotel-casinos.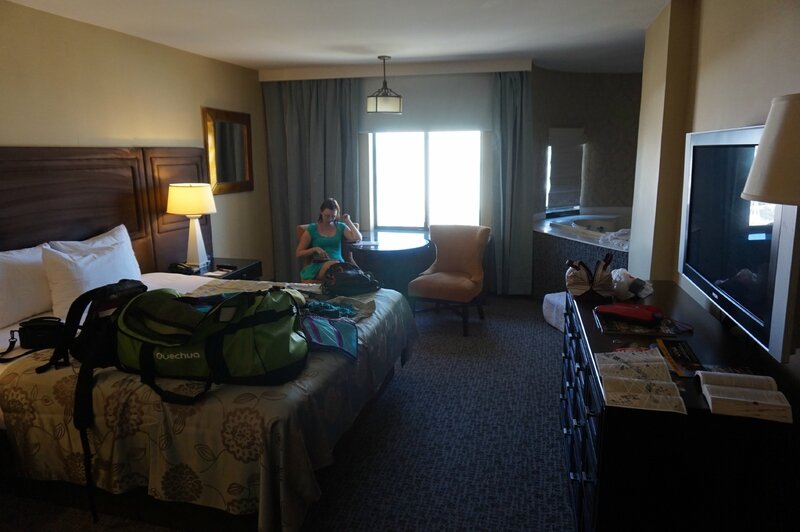 Chaque hôtel a un thème : on trouve le Luxor en forme de pyramide, avec un sphinx devant. L'Excalibur en forme de château playmobil, mais avec des décorations très Moyenâgeuses à l'intérieur. Le New York New York, avec la skyline de New york en façade, et à l'intérieur le Greenwich village reproduit en carton-pâte. Le Bellagio, sur le thème d'un palais italien, avec de vrais sols en marbre, et des fontaines magnifiques devant (et un spectacle son et lumière sur une musique différente toutes les 15 minutes).
Each hotel has a theme : there is the Luxor with its pyramid shape, and a sphinx in front. The Excalibur looks like a playmobil castle, but with nice Middle-Ages decorations inside. The New York New York, with a New York skyline facade, and a fake Greenwich village inside. The Bellagio, in a Italian palace theme, with real marble floor, and magnificent fountains in front (and a different sound and light show every 15 minutes).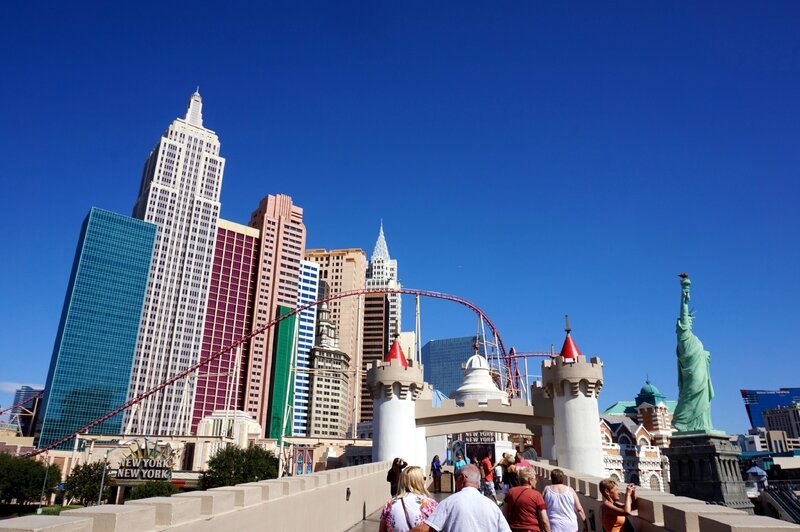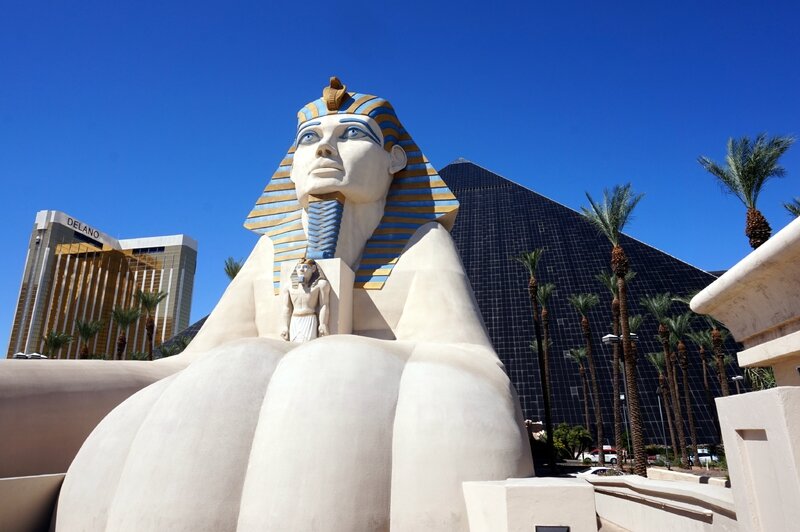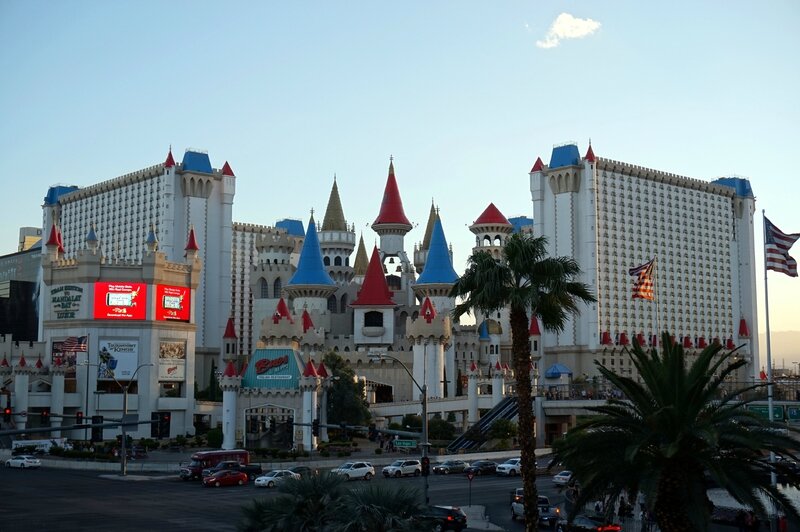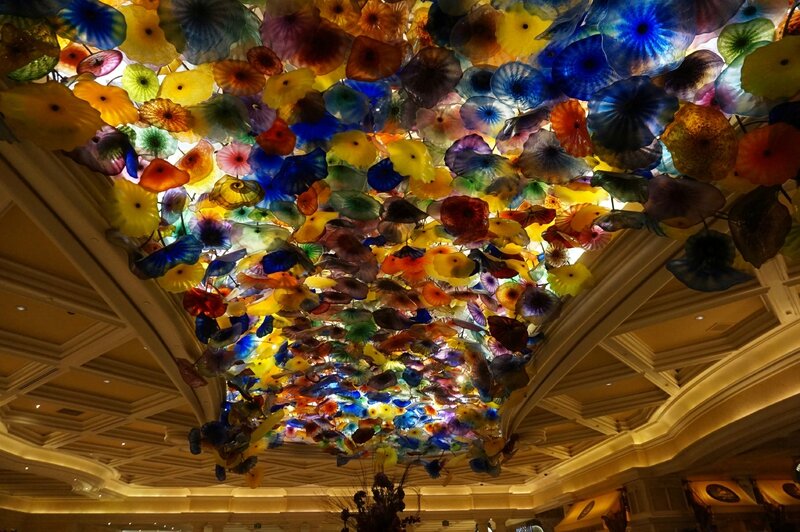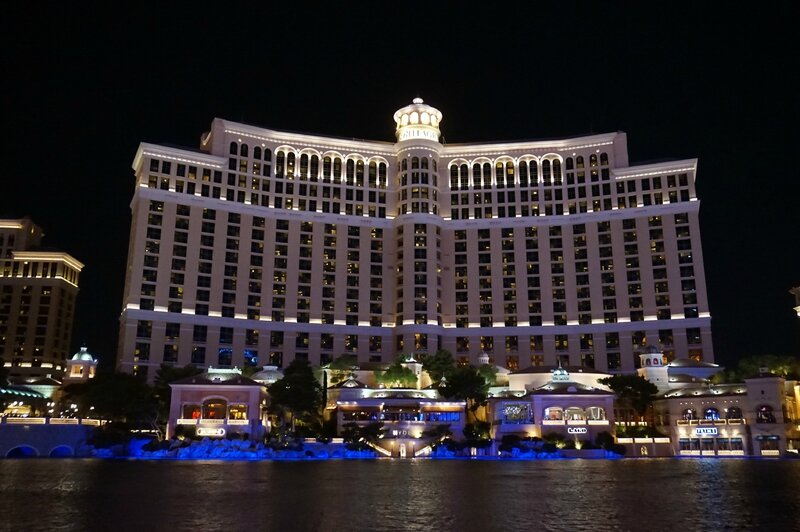 On s'arrête au Bellagio pour déjeuner au buffet à volonté. Tout est de très bonne qualité : steak, ribs, saumon, et beaucoup de desserts. On rentre ensuite à notre hôtel pour se reposer un peu au bord de la piscine (enfin il y a 4 piscines et 2 jacuzzis). Le soir on retourne se promener le long du strip, on passe par le Paris Las Vegas, avec une tour Eiffel devant (échelle ½), et un thème moulin rouge à l'intérieur. Tout est écrit en « français », ça nous fait bien rigoler. Puis on passe au Caesar Palace, un immense casino sur le thème de la Rome antique. Fontaines, statues antiques, c'est magnifique. Puis direction le Venitian, qui reproduit un quartier de Venise. Sur le canal des touristes font des tours de gondole, le gondolier chante. Sur la place Saint Marc on assiste à un concert. On finit notre soirée au Wynn, qui est beaucoup plus classieux que les autres casinos. Ici pas de thème, juste des œuvres d'art, ou des sculptures de fleurs fraiches. On a perdu les touristes en short, c'est le monde des smokings et jolie robes.
We stop in the Bellagio to lunch at the all you can eat buffet. Everything is high quality : steak, ribs, salmon, and many desserts. Then we return to our hotel to rest alongside the pool (well, there are 4 pools and 2 Jacuzzis). At night, we return walking along the Strip, we walk past the Paris Las Vegas, with an Eiffel Tower in front (scale ½), and a Moulin Rouge theme inside. Everything is written is French, we find that amusing. Then we stop to the Caesar Palace, a huge casino with an Ancient Rome theme. Fountains, ancient statues, it's splendid. Then we go to The Venitian, which reproduces a Venice district. On the canal tourists enjoy gondola tours, and the gondolier sings. In the Saint Marc square, we enjoy a musical concert. We end our night in the Wynn, which is far more classy than the others. There is no theme, just art works or fresh flowers sculptures. There are no tourists wearing shorts here, this is the world of suits and pretty dresses.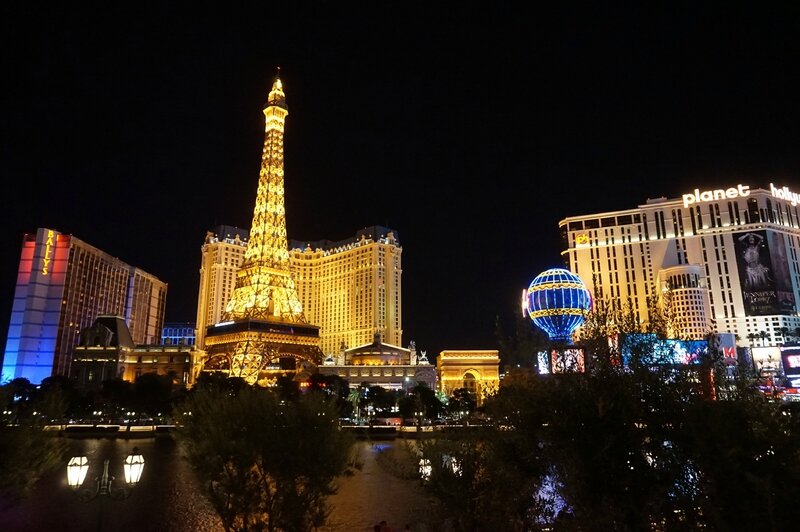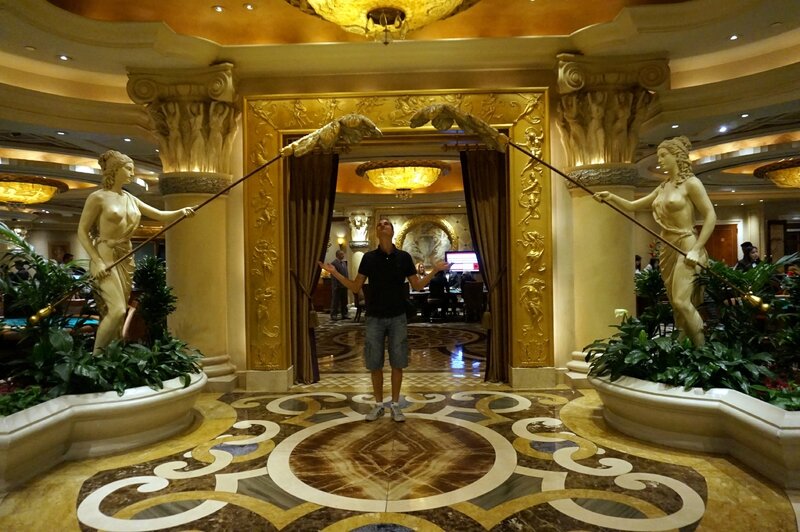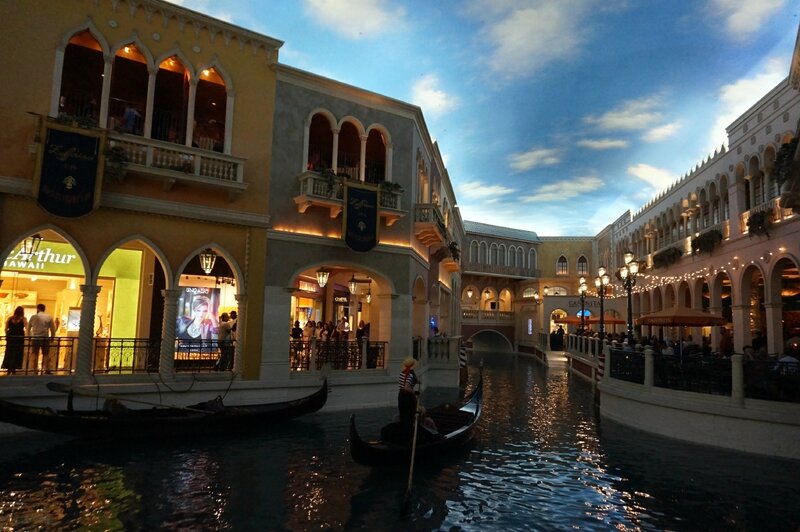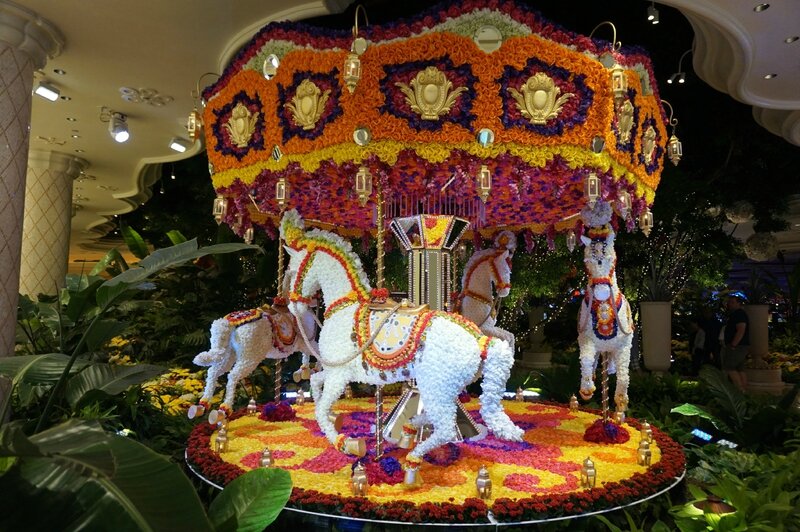 Le lendemain, on brunch au buffet à volonté du Paris : croissant, pain au chocolat, mais aussi paté, saucisson et moule frite. On change ensuite de quartier : on va au downtown, le Las Vegas historique. Là les casinos sont beaucoup plus vieux, les joueurs sont clairement des habitués qui appellent les serveuses par leur prénoms. C'est sympa, et ça fait moins carton-pâte que sur le Strip !
The next morning, we have a brunch in the Paris buffet : croissants, chocolate croissants, but also pâté, saucisson (dried sausage) and mussels and French fries. Then we left the Strip and we move to downtown, the historical Las Vegas. Here, casinos are older, and people are clearly regular gamblers who call the waitresses by their first names. This is nice, and it's more authentic than on the Strip !
Et maintenant je suis sûre que vous vous demandez si nous avons gagné aux jeux ! Comme on ne savait pas jouer aux jeux de table (Black Jack, Roulette, Craps), le soir on est resté sur les machines à sous. Les casinos sont remplies de ces machines où on peut mettre entre 1centimes et 10$, appuyer sur un bouton, et selon la combinaison qui sort on gagne ou pas. C'était bien marrant une ou deux fois, mais pas passionnant. Par contre lorsque nous sommes allés au Downtown en journée, il y avait moins de monde, et une croupière sympa a accepté de nous initier à la roulette. Au final on a misé 5$ et on est repartis avec 14$. On a préféré s'arrêter là, jouer de l'argent ce n'est finalement pas notre truc !
And now I'm sure you are wondering if we have won money gambling ! Because we didn't know how to play table games (Black Jack, Roulette, Craps), during the night we only played at slot machines. Casinos are full of slot machines where we can bet between 1 cents and 10$, push the button, and depending the combination of pictures, you win or not. That was fun one or two times, but not fascinating. However when we went downtown during the day, there was less people and a croupier explained us the rules to gamble at Roulette. In the end we bet 5$ and we won 14$. We preferred to stop, finally we don't like gambling so much!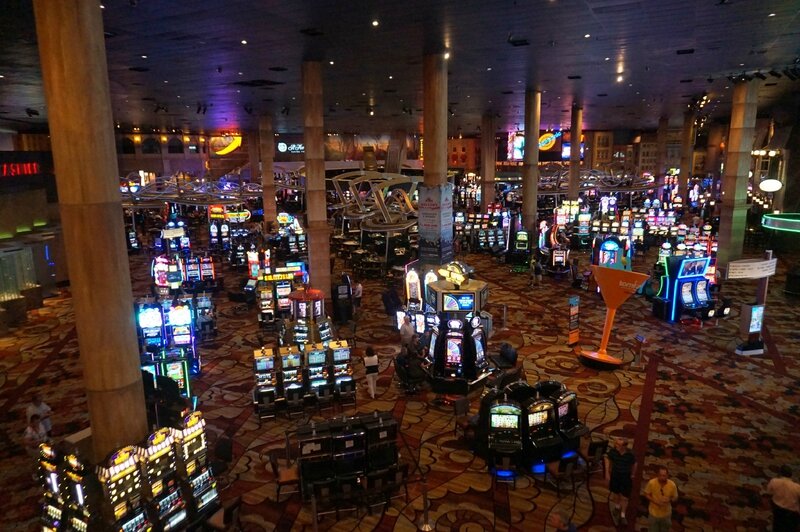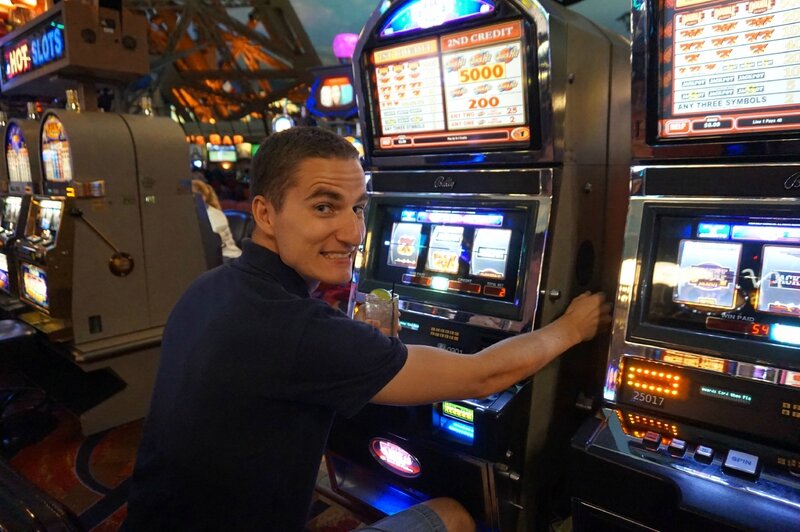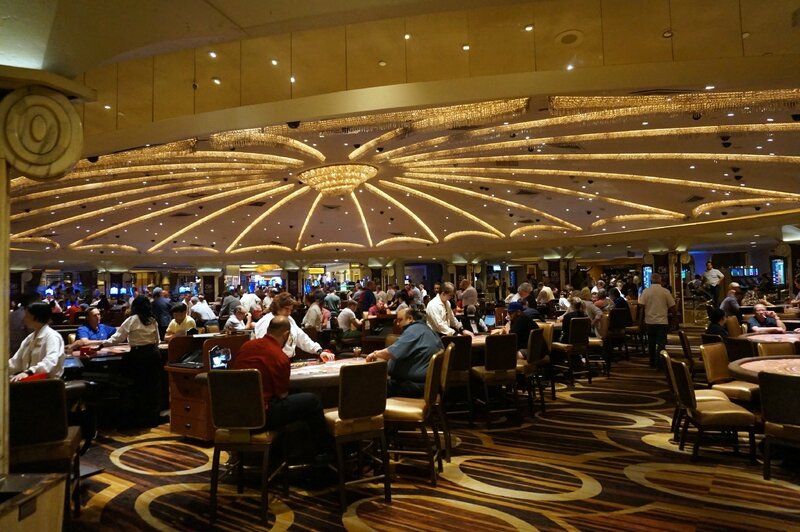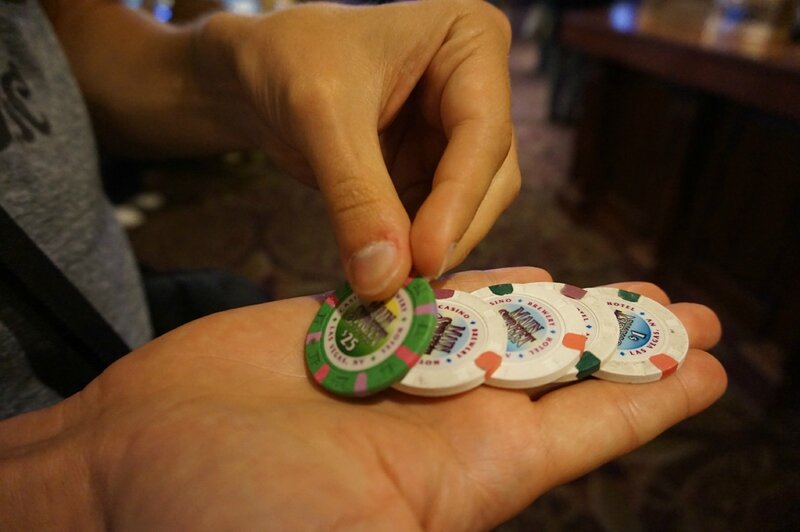 Après ces deux jours à Las Vegas, direction l'aéroport, où on a retrouvé des machines à sous. C'est le côté un peu glauque de Vegas : à toute heure et n'importe on trouve des gens sur ces machines, qui appuient machinalement sur le bouton (et en regardant l'écran on peut voir la somme d'argent en jeu diminuer rapidement…) Mais bon on a quand même vu des gens gagner gros à la roulette, où aux machines à sous, c'est sympa de voir leur réactions !
After these 2 days in Las Vegas, we go to the airport, where we find slot machines again. It's the seedy side of Las Vegas : every time and everywhere we find people gambling on these slot machines, pushing mechanically the button (and looking at the screen we can see the sum of money quickly decreases ...). Anyway we still saw people win big at roulette or slot machines, it was nice to see their reactions !
21 octobre 2016
Rappel : Nous sommes le 11 Septembre, nous venons de quitter Monument Valley.
Previously: We are September the 11th, we just left Monument Valley.
On part ensuite direction Grand Canyon. Après 2h30 de route on arrive à l'entrée est du parc : Desert View. C'est notre premier point de vue sur le canyon, on se rend compte de son immensité, mais aussi de la foule de touristes (beaucoup plus nombreuse et compact que dans les autres parcs). On s'arrête ensuite à deux points de vue : Monar Point et Grandview Point avant d'arriver à Grand Canyon Village, un village créé de toutes pièces pour les touristes.
We then head toward Grand Canyon. After a 2h30-drive we arrive at the East entry of the park : Desert View. It is our first viewpoint on the canyon, we realize its hugeness, and also how many tourists there are (much more than in other parks). Then we stop at two other viewpoints : Monar Point and Grandview Point, before arriving at Grand Canyon Village, which is a village born from nothingness for tourists.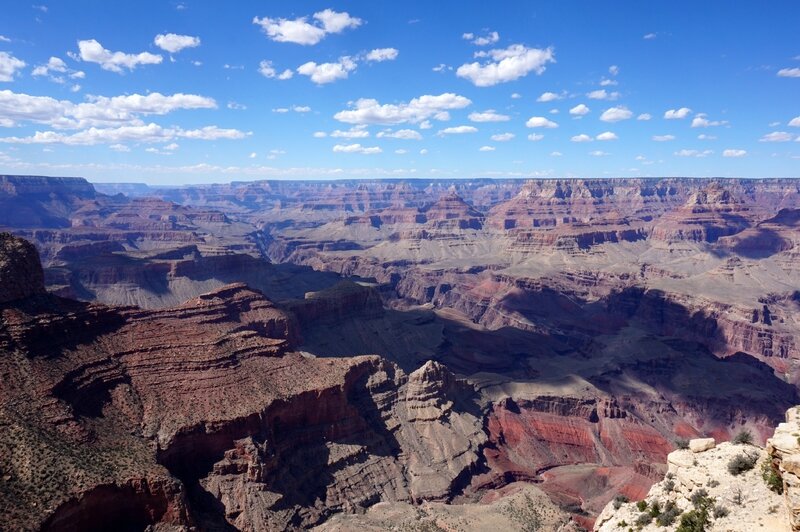 On prend la navette de Hermit's Rest, qui prend la route à l'Ouest du village, interdite aux voitures. On s'arrête aux différents points de vue, et on marche le long du canyon. C'est immense, c'est très beau, mais c'est difficile de se rendre compte de la profondeur. Le Colorado apparait ou disparait selon les points de vue, mais sinon le paysage est plutôt identique où qu'on soit. On profite du coucher du soleil en marchant, et on rejoint la foule pour regarder le soleil disparaître au point de vue Hopi Point. On va finalement se coucher dans un camping à 15 minutes au sud de l'entrée du parc.
We take the Hermit's Rest shuttle, which drives on the West road, which is closed to cars. We stop at several viewpoints, and we walk along the canyon. It is huge, very beautiful, but it's hard to realize the canyon depth. The Colorado appears and disappears depending on viewpoints, but otherwise the landscape is pretty much the same anywhere. We enjoy the sunset while we walk, and we join the crowd at Hopi Point to watch the sun disappear behind the horizon. Finally we are going to sleep in a campground which is located at 15 minutes from the South entry of the park.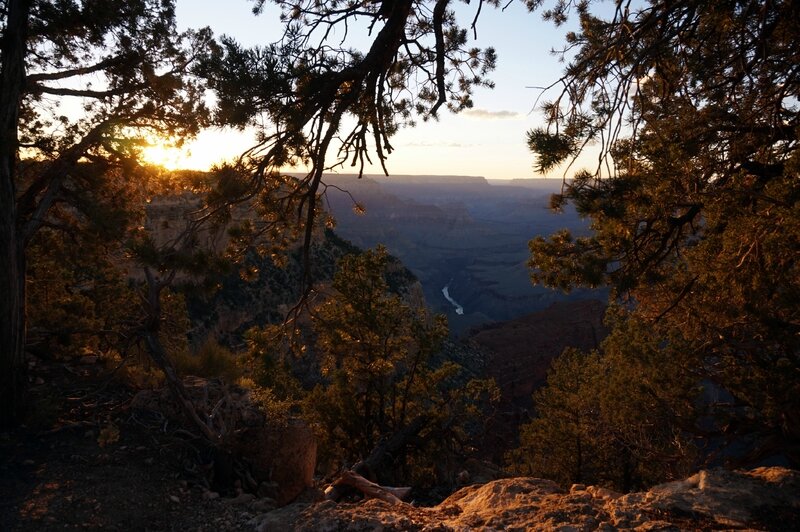 Le lendemain matin on prend une navette dans l'autre direction, pour encore quelques points de vue. On s'arrête ensuite au Visitor Center pour voir un film de 20 minutes sur la formation du canyon, et la faune et la flore qui l'habite.
The next morning we take a shuttle in the other direction, to watch some viewpoints. Then we stop at the Visitor Center to watch a 20min-movie about the canyon creation, and the fauna and flora that live here.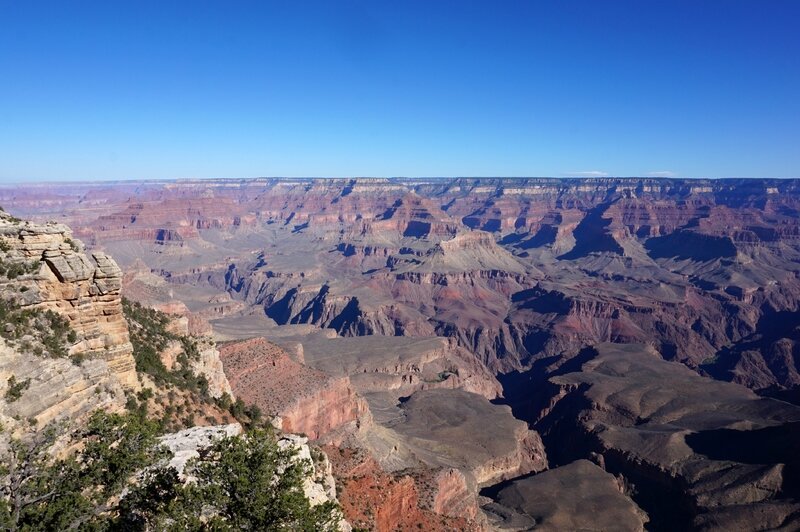 On quitte finalement le dernier parc national de notre séjour. Sur la route pour Las Vegas on fait un petit détour par la route 66, un des seuls tronçons qui reste de cette route historique entre Chicago et Los Angeles. On croise des boutiques à la gloire de cette route, c'est très kitsch… On s'arrête aussi à Chloride, une ancienne ville minière des années 1870. C'est le désert, dans une ville fantôme, il n'y a pas grand-chose à voir à part les cactus…
We finally leave the last National Park of our road trip. On the road to Las Vegas, we make a detour via the road 66, one the last part that remains of this historical road from Chicago to Los Angeles. We see tourists stores along the road, they are very kitsch ... We also stop in Chloride, an old mining town from the 1870's. It's the desert, in a ghost town, there is nothing to see besides cactus ...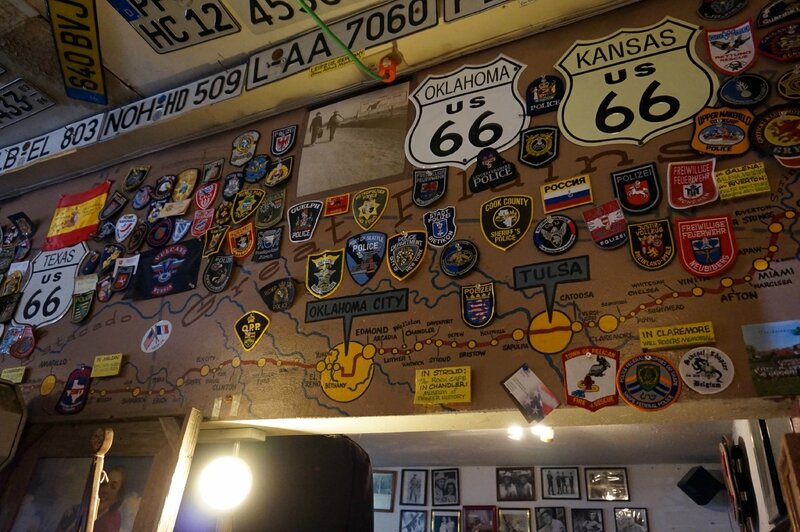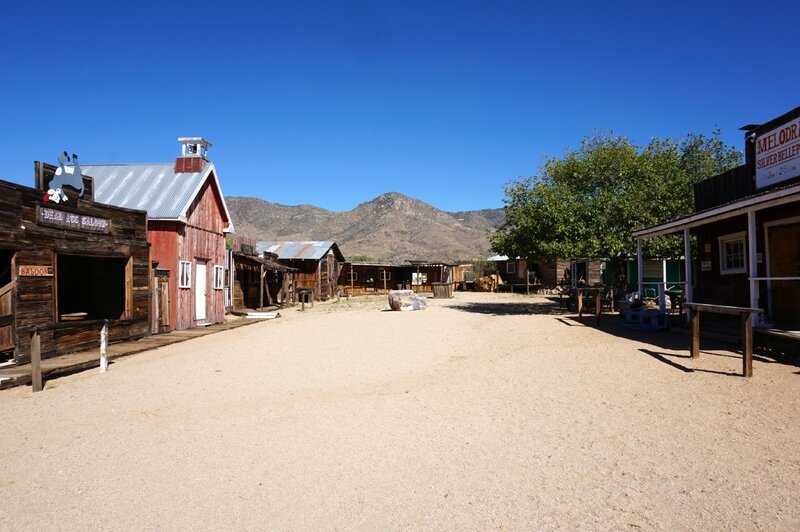 On passe ensuite devant le Hoover Dam, un barrage sur le Colorado. On s'arrête pour la nuit dans un camping au bord du Lac Mead, le plus grand lac artificiel des Etats-Unis, créé par le barrage. On est au milieu du désert, il fait très chaud, on profite d'un dernier coucher de soleil avant de rendre notre van à Las Vegas.
Then we drive past the Hoover Dam, a dam on the Colorado. We stop for the night in a campground along the lake Mead, the biggest artificial lake in the US, created by the dam. We are in the middle of the desert, it is warm, we enjoy a last sunset before giving our van back in Las Vegas.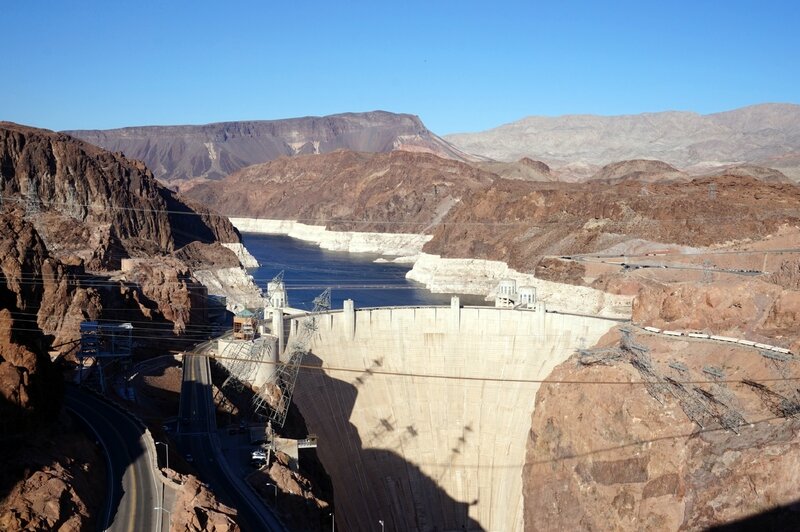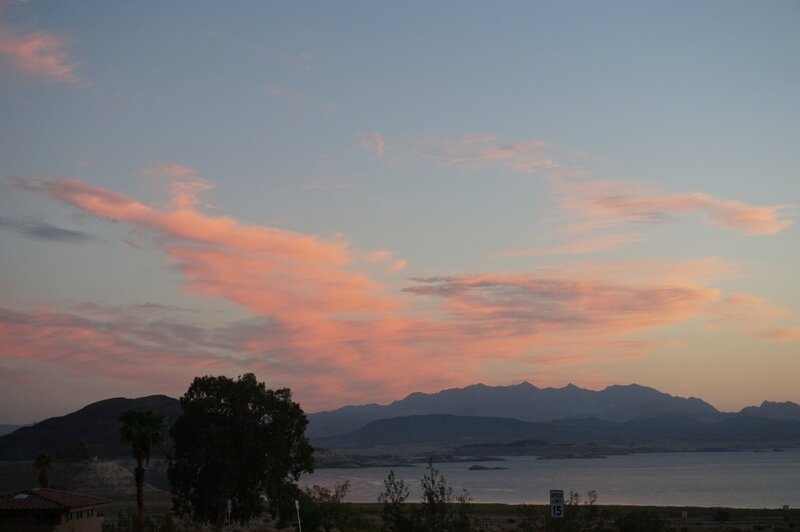 17 octobre 2016
Rappel : nous sommes toujours le 10 Septembre, après avoir passé la matinée près du Lac Powell on part en direction de Monument Valley.
Previously : we are still September the 10th, after spending morning nearby the Lake Powell we leave the area direction Monument Valley.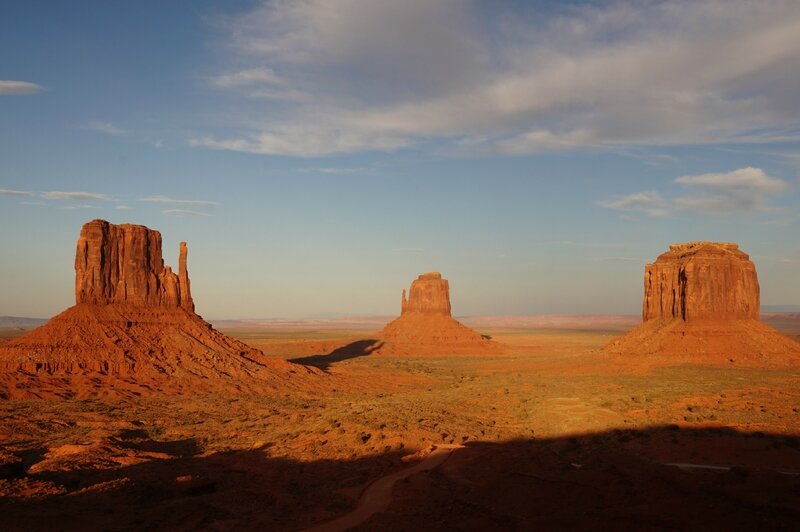 Après deux heures de route, nous voilà à Monument Valley, un autre territoire Navajo. On paie notre entrée, et on se dirige vers le camping the View, le seul camping dans l'enceinte du parc. Il s'agit juste d'un chemin, avec des tables de pique-nique pour chaque emplacement. Pas top comme installation, par contre la vue est exceptionnelle : devant nous se trouvent les rochers les plus célèbres du parc : les fameuses Mittens (oui, mitaine en français).
After a 2h-drive, we arrive at Monument Valley, another Navajo territory. We pay the entry, and we head towards the campground The View, the only campground in the park. It is just a path, with a pic-nic table for each spot. Facilities are not great, however the view is exceptional : in front of us is the most famous rocks in the park : the famous Mittens.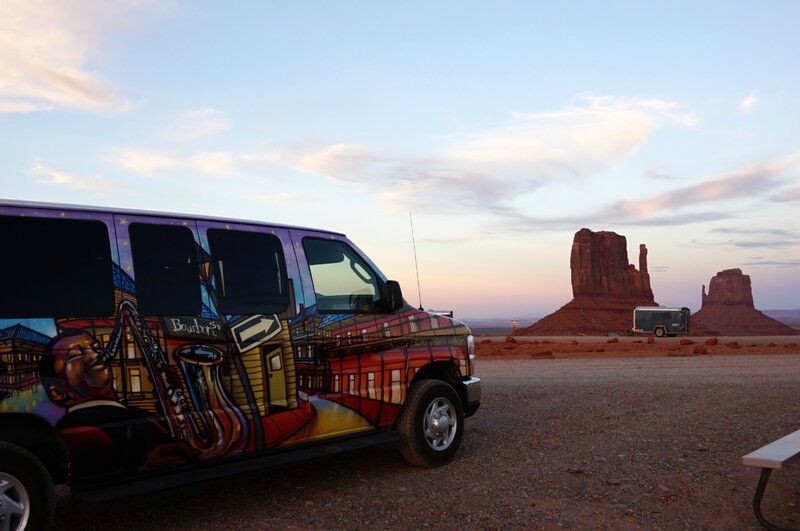 On profite du coucher du soleil, et on va se coucher tôt. Le lendemain matin, lever à 5h30 pour voir le magnifique lever de soleil sur les Mittens. Malgré les nuages c'est magnifique.
We enjoy the sunset, and we are going to sleep early. The next day, we get up at 5:30 am to watch the splendid sunrise on the Mittens. Despite clouds, it's magnificent.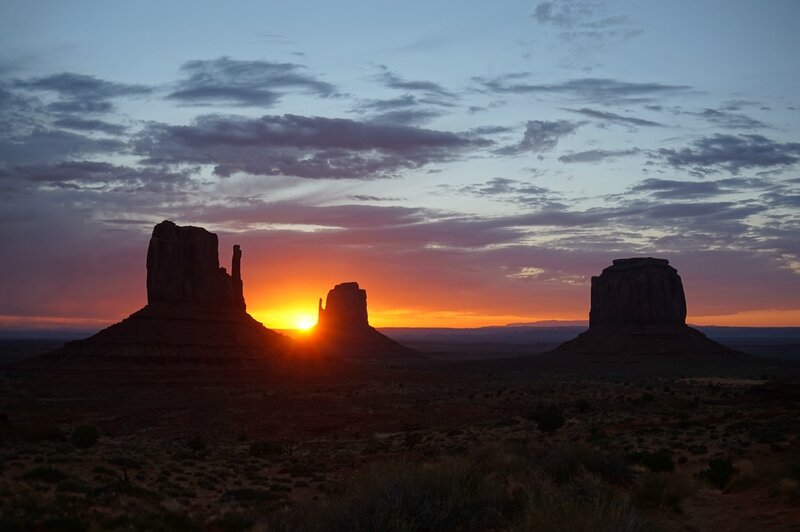 On se dirige ensuite vers la Valley Drive, un chemin de terre de 25km. On voit de nombreux points de vue sur les formations rocheuses. La pluie menace, mais finalement on ne prendra que quelques gouttes. On finit le tour après 2h30, et on s'arrête au dernier point de vue, le John Ford point, nommé pour le réalisateur de western qui a rendu John Wayne célèbre. On imagine très bien la scène du film, avec le cow-boy sur son cheval, en fond les magnifiques rochers.
Then we head to Valley Drive, a 25km-path (16 miles). We see many viewpoint on rock formations. The rain is threatening, but finally we got only few drops of rain. We end the tour after 2h30, and we stop at the last viewpoint : the John Ford point, named for the western director who made John Wayne famous. We could easily imagine the movie scene, with the cow-boy on his horse and in the background the wonderful monuments.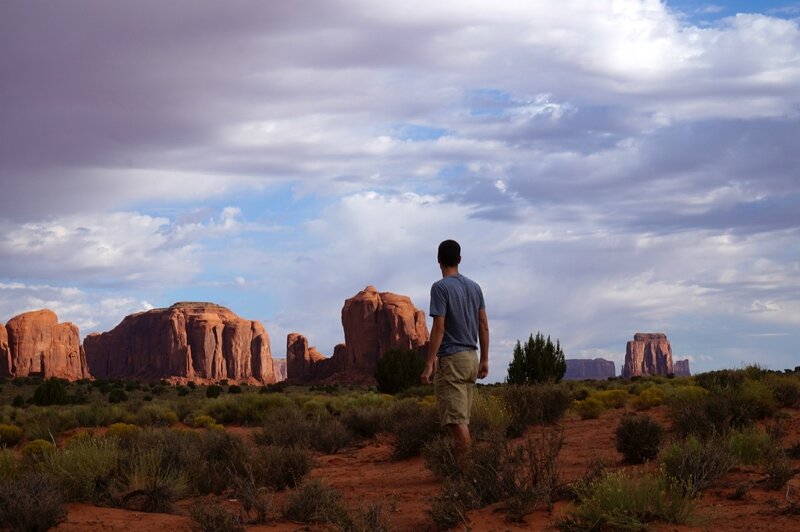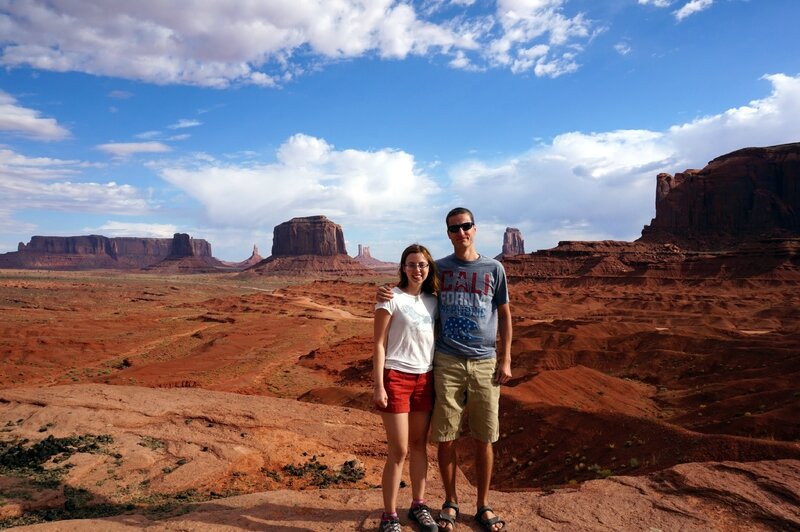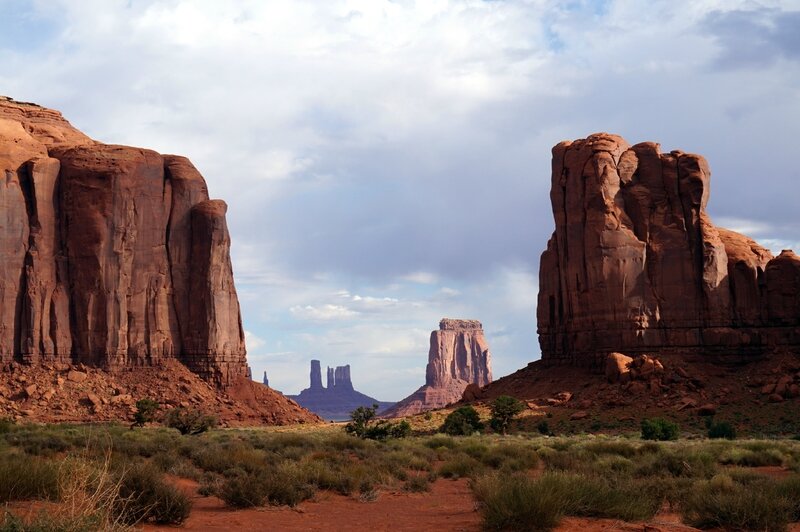 On sort finalement du parc en fin de matinée, et on roule encore 20 minutes vers l'Est, jusqu'au Forrest Gump point. Les amateurs du film reconnaitront sur la photo le point où Forrest décide d'arrêter de courir après avoir fait 3 fois l'aller-retour Est-Ouest. On repart finalement vers l'Ouest pour la dernière étape de notre road-trip.
Finally we get out of the park at the end of the morning, and we drive 20 more minutes towards East, to Forrest Gump Point. Fans of this movie will recognize on the picture the exact point where Forrest decides to stop running after having done 3 times the 2-ways trip East-West. Finally we leave to the West for the last step of our road-trip.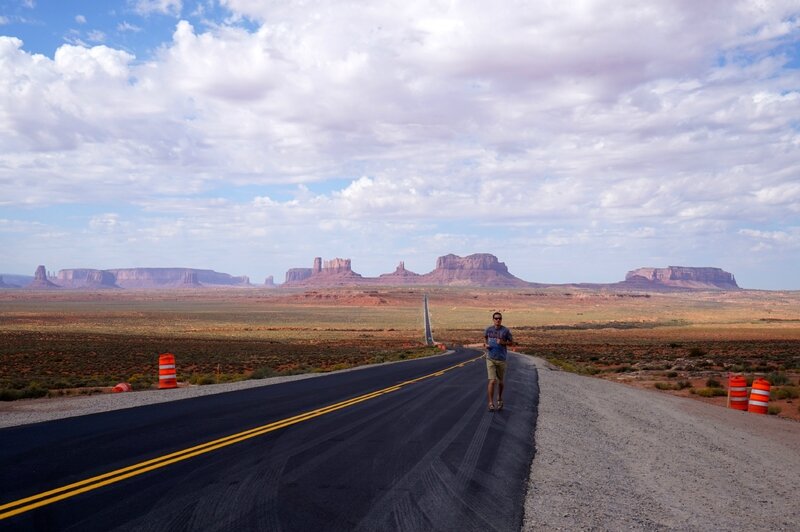 11 octobre 2016
Rappel : nous sommes le 10 septembre, au bord du lac Powell dans l'Arizona.
Previously : we are September the 10th, along the Lake Powell in Arizona.
Prochaine étape de la journée : Lower Antelope Canyon, à 15 minutes du lac Powell. Il s'agit d'un canyon en fente créé par l'érosion des roches due en particulier à des crues subites. On avait vu de nombreuses photos de ce canyon avant d'y aller, et c'était une visite qu'on avait hâte de faire. On avait d'ailleurs réservé la visite plusieurs mois en avance, et on a bien fait : sur place il n'y avait plus de places disponibles. Ce canyon se situe en terre Navajo, c'est-à-dire un territoire qui appartient aux Native American Navajos. On doit donc d'abord payer le droit d'entrée au parc, puis payer la visite, obligatoirement guidée. Mais on n'a pas regretté une seconde ces dépenses, tellement le lieu était magnifique (oui attendez-vous à de nombreux superlatifs dans cet article !)
Next step of the day : Lower Antelope Canyon, only a 15min-drive from lake Powell. This is a slot canyon made by erosion, especially due to sudden floods. We had already seen many pictures of this canyon before coming in, and this is a visit we were looking forward to do. We reserved our tickets months ago, and it was a good idea because when we arrive there are no more tickets available. This canyon is located in Navajo territory, that means lands owned by Natives Americans Navajos. So first we have to pay a fee to get in the Navajo territory and then we have to pay our tickets for the visit, which is necessarily with a guide. But we did not regret for one second these costs, it is such a wonderful place (yes get ready for many superlatives in this article !)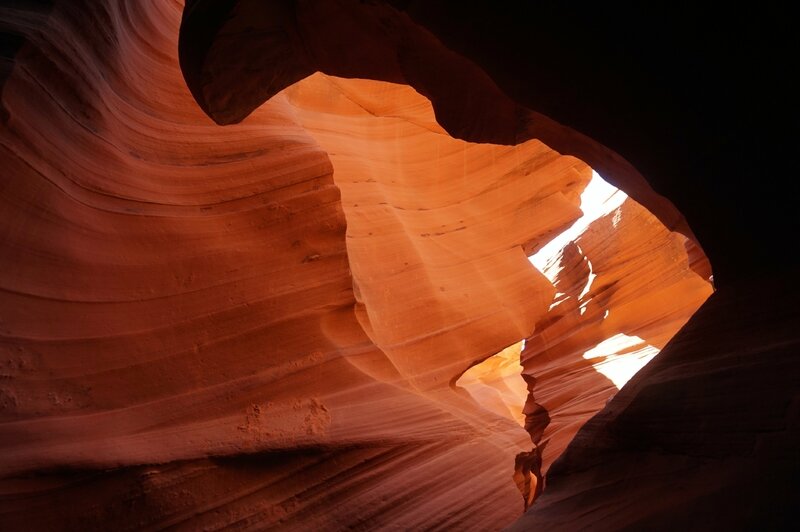 La visite se fait par groupe d'une dizaine, encadré par un guide. Il y a environ 5 groupes qui partent toutes les 20 minutes, et deux compagnies se partagent le gâteau, donc ça fait du monde ! Au début on attend dans le désert, au milieu de rien. Le guide nous explique la visite, et les règles drastiques : pas de photos dans les escaliers, pas de photos dans les couloirs étroits, sinon on nous met dehors ! Mais bon c'est dit avec le sourire, et puis en voyant à quel point les escaliers sont abrupts, on comprend l'interdiction de photos… On arrive donc ensuite aux escaliers, et on descend. On arrive dans une première « pièce », noire de monde. Mais la beauté des roches nous fait oublier la foule. C'est ici que se trouve une formation rocheuse très connue : une tête de lion. On reste longtemps dans cette pièce, il faut laisser les autres groupes partir. Pour nous faire patienter, le guide nous montre une vidéo d'une crue subite sur son téléphone, c'est ce genre de crue qui a creusé le canyon, c'est impressionnant !
The visit is organized with groups of ten people, supervised by a guide. There are about 5 groups which start every 20 minutes, and 2 companies on the site, thus this is crowded ! At the beginning we wait in the desert, in the middle of nothing. The guide explains the visit, and drastic rules : no pictures on stairs, no pictures in narrow corridors, otherwise you are excluded ! But this is said nicely, and then we see how abrupt the stairs are and we understand better why it is not allowed to take pictures ... At last we arrive to the stairs and we walk down. We arrive in a first crowed "room". Looking at the beauty of rocks, we forget the crowd. It is here that there is a famous rock shape : a lion head. We stay a while in this room because we need to let other groups leave. To make us wait, our guide shows us on his phone a video of a sudden flood, this is this kind a flood which shaped the canyon, this is impressive !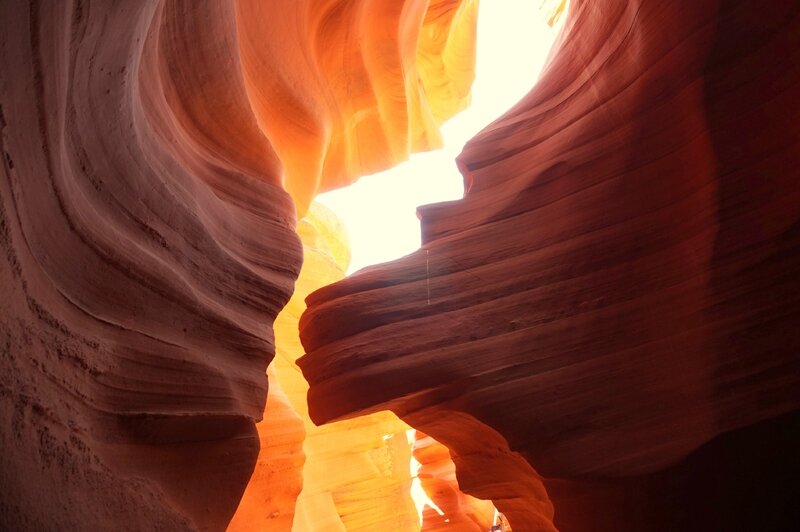 Le reste de la visite est plus tranquille : les couloirs sont étroits, on ne voit plus les autres groupes. Le guide nous raconte des anecdotes, nous montre des formations rocheuses en nous affirmant qu'on peut y voir telle ou telle forme (avec beaucoup d'imagination…), nous prend en photo. On profite de ce magnifique endroit, finalement c'est encore plus beau que sur toutes les photos qu'on a pu voir.
The rest of the visit is quieter : corridors are narrow, and we don't see other groups anymore. The guide tells us stories, shows us rock shapes assuring us we can see particulars shapes like animals or people (with a lot of imagination ...), takes pictures of us. We enjoy this splendid place, after all this more beautiful than all the pictures we have seen.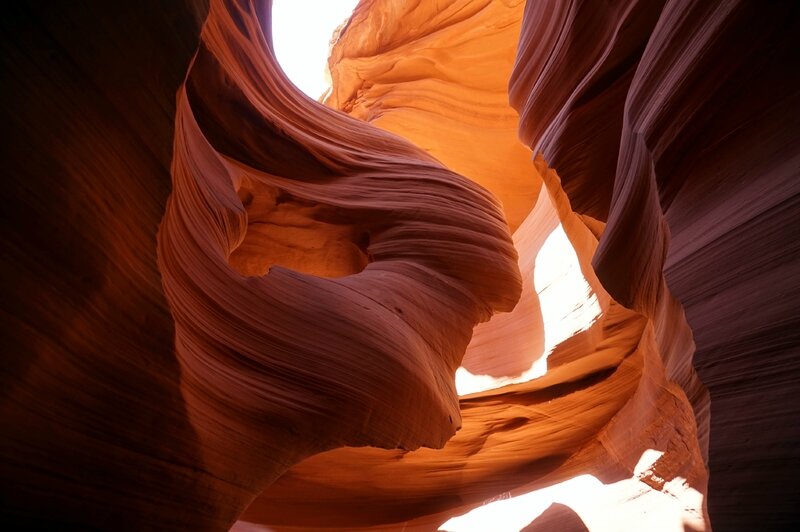 Après deux heures de visite on finit par sortir par une fente étroite. En regardant le sol, on aperçoit juste cette fente qui serpente sur la roche, impossible de deviner ce qui se cache dessous !
After 2 hours visiting, we finally get out by a narrow fissure. Looking at the ground, we barely notice this fissure snaking between rocks, it is impossible to guess what is really hidden underneath !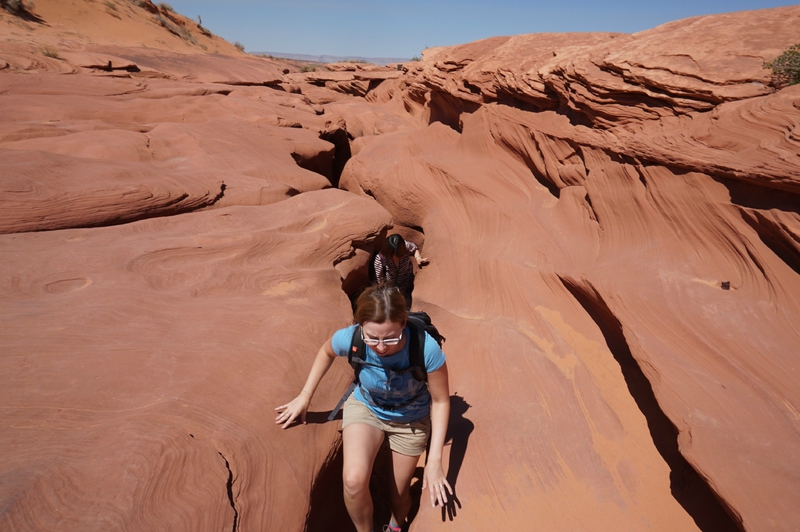 On finit notre matinée dans un restaurant de barbecue pour se remettre de nos efforts : du bœuf, du porc et des beans qui ont cuit toute la matinée dans des énormes barbecues.
We end our morning in a grill restaurant to refresh : beef, pork and beans cooked all morning in big grills.
09 octobre 2016
Rappel : Nous sommes le 9 septembre, et avons passé la matinée à Bryce Canyon National Park.
Previously : we are September the 9th, and we spent the morning in Bryce Canyon National Park.
Après 2h30 de route au milieu de magnifiques collines rouges, nous arrivons aux bords du lac Powell. Ce lac artificiel a été créé lors de la construction du barrage de Glen Canyon sur le Colorado en 1966. Le lac est bordé de nombreux canyon de pierres rouges, et le contraste entre le bleu de l'eau et la pierre est magnifique.
After a 2.30h-drive between splendid red hills, we arrive on the shores of Lake Powell. This artificial lake was created at the time of the Glen canyon dam construction on the Colorado in 1966. The lake is surrounded by many red rocks canyon, and the contrast with the blue of the water is wonderful.

On se dirige d'abord vers la Marina pour embarquer sur une balade en bateau vers Antelope Canyon. On profite de la magnifique lumière du soleil couchant. Un audioguide nous explique l'histoire géologique du lieu, et la formation du lac. On apprend l'origine des traces blanches sur les roches au-dessus de l'eau : cette « marque de la baignoire » est due au calcaire dans l'eau, qui se dépose sur la roche. Le niveau du lac a donc été aussi haut que la marque blanche dans les années 1980. Ensuite les problèmes de sécheresse ont fait chuter le niveau. Le niveau est aujourd'hui tellement bas que les bateaux doivent faire de gros détours pour rester sur un fond suffisamment profond. Notre tour en bateau nous amène à Antelope Canyon, un joli canyon dans la pierre rouge. On ne peut parcourir que 6,5km sur les 16km que fait le canyon, car il devient ensuite trop étroit.
First we head towards the marina to board on a boat for a trip to Antelope Canyon. We enjoy the sunset light. An audio guide explains us the geological history of the place and how the lake was created. We learn about the white marks on rocks above the water level : this "bathtub ring " is due to calcium carbonate deposited by water. In 1980 the lake level was as high as the white mark is. Then drought issues got the lake level lower. Today the level is so low that boats must make long detours to stay on a level deep enough. Our boat trip takes us to Antelope Canyon, a nice canyon between red rocks. We can travel along only 6.5 km on 16 km because then the canyon becomes too narrow.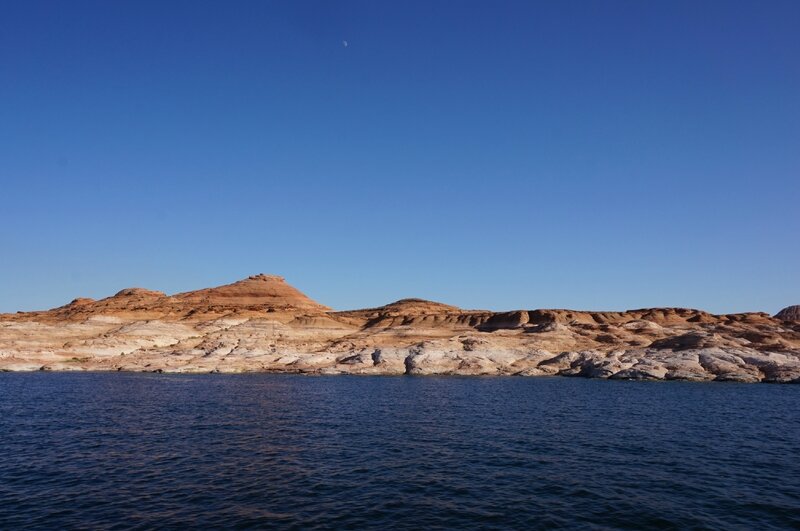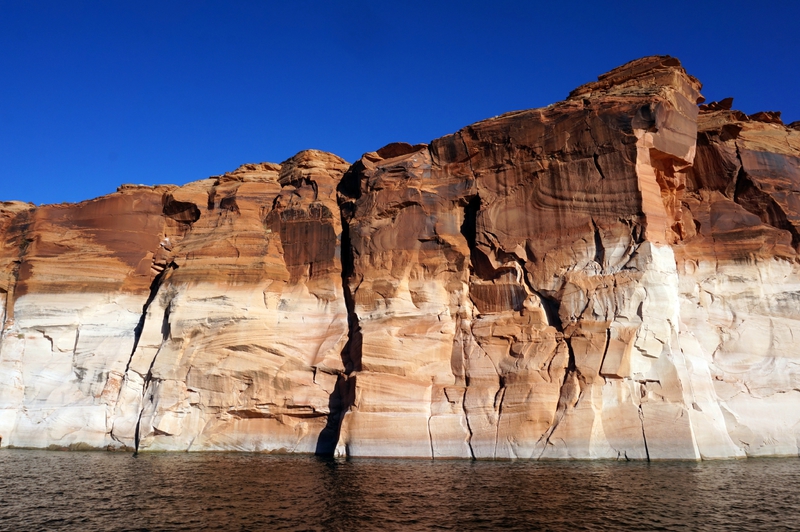 La balade se finit juste avant le coucher du soleil. Il fait chaud, l'eau nous fait très envie, on se dirige donc vers la plage pour une petite baignade dans une eau à 25° en regardant le soleil disparaître. On rejoint ensuite notre camping, à 10 minutes à pied de la plage, avec une vue magnifique sur le lac.
The boat trip ends just before sunset. It is warm and lake water seems cool, thus we walk to the beach and we bath in a 25°C-water (77°F) watching the sun disappear. Then we walk back for 10 minutes to our campground, and we enjoy our view on the lake.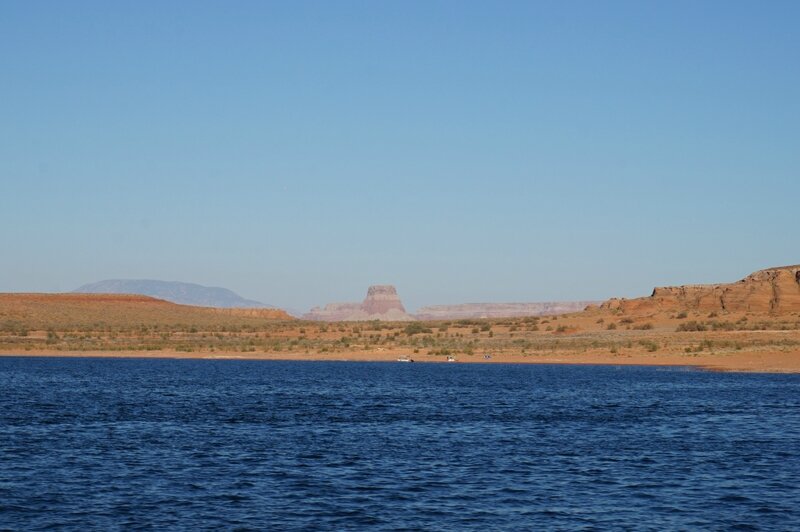 Le lendemain matin, après avoir admiré le lever de soleil sur le lac, on se dirige vers Horseshoe Bend. Une marche de 15 minutes dans le sable nous mène à des falaises abruptes au-dessus du Colorado. A cet endroit la rivière fait un virage de presque 180°, et a donc une forme de fer à cheval autour des falaises. C'est très joli, mais la lumière très forte rend les photos difficiles à faire. Et bon même si j'ai pas trop le vertige, la falaise à pic ne me rassure pas, du coup on ne s'attarde pas…
The next morning, after admiring the sunrise on the lake, we head towards Horseshoe Bend. A 15min-walk on the sand leads us to abrupt cliffs above the Colorado. At this place, the river makes almost a 180° turn, thus it makes a shape of a horseshoe around cliffs. It is very beautiful, but the light is too strong for good pictures. And even if I don't suffer from vertigo, abrupt cliffs don't reassure me, thus we don't stay any longer ...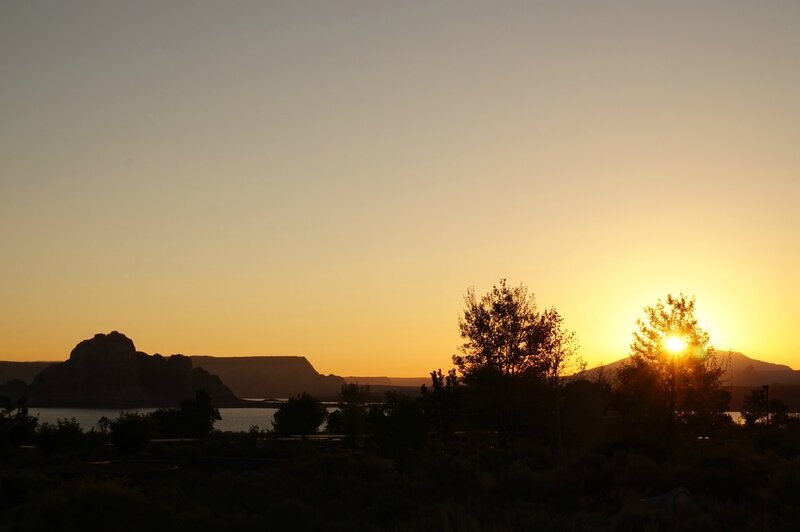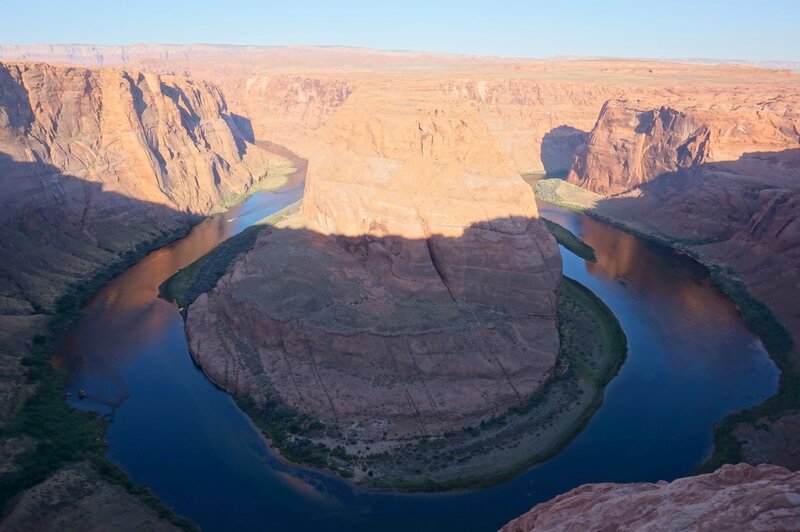 On se dirige ensuite vers le barrage, impressionnante construction humaine au milieu de toutes ces merveilles de la nature…
Then we go to the dam, impressive human's construction in the middle of all these natural wonders ...
On s'arrête finalement à différents points de vue sur le lac avant de le quitter pour d'autres aventures à Antelope Canyon.
Finally we stop at different points of view on the lake before leaving the area for others adventures.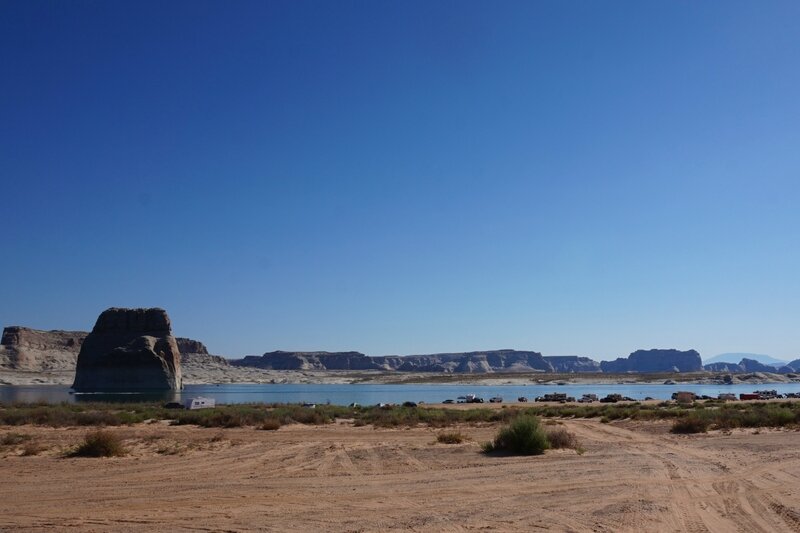 07 octobre 2016
Rappel : nous sommes toujours le 8 Septembre, nous venons de quitter Zion.
Previously : we are still September the 8th, we just left Zion National Park.
Après 2h de route, nous arrivons dans un camping génial au Red Canyon State Park, un petit parc d'Etat. On a une super vue sur des Hoodoos érodés dans la pierre rouge. Les Hoodoos sont ces grandes colonnes de roches créées par l'érosoion. Dans cette région elles sont créées par le gel et le dégel pendant les journées/nuit d'hiver. L'eau infiltrée dans la roche gèle et donc gonfle et érode la roche avant de fondre le matin, et ce environ 180 nuits par an... Au début cela forme des fenêtres, qui s'écroulent et crée ces colonnes.
After a 2h-drive, we arrive in a campground at Red Canyon State Park, a small State Park. We have a wonderful view on Hoodoos that are eroded in red rocks. Hoodoos are big rocks columns created by the erosion. In this area they are created by frost and defrost during days/nights in winter. The infiltrated water in the rock freezes and thus erodes the rocks before unfreezing in the morning, and that happens around 180 nights a year ... At first that gives form to windows, which collapse and create columns.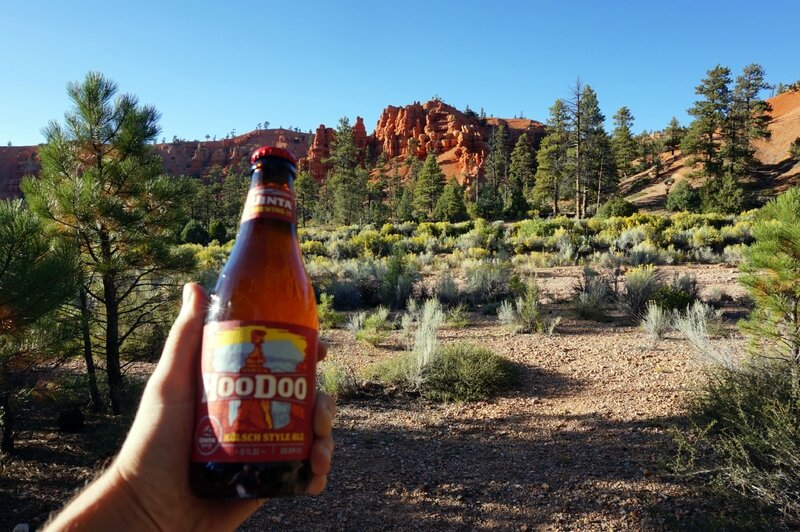 Le lendemain matin, on se dirige vers Bryce Canyon, à 15 minutes du camping. On s'arrête d'abord à Sunrise point, où la lumière matinale se reflète sur un champ de Hoodoos orangés. On se lance dans une randonnée de 2h, un mix entre la Queen's et la Navajo Trail. On descend au milieu des Hoodoos, c'est magnifique on ne sait pas où donner de la tête ! En bas on marche un peu dans la forêt avant de remonter par un magnifique gouffre, un mur presque vertical qui s'enfonce dans la vallée. Je suis contente de l'avoir attaqué par le bas, parce qu'arrivés en haut ça donne le vertige !
The next morning, we head towards Bryce Canyon, only 15 minutes from the campground. First we stop at Sunrise point, where the morning light reflects on an orange Hoodoos field. We begin a 2h-hike, a mix between Queen's and Navajo Trail. We walk down in the middle of Hoodoos, it's wonderful we don't know where to look, there are too many beautiful things to see ! At the bottom we walk a bit in the forest before walking up by a splendid abyss, an almost vertical wall which pushes down into the valley. I am happy to have started this abyss by the bottom, because when we arrive the top, I feel dizzy. You must not suffer from vertigo !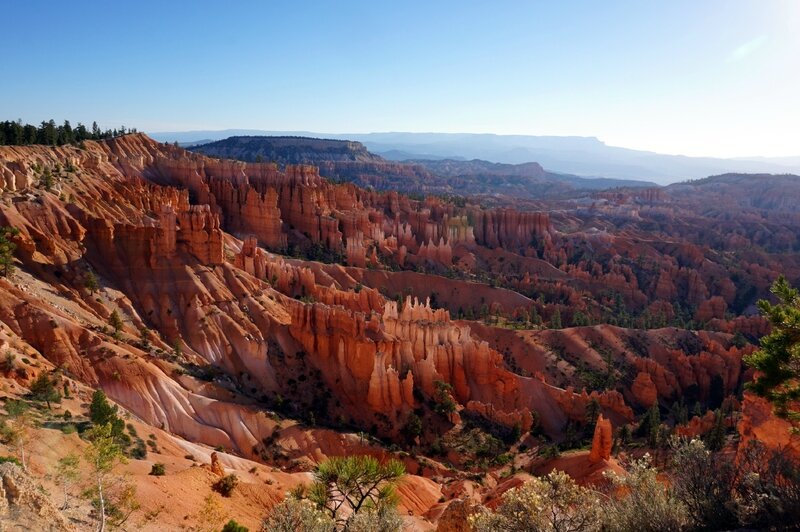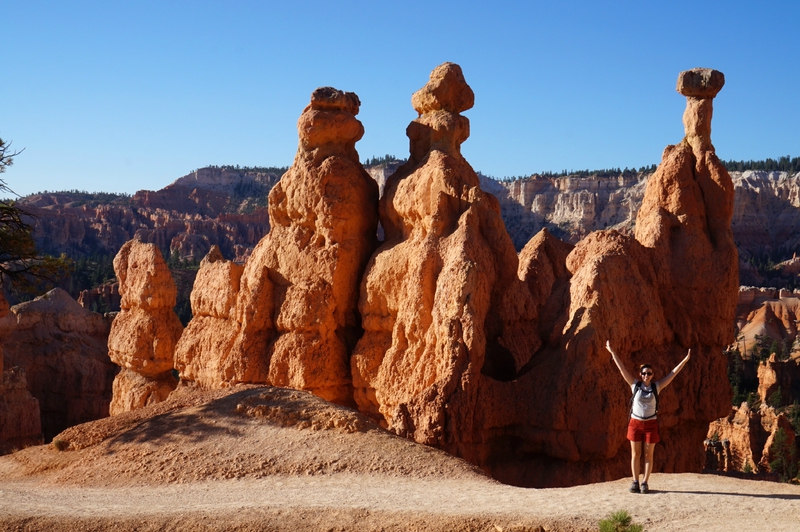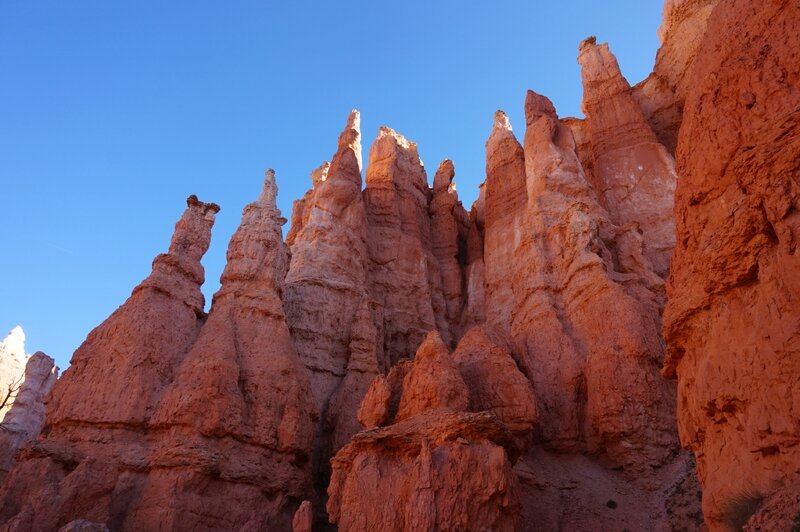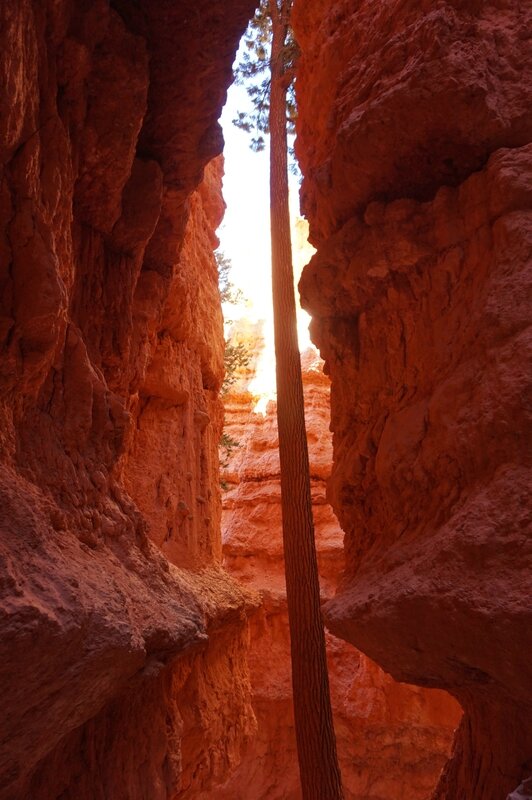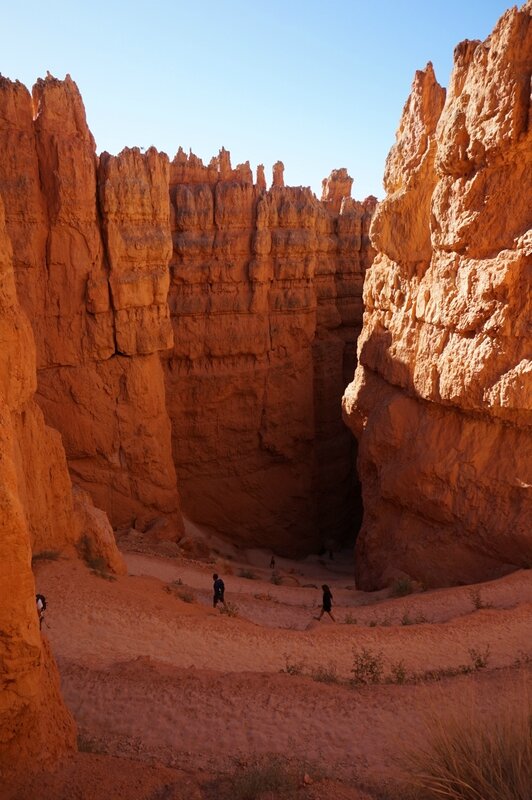 On reprend ensuite la voiture vers Inspiration point, avec encore une superbe vue sur les Hoodoos (les même que précédemment, vu d'un autre angle).
Then we drive to Inspiration point, with again a splendid view on Hoodoos (the same we have seen previously, but from another angle).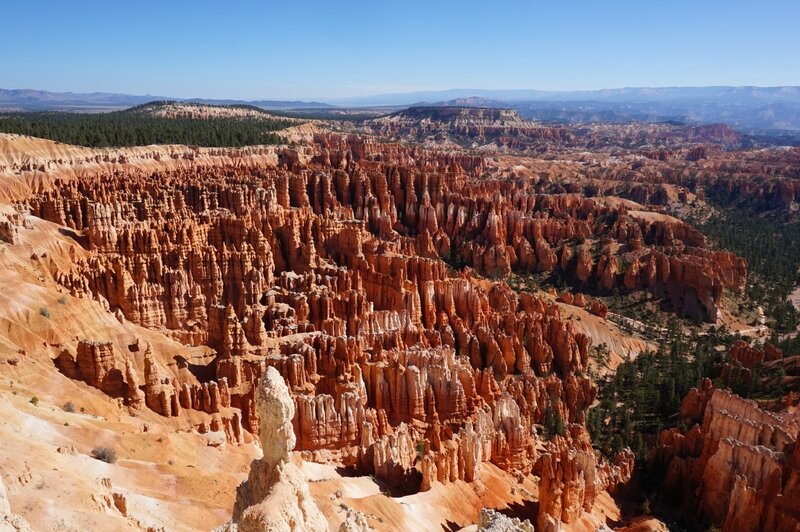 On va ensuite jusqu'au bout de la route, tout au sud du parc. En remontant on s'arrête à différents points de vue, moins impressionnants que les premiers. On peut aussi admirer une jolie arche creusée dans la pierre.
After that we drive to the end of the road, at the very South of the Park. And driving back to the entrance we stop at different viewpoints, less impressive that the firsts we saw. We also can admire a nice arch dug in rocks.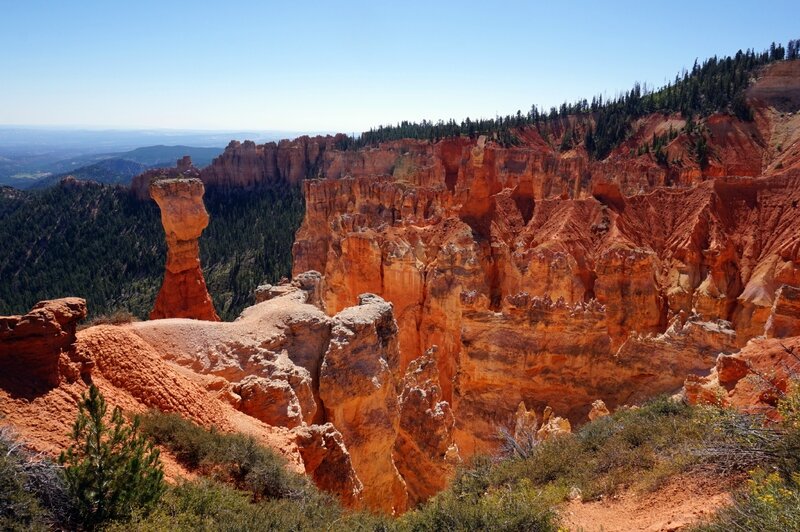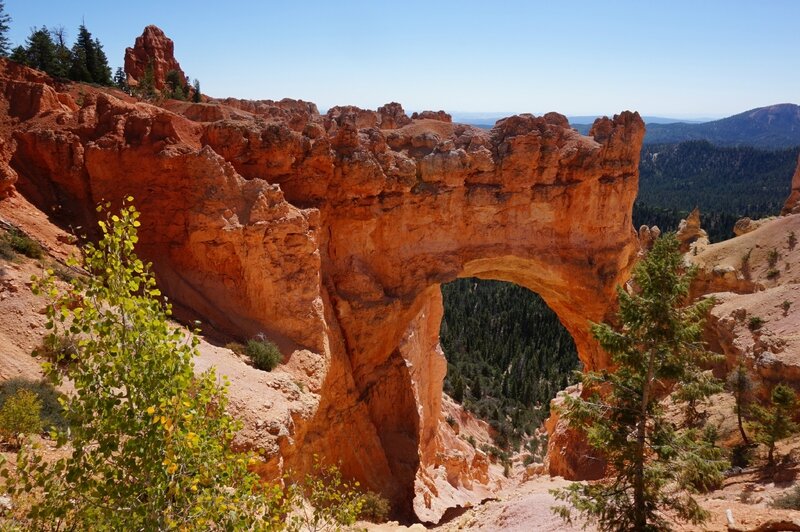 On quitte finalement le parc dans l'après-midi, direction l'Arizona !
Finally we leave the park in the afternoon, direction Arizona !
06 octobre 2016
Rappel : après une journée de route, nous voilà dans l'Utah pour commencer la journée du 8 Septembre.
Previously : after a 1-day drive, we are finally in Utah on September the 8th.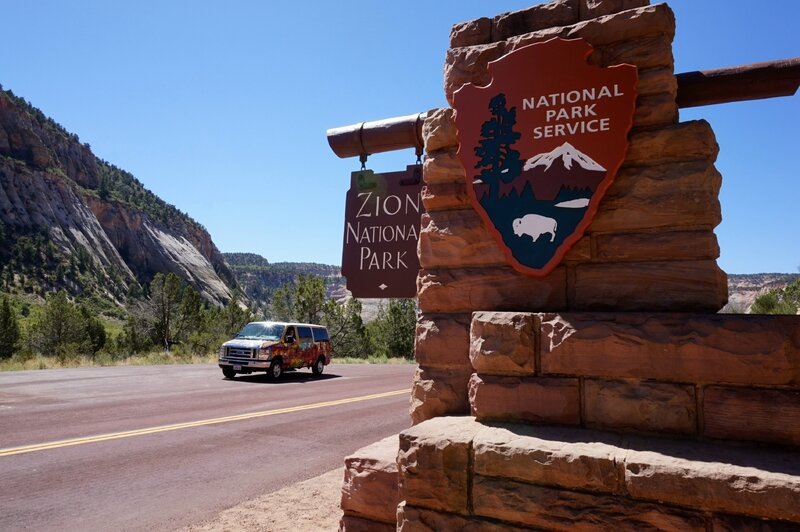 Ce matin, après une petite heure de route, nous voilà à Zion National Park. Le parc est en grande partie inaccessible aux voitures car il s'agit d'un Canyon assez étroit avec une seule route au milieu. Lorsque les voitures étaient autorisées, cela créait de nombreux embouteillages, et surtout de la pollution, les voitures ont donc été interdites.. On se gare donc sur le grand parking au Visitor Center, et on prend une navette. On va jusqu'au bout du canyon, pour une petite balade le long de la Virgin River, la rivière qui a creusé le canyon. Il fait frais, la lumière matinale donne une couleur orangée aux roches, et il n'y a pas encore grand monde. Notre promenade se finit là où la randonnée The Narrows commence (Narrow veut dire étroit en anglais). Il s'agit de la randonnée la plus célèbre du parc : il n'y a pas de chemin, il faut marcher dans la rivière. Sur le chemin du retour, l'heure a avancé et on croise de très nombreux randonneurs tous avec les mêmes chaussures étanches aux pieds, louées dans une boutique à l'entrée du parc. Vu le monde qu'on croise, on devine que la rivière doit vite se transformer en autoroute de touristes…
This morning, after a short 1h-drive, we arrive at Zion National Park. The park is mostly inaccessible to cars because this is a narrow canyon with only one road in the middle. When cars were authorized, that caused many traffic jams and a lot of pollution, so they forbade cars. So we park the van on the big parking at the Visitor Center and we take the shuttle. We go to the very end of the canyon for a short walk along the Virgin River, the river which dug the canyon. The weather is cool, the morning light gives an orange color to rocks, and there is not too many people. Our walk ends where the Narrows hike starts. It's the most famous hike of the park park : there is no trail, you have to walk in the river. On our way back, it is later in the morning and we meet many hikers, they all wear the same waterproof shoes, rented in a shop at the entry of the park. Seeing all this people, we guess the river must quickly turn into a tourist highway ...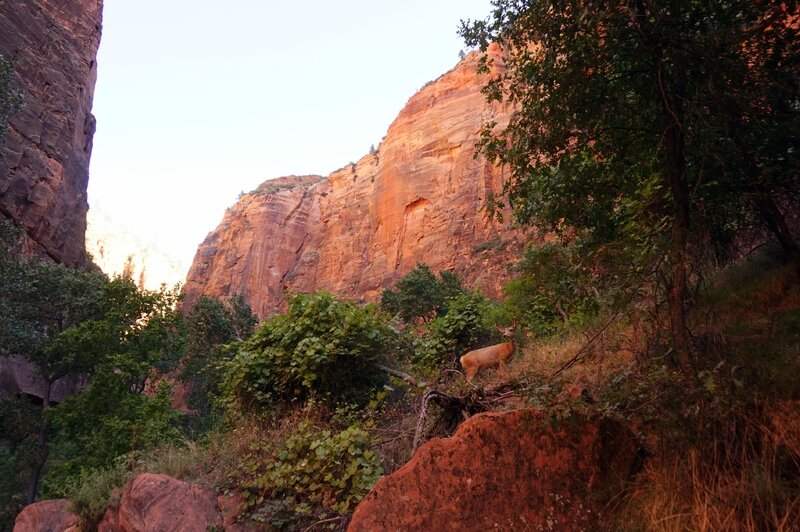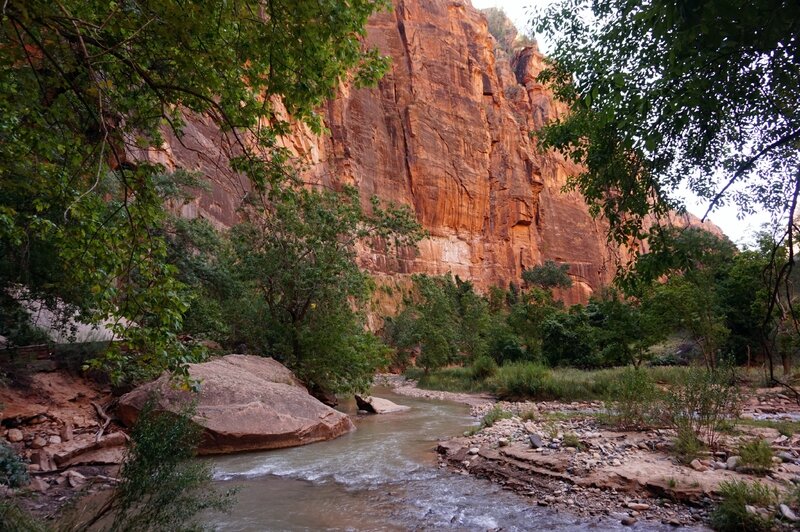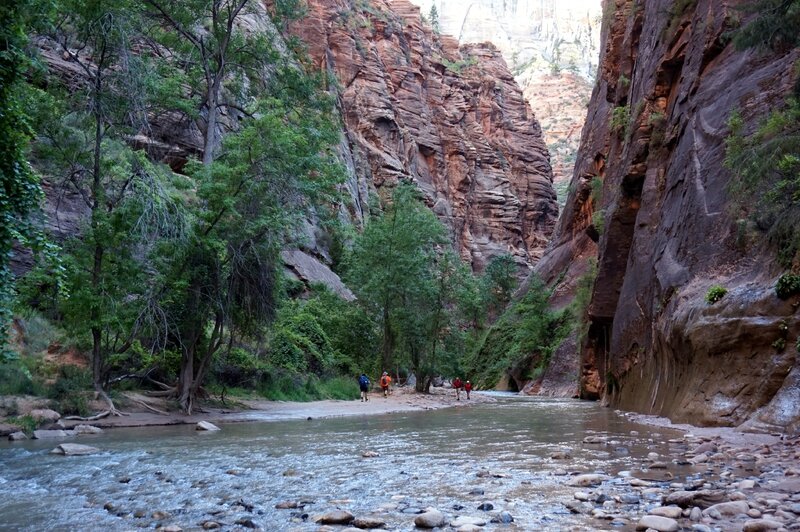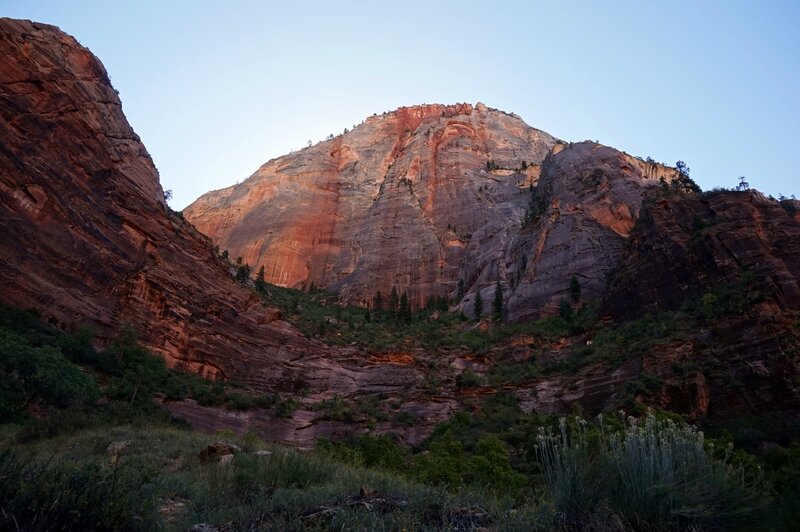 On reprend ensuite la navette direction le Weeping Rock, ou roche qui pleure. Il s'agit en fait d'une chute d'eau à très faible débit qui s'écoule le long de la roche. Il y a un renfoncement sous la roche, et si on se met dessous on peut voir les gouttes tomber, on a l'impression que la roche pleure (oui on a de l'imagination…) C'est sympa, mais impossible d'en rendre compte en photo…
Then we take the shuttle again in direction of the Weeping Rock. It is a very low flow water fall which flows along the rock. There is a recess under the rock, and if we stand under, we see drops falling and that gives the impression that the rock is crying. It very nice but impossible to give the reality with pictures ...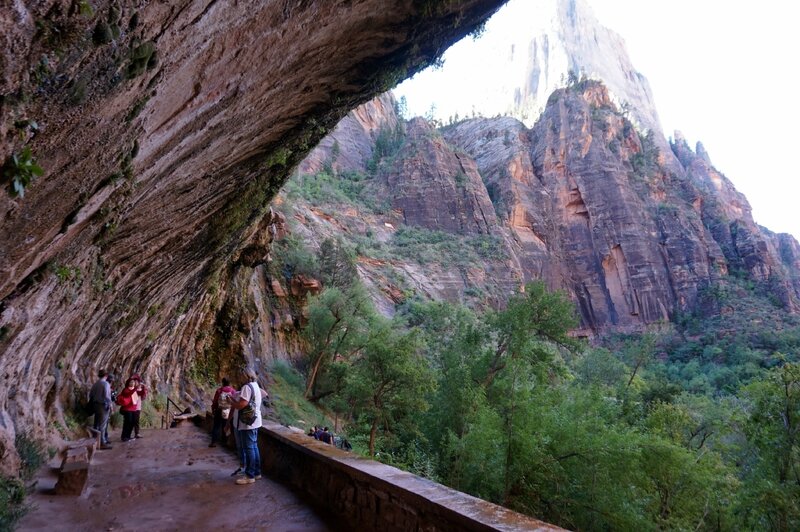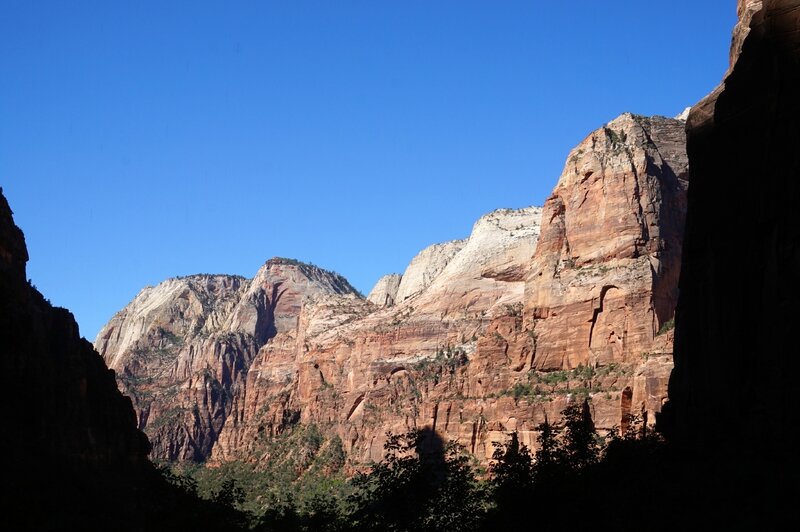 On s'attaque ensuite à une petite randonné d'une heure. On monte le long de la paroi du canyon, ce qui nous donne une jolie vue sur la rivière. Les couleurs sont magnifiques, et le canyon paraît immense. La randonnée aboutit à des chutes d'eau et des bassins (les Emerald Pools). C'est magnifique, on serait bien resté pique-niquer à côté mais la foule nous en dissuade… On redescend vers la rivière par un chemin goudronné, plus facile d'accès que le début de notre randonnée.
Then we start a 1h hike. We walk the canyon wall up, which gives us a nice view on the river. Colors are splendid and the canyon seems so huge. The hike leads to falls and pools (Emerald Pools). Again, it's wonderful, we would have like to stay longer and enjoy a picnic but it was too crowded. We walk down to the river by a paved trail, easier than the beginning of our hike.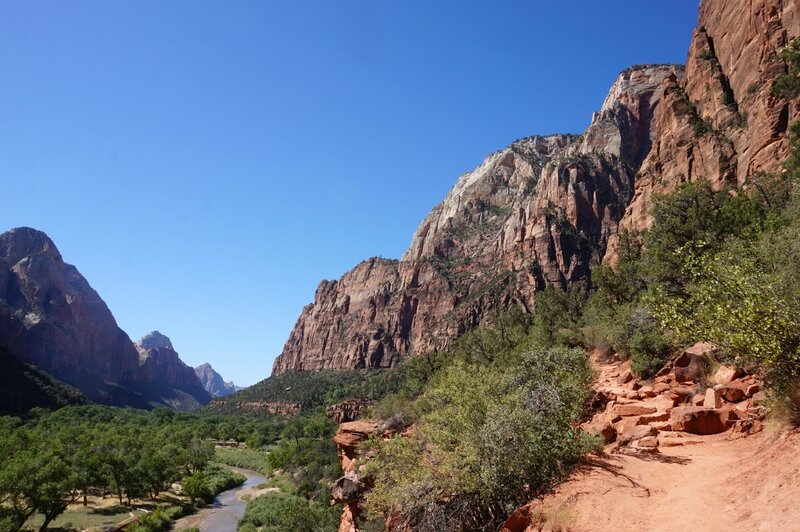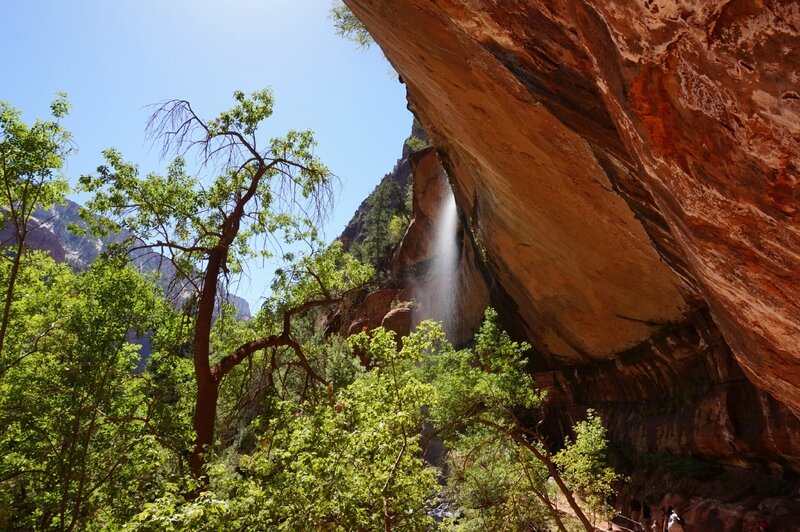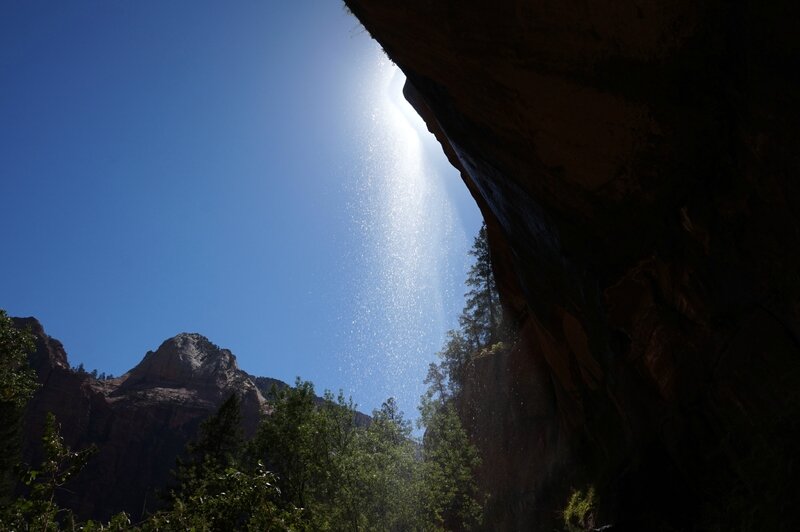 Dernier arrêt avec la navette pour un point de vue sur les Patriarchs : l'explorateur qui les a nommés était très religieux, les trois pics portent donc les noms Abraham, Isaac and Jacob.
Last stop by shuttle for a point of view on the Patriarchs : the explorer who named them was very religious, thus these 3 peaks are called Abraham, Isaac and Jacob.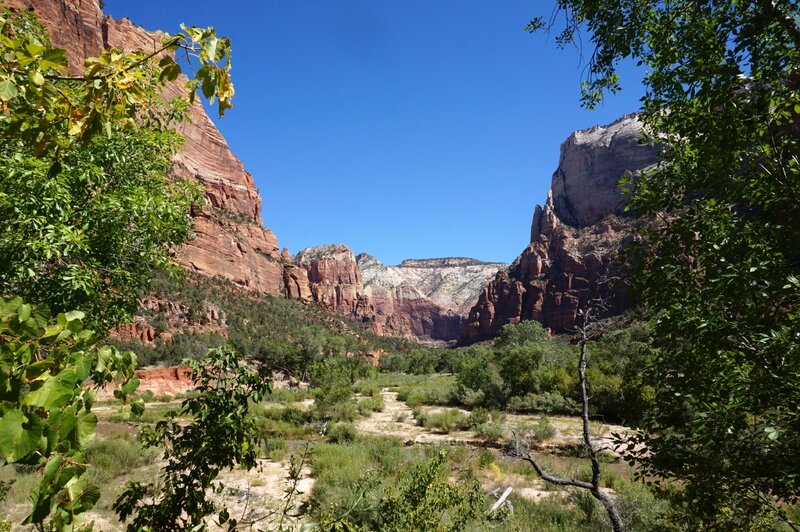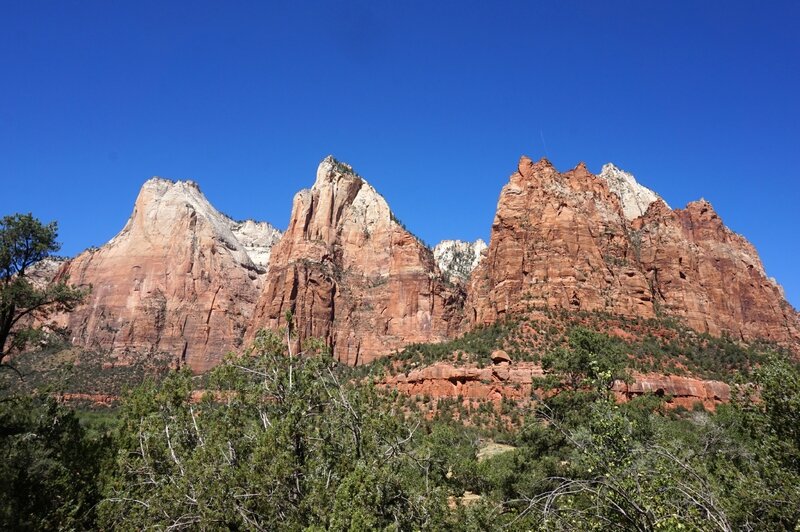 Après 5h dans le parc, on le quitte par l'Est. La route longe le canyon, les paysages sont magnifiques, avec plein de pierres rouges. On prend un tunnel creusé dans la roche, qui est tellement étroit que la circulation doit être mise à sens unique pour faire passer un bus !
After spending 5 hours in the park, we leave it by the East. The road is along the canyon, landscapes are splendid, with many red rocks. We take a tunnel, which is so narrow that traffic must be change in one-way road each time a bus or a RV drives through it !
Prochain arrêt : Bryce Canyon !