29 janvier 2017
Le mardi 10, on commence notre journée dans le quartier de Wynwood à Miami, un quartier plein de Street art. On prend un bon brunch au milieu des fresques, puis on se promène. C'est impressionnant, ce quartier paraît immense, et tous les murs sont peints !
On Tuesday 10, we start our day in the Wynwood district in Miami, a neighborhood full of street art. We have a good brunch in the middle of the murrals, then we have a walk. It's impressive, this neighborhood looks huge, and all the walls are painted !
Les murs sont peints par de très bon artistes, au pinceau ou à la bombe de peinture. J'ai essayé de retrouver les artistes pour certains d'entre eux.
The walls are painted by very good artists, with a paintbrush or paint bomb. I tried to find the artists for some of them.
Portraits de Andy Wahrol et Jean-Michel Basquiat, réalisé au pinceau par Elisabetta Fantone
Portraits of Andy Wahrol and Jean-Michel Basquiat, made with a paintbrush by Elisabetta Fantone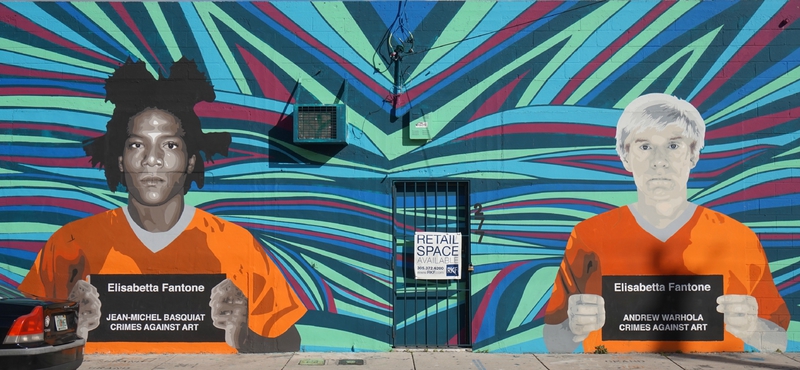 Oeuvre de Martin Whatson sur un mur d'une école primaire
Work of Martin Whatson on a wall of a primary school.
The sun Godesses, par Kevin Ledo et Fin Dac, fait au spray et feuilles d'or
The sun Godesses, by Kevin Ledo and Fin Dac, made by spray and gold leaf.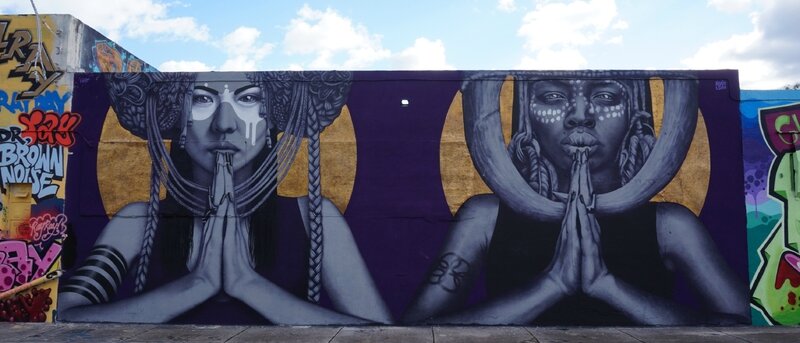 J'ai pas trouvé l'artiste...
Could not find the artist...

26 janvier 2017
En ce début 2017 nous sommes partis en road trip en Floride. Notre périple commence à Orlando, où nous arrivons le dimanche 8 janvier en fin de soirée. On dort dans un motel au bord d'un petit lac avant de prendre la route, direction Miami, enfin Miami Beach pour être exact. Il s'agit d'une ville balnéaire où tout tourne autour de sa magnifique plage de sable blanc. On se promène donc sur la plage, mais le temps est plutôt maussade (il fait 20°, ce qui est tout de même 30° de plus qu'à Boston au même moment), et il y a du vent, du coup pas grand monde sur le sable !
At the beginning of 2017 we went on a road trip in Florida. Our journey begins in Orlando, where we arrive Sunday, January 8 at night. We sleep in a motel at the edge of a small lake before heading to Miami, well, Miami Beach to be exact. It is a seaside town where everything is about its beautiful white sand beach. We walk on the beach, but the weather is rather gloomy (it is 20°C / 68°F, which is still 30° / 54°F more than in Boston at the same time), and there is wind, therefore there are not many people on the sand !
Le boulevard Ocean Drive longe la plage, on y trouve des superbes hôtels art déco construits dans les années 30, classés monuments historiques dans les années 80, et superbement rénovés plus récemment. On aime beaucoup ces façades blanches avec quelques touches de couleur. C'est aussi très joli la nuit, avec de nombreux néons.
Ocean Drive runs along the beach, there are superb art deco hotels built in the 1930's, classified as historic monuments in the 80's, and superbly renovated more recently. We love these white facades with touches of color. It is also very pretty at night, with many neon lights.
On marche ensuite jusqu'à la pointe sud de la ville, d'où on a une jolie vue sur la plage, mais aussi sur le centre-ville de Miami, de l'autre côté d'un bras de mer. On s'arrête dans un bar au bord d'une piscine, Le Monty's, pour déguster un cocktail sous les palmiers. Puis on se balade sur Lincoln Road, une rue commerçante piétonne, qui nous fait penser aux ramblas de Barcelone. On a été très agréablement surpris de notre visite à Miami Beach, c'est très agréable de s'y promener, et beaucoup moins bling-bling que ce qu'on attendait.
Then we walk to the southern tip of the city, from where we have a nice view of the beach, but also the downtown of Miami, on the other side of an inlet. We have a break in a bar with a pool, Le Monty's, to enjoy a cocktail under the palm trees. Then we walk on Lincoln Road, a pedestrian shopping street, which reminds us of the ramblas of Barcelona. We were very pleasantly surprised by our visit to Miami Beach, it was very pleasant to walk around, and much less bling than expected.
24 janvier 2017
Nous avons passé 3 jours à New York entre Noël et le jour de l'an. Le but principal était de voir les décorations de Noël, comme on vous l'a montré dans un article précédent. Mais on en a profité pour voir d'autres choses ! On logeait dans Williamsburg, un quartier de Brooklyn. On en a profité pour faire un tour dans le quartier voisin de Bushwick, où se trouvent de nombreuses fresques murales. On est aussi allé au bord de la East River, où on avait une jolie vue sur Manhattan.
We spent 3 days in New York City between Christmas and New Year Day. The main goal was to see Christmas decorations, as we showed you in a previous article. But we took the opportunity to see other things ! We stayed in Williamsburg, a neighborhood in Brooklyn. We took the opportunity to have a walk in the neighborhood of Bushwick, where there are many murals. We also went to the East River, where we had a beautiful view of Manhattan.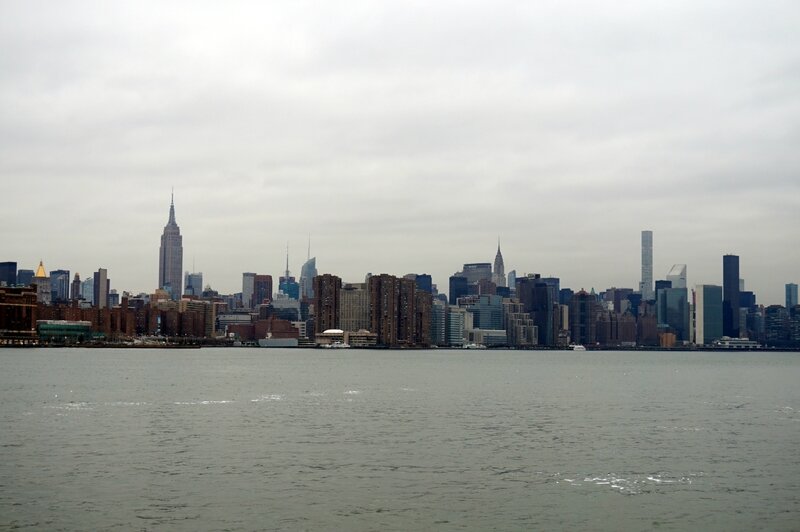 On a visité le 9/11 Memorial, un musée situé sous la place du World Trade Center, qui relate les événements du 11 Septembre 2001. C'était très bien fait et émouvant, mais bon l'exposition « d'artefacts » comme des chaussures à talon ou des cartes d'hôtel retrouvées dans les décombres étaient un peu too much… On fait un tour dans l'Oculus, la nouvelle gare. La dernière fois qu'on était venu, elle n'était pas finie. Maintenant on y trouve un centre commercial, et il y avait de jolis éclairages pour noël.
We visited the 9/11 Memorial, a museum located under the World Trade Center, which talks about the events of September 11, 2001. It was very well done and touching, but the exhibition of "artifacts'" like heel shoes or hotel passes found in the rubble were a little too much ... We had a walk in the Oculus, the new train station. The last time we came, it was not finished. Now there is a shopping center, and there were nice lights for Christmas.
On est aussi monté en haut de la nouvelle tour One World Trade Center. Après avoir attendu 30 minutes dehors, on monte dans un ascenseur super rapide, sur les murs duquel sont projetés des effets visuels montrant l'évolution du quartier à travers l'histoire. Une fois en haut, on se retrouve devant un écran, où un petit film est diffusé. A la fin du film l'écran se lève sur la vue ! Un show à l'américaine quoi… On a ensuite accès à l'étage d'observation, où on a une vue à 360° derrière des vitres. J'aime beaucoup la vue, avec la statue de la liberté au Sud, et Manhattan qui se découpe au nord.
We also went on top of the new One World Trade Center tower. After waiting 30 minutes outside, we go into a super fast elevator, on the walls of which are projected visual effects that show us the evolution of the neighborhood throughout history. Once at the top, we are facing a screen, where a small film is shown. At the end of the film the screen rises et we are facing the view ! A show in the American style ... Then we have access to the observation deck, where we have a 360 ° view behind windows. I love the view, with the Statue of Liberty to the south, and Manhattan to the north.
Enfin, on est monté tout en haut de Manhattan, an niveau de la 190ème rue, pour aller à The Cloisters. Il s'agit d'un musée dans un faux monastère construit en 1939 pour accueillir des œuvres provenant d'églises européennes. On trouve en particulier 4 cloîtres importés de France. C'est très insolite, on est au milieu d'un parc, c'est dur de réaliser qu'on est encore dans New York !
Finally, we went to the top of Manhattan, at the level of the 190th street, to go to The Cloisters. It is a museum in a false monastery built in 1939 to receive works of art from European churches. There are in particular 4 cloisters imported from France. It's very unusual, we are in the middle of a park, it's hard to realize that we are still in New York City !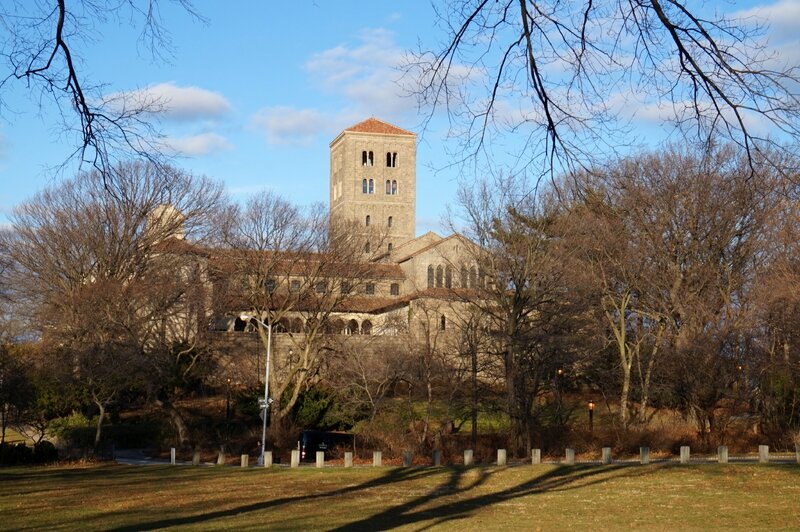 21 janvier 2017
Pour conclure le récit de notre road trip dans l'Oregon et Seattle, fait du 18 au 28 Novembre, voici une carte qui résume notre trajet, ainsi qu'une petite vidéo montrant les différents paysages qu'on a vu. Regardez la vidéo jusqu'au bout si vous voulez voir le lancer de poisson de Pike Market !
To conclude the story of our road trip in Oregon and Seattle, from November 18th to 28th, here is a map of our ride, and a short movie showing the different scenery we enjoyed. Watch the video until the end if you want to see the fish throwing at Pike Market !
07 janvier 2017
On est déjà en janvier, mais j'estime qu'il n'est pas encore trop tard pour vous montrer des photos de décos de Noël. Cette année on a passé Noël à Boston, le 25 on etait invité chez des amis pour décorer des cookies, c'était très sympa !
We are already in January, but I think it is not too late to show you pictures of Christmas decoration. This year we spent Christmas in Boston, the 25th we were invited at some friends' place to decorate cookies, it was very nice !
Puis le 26 on est parti à New York pour quelques jours, pour voir les jolies décorations (un article plus complet sur ce qu'on a fait à New York viendra plus tard…) On s'est donc baladé sur la 5ème avenue, pour voir les jolies vitrines (de Macy's, Bloomingdale ou encore Tiffany). On a aussi vu le sapin du Rockfeller Center, mais on n'est pas resté longtemps à cause du monde ! Enfin sur Bryant Park on a pu voir un marché de Noël, avec patinoire et sapin.
Then the 26th we went to New York CIty for a few days, to see the beautiful decorations (a more complete article on what we did in New York City will come later ...). We had a walk on the 5th Avenue, to see the pretty windows (Macy's, Bloomingdale or Tiffany). We also saw the Christmas tree of the Rockfeller Center, but we didn't stay a long time because of the crowd ! Finally in Bryant Park we saw a Christmas market, with skating rink and Christmas tree.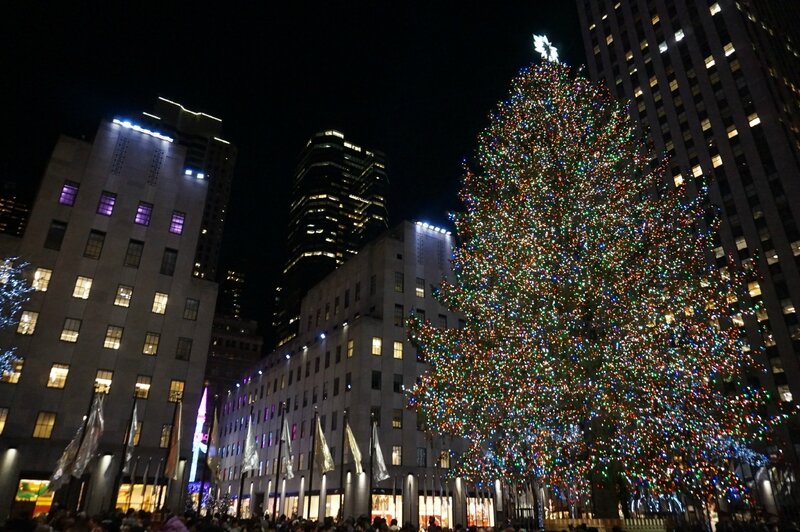 De retour à Boston, on s'est baladé dans les différents quartiers bien décorés : Back Bay, Beacon Hill et Faneuil Hall. Le 31 décembre au soir on est allé à Copley square, on se trouvait un concert et des scupltures sur glace.
Back in Boston, we had a walk through different well decorated neighborhoods : Back Bay, Beacon Hill and Faneuil Hall. On December, the 31st we went at Copley Square, where there was a concert and ice scupltures.
Nous vous souhaitons à tous une bonne année 2017 !
We wish you a happy new year 2017 !
06 janvier 2017
On passe nos 3 derniers jours à visiter Seattle. On se promène dans le centre-ville, où on découvre le premier Starbucks (qui n'a rien de spécial). A Pike Market, un marché couvert avec pleins de boutiques, on achète une spécialité locale : le crabe Dungeness. La poissonnerie où on l'achète est très connue pour ses lancers de poisson : quand quelqu'un achète un poisson, les vendeurs se les lancent d'un bout à l'autre de l'étal ! Le soir on se régale avec notre crabe ! On passe aussi devant le Gum Wall, un mur où tout le monde pose son chewing-gum mâché.
We spent our last 3 days visiting Seattle. We walk in the downtown, where we discover the first Starbucks (which has nothing special). At Pike Market, a covered market with plenty of shops, we buy a local specialty : Dungeness Crab. The fish shop where we bought 2 crabs is well known for its fish throws : when someone buys a fish, sellers throw them from one end of the stall to the other ! In the evening we enjoy our crab ! We also pass the Gum Wall, a wall where everyone places his chewed chewing gum.
On se promène dans les différents quartiers. Pas de quoi prendre des photos, mais les promenades sont très agréables. On découvre que Seattle est une ville très étalée, avec de nombreux quartiers très différents les uns des autres. On voit de jolies maisons, et beaucoup beaucoup d'espaces verts !
We walk in the different districts. Not special enough to take pictures, but the walks are very pleasant. We discover that Seattle is a very spread out city, with many neighborhoods very different from each other. We see pretty houses, and lots of green areas!
Enfin le dernier jour il est temps de monter en haut de la célèbre Space Needle. Cette tour a été construite pour l'exposition universelle de 1962. Elle fait 184m (605ft) de haut et peut résister aux vents forts et aux tremblements de terre. Elle a été construite pendant la période de la course à l'espace, d'où son nom et sa forme de soucoupe volante. En entrant dans la base, on voit d'abord une petite exposition qui nous explique sa construction, et le contexte de la conquête de l'espace. Puis on prend un ascenseur vitré pour monter. En haut la vue est jolie sur la ville. Par contre les nuages ne nous permettent pas de voir les montagnes. A l'Ouest, on devine les monts Olympiques, au Sud on est sensé voir le Mont Rainier, mais on ne voit rien… Par contre l'espace d'observation est très bien fait, il y a en particulier des écrans tactiles qui permettent de voir à 360° la vue depuis la tour pour n'importe quel jour de l'année précédente. Du coup on passe un moment à regarder des timelapses magnifiques qui nous montrent la vue lors de jours ensoleillés (pour voir quelques exemple de la vue, faites un tour sur le blog d'Amélie).
Finally on the last day it is time to go up the famous Space Needle. This tower was built for the 1962 Universal Exhibition. It is 184m (605ft) high and can resist strong winds and earthquakes. It was built during the space race, that's where its name and flying saucer shape comes from. Entering the base, we first see a small exhibition that explains its construction, and the context of the conquest of space. Then we take a glazed elevator to go up. At the top the view of the city is pretty. But clouds don't allow us to see the mountains. In the West, we can guess the Olympic mountains, in the South we are supposed to see Mount Rainier, but we see nothing ... However, the observation space is very well done, there are in particular touch screens that allow us to see a 360​​° view from the tower for any day of the previous year. So we spend a moment watching beautiful timelapses that show us the view on sunny days (to see some example of the view, take a look at Amélie's blog).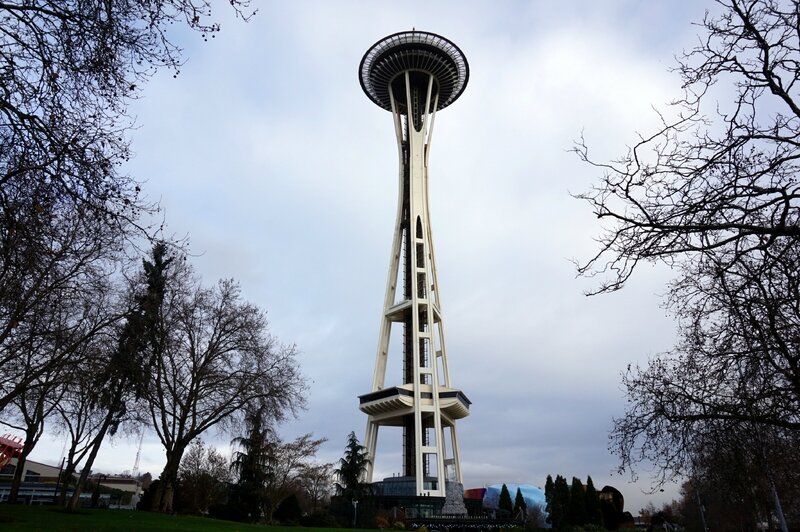 On passe ensuite sur le campus de l'université où travaille Natha : University of Washington. C'est un superbe campus à l'américaine : bâtiments gothiques, espaces verts. L'université est au bord du Lake Washington, il reste quelques couleurs d'automne et c'est magnifique.
We then pass on the campus of the university where Natha works: University of Washington. It is a superb American campus: Gothic buildings, green spaces. The university is on the edge of Lake Washington, it still has some autumn colors and it's beautiful.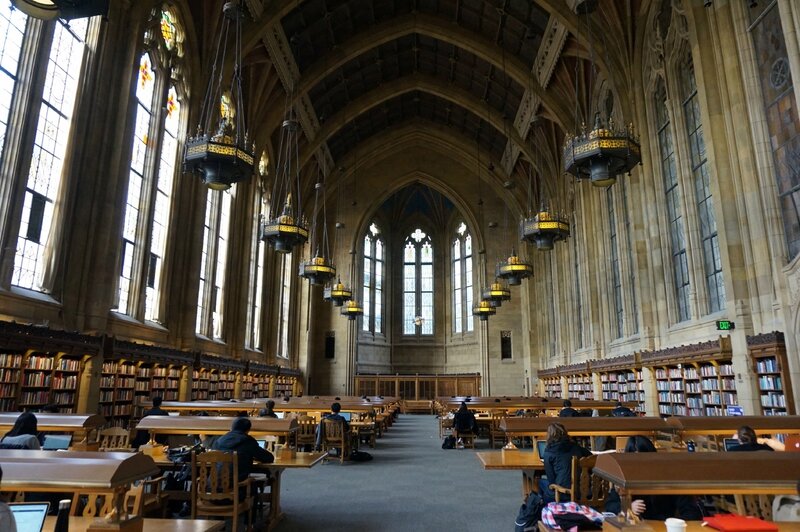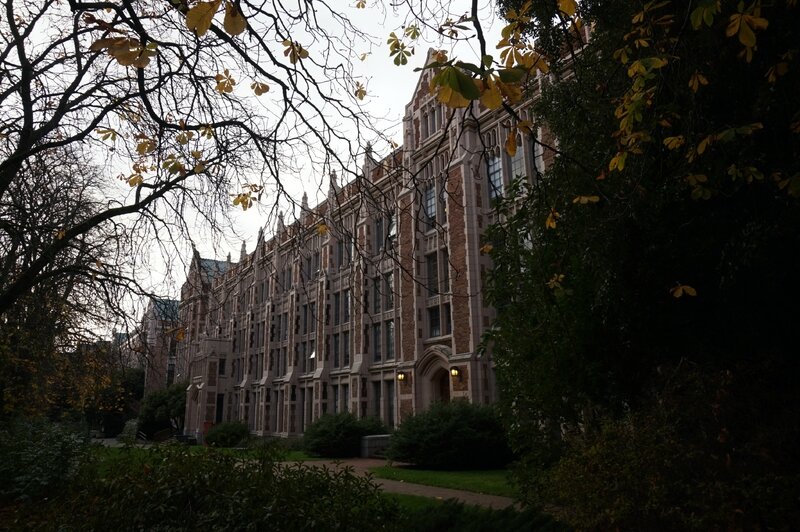 Notre séjour finit en beauté par un coucher de soleil vu depuis le toit de l'immeuble de Natha et Amélie, qui est aménagé avec sièges et barbecue. Encore une fois, merci à Natha et Amélie de nous avoir fait visiter leur ville !
Our stay finishes beautifully with a sunset seen from the roof of the building of Natha and Amelie, which is equipped with seats and barbecue. Again, thanks to Natha and Amelie for making us visit their city!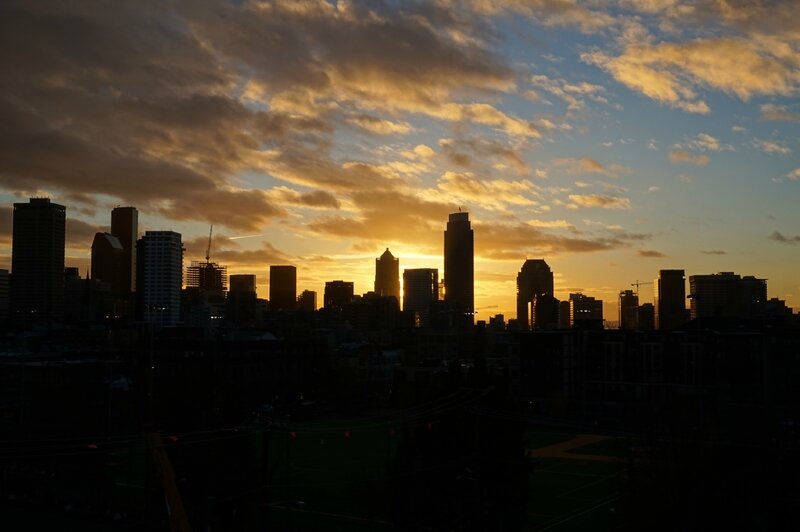 04 janvier 2017
On arrive à Seattle le vendredi 25 Novembre au soir. On profite d'avoir la voiture pour aller voir différents points de vue sur la ville éclairée.
We arrive in Seattle on Friday, November 25 at night. We took advantage of having the car to go see different views of the illuminated city.
Premier arrêt, Gas works Park, situé de l'autre côté du Lake Union par rapport au centre-ville. On a donc une magnifique vue sur les buildings éclairés. La particularité de ce parc est qu'il a été construit sur le site d'une ancienne usine, on peut donc voir le contraste entre les machines industrielles et le parc. Bon on n'a pas de photo de ça, parce que de nuit ça ne rendait rien, et quand on y est retourné de jour il pleuvait… Du coup vous pouvez aller faire un tour sur le blog d'Amélie pour voir à quoi ça ressemble…
First stop, Gas Works Park, located on the other side of the Lake Union from the city center. We have a magnificent view of the illuminated buildings. The particularity of this park is that it was built on the site of an old factory, so we can see the contrast between the industrial machines and the park. Well, we don't have a picture of it, because at night we could not see anything, and when we went back during daylight it was raining ... You can click on Amelie's blog to see what it looks like…
Ensuite, direction Kerry Park, au sommet d'une colline. On a une superbe vue sur la Space Needle, et le centre-ville !
Then, we head towards Kerry Park, at the top of a hill. We have a great view of the Space Needle, and downtown !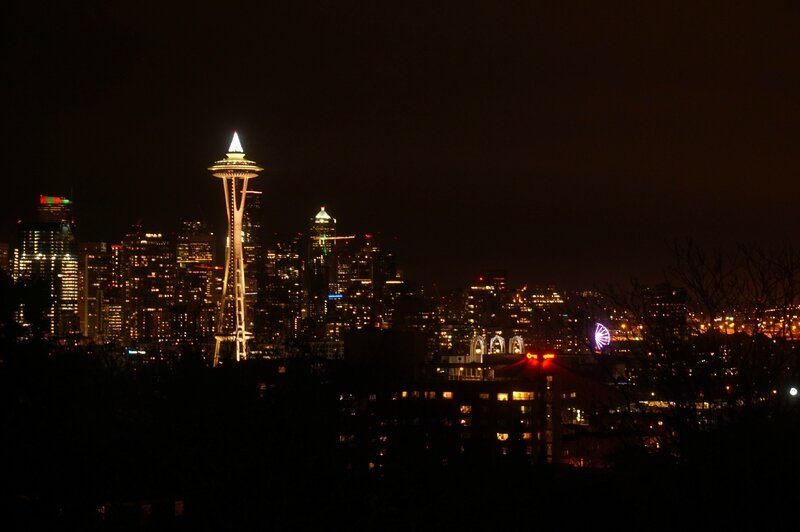 Enfin, on va à Alki Beach, de l'autre côté de la baie. On voit les buildings au loin, c'est très joli mais il pleut à nouveau du coup la photo est très floue…
Finally, we go to Alki Beach, on the other side of the bay. We see the buildings in the distance, it is very nice but it is raining again so the picture is very blurry ...
Merci Natha et Amélie de nous avoir fait découvrir votre nouvelle ville !
Thank you Natha and Amélie for making us discover your new city!
03 janvier 2017
Après notre passage dans les dunes, on continue notre remontée de la côte de l'Oregon. On s'arrête sur quelques plages pour profiter de la vue jusqu'à arriver à l'étape suivante qui est Cape Perpetua, où on trouve des falaises et des rochers. La marée est montante, les vagues viennent s'écraser contre les rochers. A un endroit particulier, les formations rocheuses forment un geyser : lorsque le courant est suffisamment fort, l'eau s'y engouffre et ressort sous forme de geyser. C'est super impressionnant, on reste un moment à admirer le spectacle.
After our walk on the dunes, we continue our trip to the North of Oregon coast. We stop on some beaches to enjoy the view until we arrive at the next step which is Cape Perpetua, where we find cliffs and rocks. The tide is rising, the waves crash against the rocks. At a particular place, the rock formations form a geyser : when the current is strong enough, the water gets into rock formations and emerges as a geyser. It is very impressive, we stay a moment to admire the show.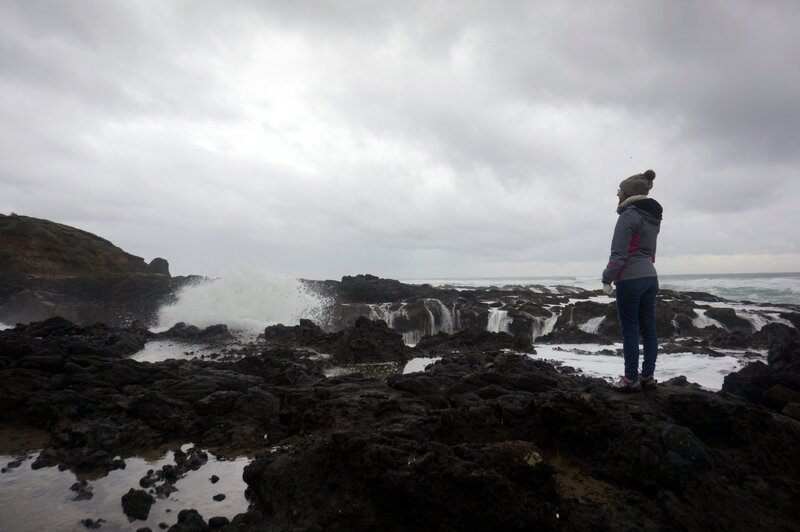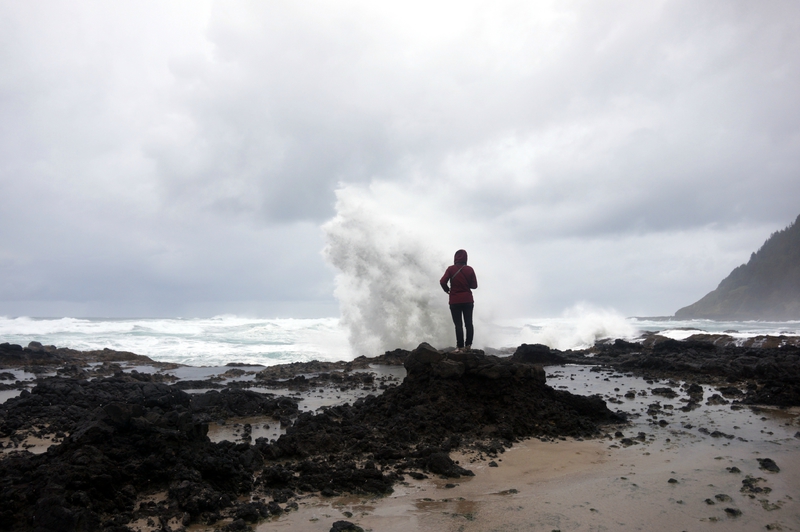 Après nous avoir laissé tranquilles une bonne partie de la journée, la pluie revient, et ne s'arrêtera pas pendant plus de 24h… On passe la nuit dans un super airbnb à Newport. Le lendemain, c'est Thanksgiving. Au réveil, c'est la tempête. De la fenêtre, on regarde les vagues au loin. On se décide à partir vers 11h. Premier arrêt sous la pluie : le phare de Yaquina. Le vent souffle fort, on manque de s'envoler (enfin surtout moi !). Pas de photos de cette étape, c'était trop risqué ! Le reste de la journée est pas palpitant, on roule jusqu'au airbnb suivant, sur la plage de Rockaway Beach. L'appartement est vraiment sur la plage, on a une superbe vue. On se balade 15 minutes sous la pluie avant de se remettre au chaud !
After leaving us alone for a good part of the day, the rain returns, and will not stop for more than 24 hours ... We spend the night in a superb airbnb in Newport. The next day is Thanksgiving. When we wake up, there is a storm. From the window, we look at the waves in the distance. We decide to leave around 11am. First stop with the rain: the lighthouse of Yaquina. The wind blows hard, we are almost flying (especially me !). No photos of this stage, it was too risky ! The rest of the day is not exciting, we drive to the next airbnb on the Rockaway Beach. The apartment is really on the beach, we have a great view. We have a 15-minutes walk under the rain before getting warm and dry !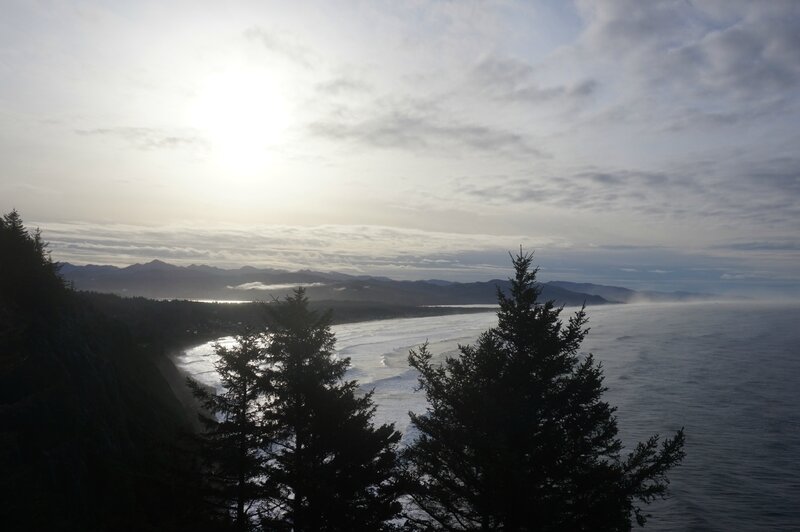 Pour notre dernier jour de road trip, le soleil revient un peu. On en profite pour se promener longuement sur la plage Cannon Beach, avec ses jolis rochers. On monte au Ecola State Park qui donne un joli point de vue sur la plage.
For our last day of road trip, the sun comes back a little. We take the opportunity to have a long walk along Cannon Beach, with its pretty rocks. We drive to the Ecola State Park which gives a nice view on the beach.