04 février 2017
Le mercredi 11 janvier, on se dirige vers Key West, tout au bout de l'Overseas Highway. On y arrive en 50 minutes, on gare la voiture car cette ville se parcourt à pied. On va d'abord au Southernmost Point, le point le plus au sud des Etats-Unis continentaux. On est alors à 90 miles (150km) de Cuba, plus proche que Miami (159miles, soit 255km).
On Wednesday, January 11, we head to Key West, at the very end of the Overseas Highway. We arrive there in 50 minutes, we park the car because we don't need it, this city is small enough to walk. We go first to the Southernmost Point of the continental United States. We are then at 90 miles (150km) from Cuba, closer than Miami (159miles, or 255km).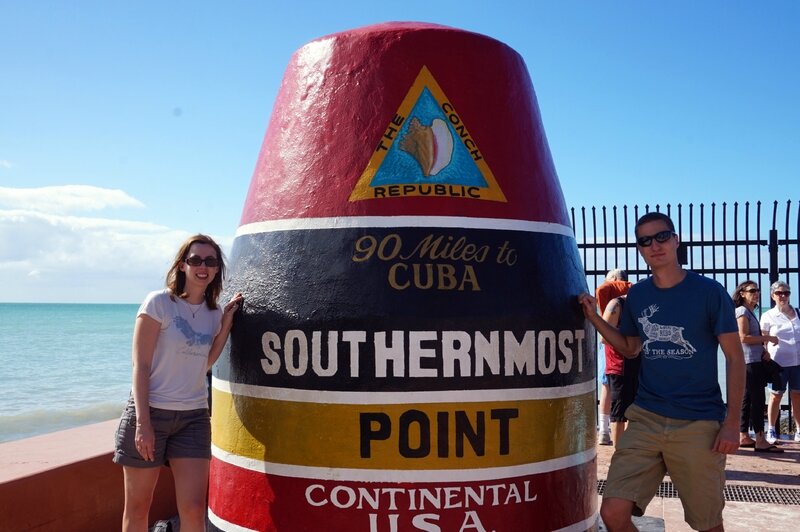 On va ensuite visiter la maison d'Ernest Hemingway, qui a vécu là pendant 8 ans avec sa seconde femme, de 1931 à 1939. La maison est magnifique, au milieu d'un jardin très ombragé. Pendant la visite, on découvre les quelques 45 chats de la maison, dont certains descendent du propre chat d'Hemingway Snowball, qui avait 6 orteils. On trouve en particulier un chat sur le lit, qui a bien 6 orteils !
We then visit the house of Ernest Hemingway, who lived there for 8 years with his second wife, from 1931 to 1939. The house is beautiful, in the middle of a very shaded garden. During the visit, we discovers the some 45 cats of the house, some of which descend from the own cat of Hemingway Snowball, which had 6 toes. We do find 6-toe cat on the bed !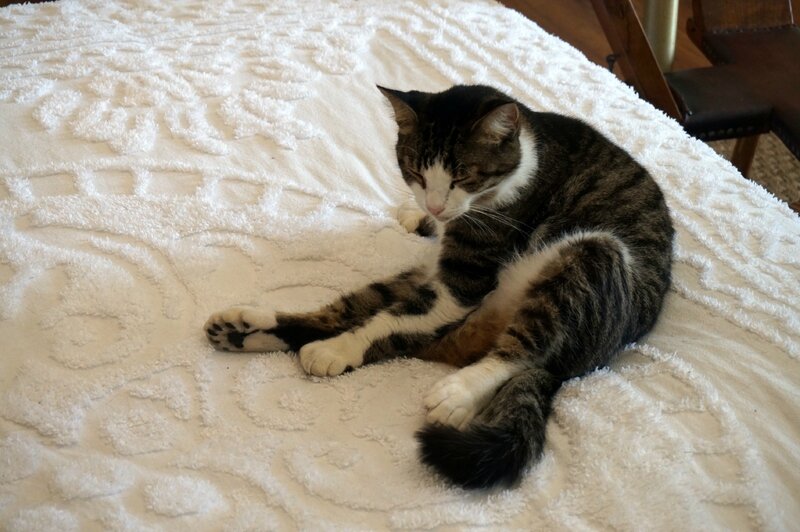 On se promène ensuite dans les rues bordées de maison coloniales. C'est très agréable, des petites rues étroites, peu de voitures circulent, il y a plein de scooters et de vélos. Sur la marina se trouvent plein de petits restos avec vue sur la mer. On va jusqu'à l'éco-musée, où des expositions montrent l'environnement naturel des Keys. Cela nous permet de voir des images de la barrière de corail à défaut d'y aller.
Then we walk on the streets lined with colonial houses. It is very nice, small narrow streets, a few cars circulate, there are plenty of scooters and bicycles. On the marina there are plenty of little restaurants with a view of the sea. We go to the eco-museum, where exhibits show the natural environment of the Keys. This allows us to see images of the coral reef for lack of going there.
On finit la journée sur le Sunset Pier, pour regarder le coucher du soleil, comme son nom l'indique. Des artistes de rue font des petits spectacles, dont un français dresseur de chat…
We finish the day on the Sunset Pier, to watch the sunset, as its name shows. Street performers make small shows, including a French cat trainer ...