30 mai 2016
Dernier jour de visite à Chicago. Après un bon petit déjeuner à base d'omelette et d'œufs Bénédicte, on se promène dans le Loop, encore. Ce coup-ci on part de l'est de la rivière, en passant par la gare dans le même style que Central Station à New York. On profite encore de la vue sur les gratte-ciels, dont de tous nouveaux encore en construction, avec une structure plus petite à la base qu'au sommet.
Last day in Chicago. After a good breakfast with omelet and Benedict eggs, we have a walk in the Loop, again. This time we start from the East side of the river, we go through the train station, which is the same style as Central Station in New York. We enjoy again the view on buildings, including one still in construction, with its base smaller than its top.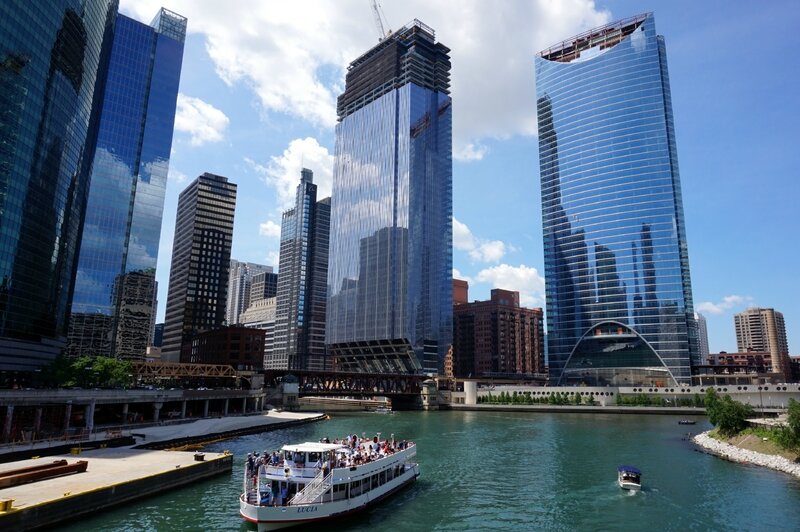 On marche ensuite jusqu'à la Navy Pier, une jetée sur le lac avec grande roue et carrousel. La grande roue a d'ailleurs été inventée à Chicago pour l'exposition universelle de 1893, dans l'espoir de créer une structure aussi emblématique que la Tour Eiffel…
Then we walk to the Navy Pier, a pier on the lake with a big wheel and carrousel. By the way, the big wheel was invented in Chicago for the 1893 Universal Exposition, in the hope of making a structure as emblematic as the Eiffel Tower ...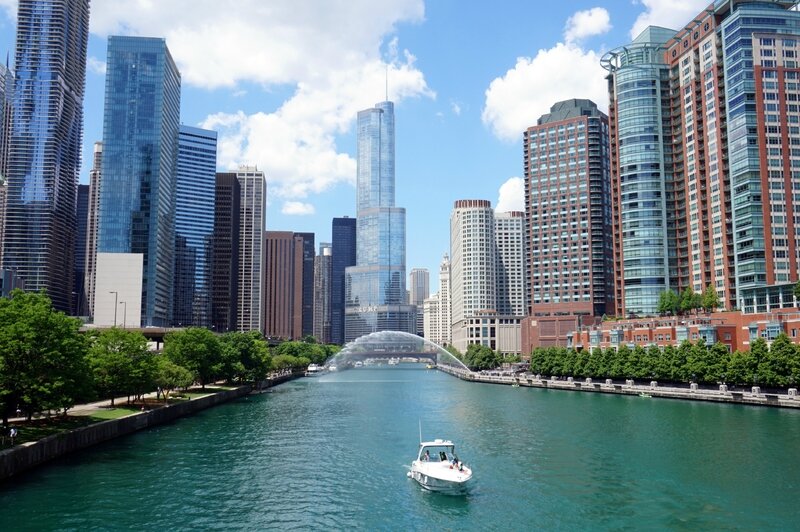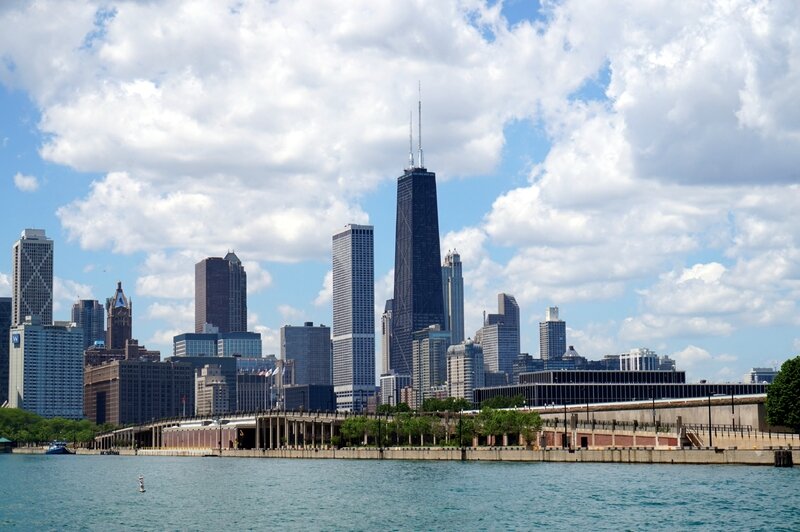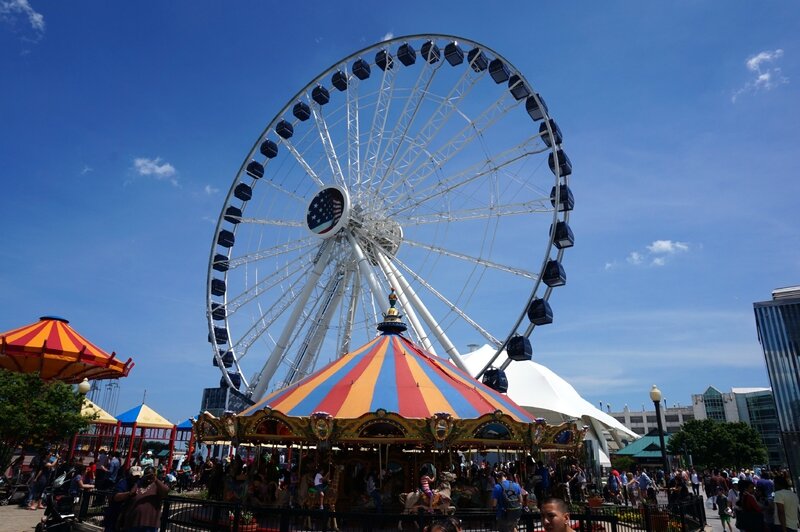 Un dernier tour dans Millenium Park, puis on repasse à l'hôtel chercher la valise. On en profite pour prendre une photo du panneau de la route 66 : après avoir vu l'arrivée à Los Angeles, voilà le départ à Chicago ! Ensuite le retour à l'aéroport, puis à Boston.
One last walk in the Millenium Park, then we go to our hotel to get our luggage back. We take a picture of the Road 66 sign : after seeing the end in Los Angeles, here we have the start in Chicago ! Then we return to the airport, then to Boston.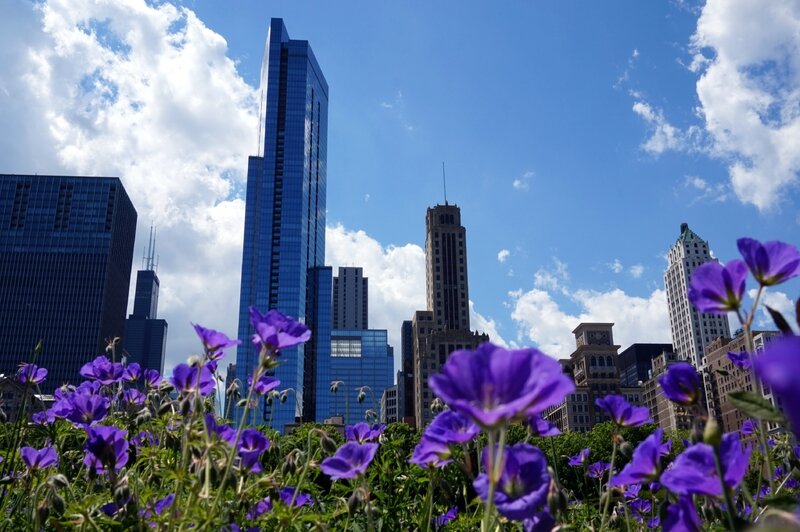 29 mai 2016
On commence notre deuxième journée par une promenade sur le museum campus, le même parc où on était la veille de nuit. On marche ensuite le long du lac jusqu'à la Buckingham Fountain, inspirée d'une fontaine de Versailles, en deux fois plus grand…
We start our second day with a walk on the Museum campus, the same park we were in last night. Then we walk along the lake to the Buckingham Fountain, which was inspired by a fountain in Versailles but this one in Chicago is twice bigger ...
On retrouve ensuite Sean, un guide des Chicago Greeters. Cette association propose des visites gratuites, dont on choisit le thème en avance. Sean est venu avec sa femme, et passe 3 heures en notre compagnie pour une promenade dans le Loop et Millenium Park. Il nous explique d'abord l'histoire de Chicago, en particulier que si Chicago est un haut lieu d'architecture c'est grâce au feu de 1871 qui a ravagé toute la ville. Du coup tout a été reconstruit, et de nombreux architectes connus sont venus laisser leur trace dans la skyline. On déambule ensuite au milieu des gratte-ciel, entre les anciens avec une base immense pour soutenir la hauteur, et les nouveaux tout fins avec une armature de fer. On trouve aussi de nombreuses œuvres d'art en ville, comme un Picasso ou le Flamingo (Flamand Rose) de Calder.
Then we meet Sean, a guide from Chicago Greeters. This association offers free visits, and we can choose the theme of the visit. Sean came with his wife, and spends 3 hours with us for a walk in the Loop and Millenium Park. First, he explains us the history of Chicago, in particular that if Chicago is a famous city for architecture, thanks to the 1871 big fire that destroyed the entire city. Thus everything was rebuilt, and many famous architects came to leave their mark on Chicago's skyline. Then we walk around buildings, between ancients with broad walls to support the height, and thin news buildings with iron armature. We also find many works of art, like a Picasso or the Flamingo from Calder.
On se dirige ensuite vers le Millenium Park, un grand parc construit sur les déchets de l'incendie de 1871. Comme on l'a déjà vu hier, Chicago est une ville très verte, c'est agréable de s'y promener. Le Millenium Park est composé de plusieurs parties, une très touristique avec des sculptures, et une plus tournée vers les habitats avec aires de jeux et minigolfs. On y trouve aussi une scène en plein air, avec des concerts gratuits l'été. Le design de la scène est très joli, et nous rappelle le Walt Disney Concert Hall de Los Angeles (et après vérification les deux ont bien été réalisés par le même architecte Franck Gehry). On se dirige ensuite vers le Bean, cette sculpture en forme de haricot très connue à Chicago. En vrai la sculpture s'appelle the Cloud Gate (la porte des nuages) et il parait que l'artiste déteste qu'on l'appelle le Bean… Qu'importe, nous on la trouve très jolie, et comme de nombreux touristes on s'amuse avec notre reflet et celui des immeubles.
Then we head towards the Millenium Park, a big park built above remains of the 1871 fire. As we already saw yesterday, Chicago is a very green city, it's very pleasant to walk in. The Millenium Park is composed of multiple areas, one is very touristic with sculptures, and another one is more for leisure time with playgrounds and mini-golfs. There is also an open air scene with free concerts in summer. The design is very nice and reminds us of the Walt Disney Concert Hall in Los Angeles (and after verification they were both made by the same architect Franck Gehry). Then we head towards the Bean, this sculpture with a Bean shape, very famous in Chicago. In fact, the sculpture's name is the Cloud Gate and it seems that the artist hates that we call his art work the Bean ... It doesn't matter, we love it, and like many tourists we enjoy taking picture of our reflection and the one of buildings.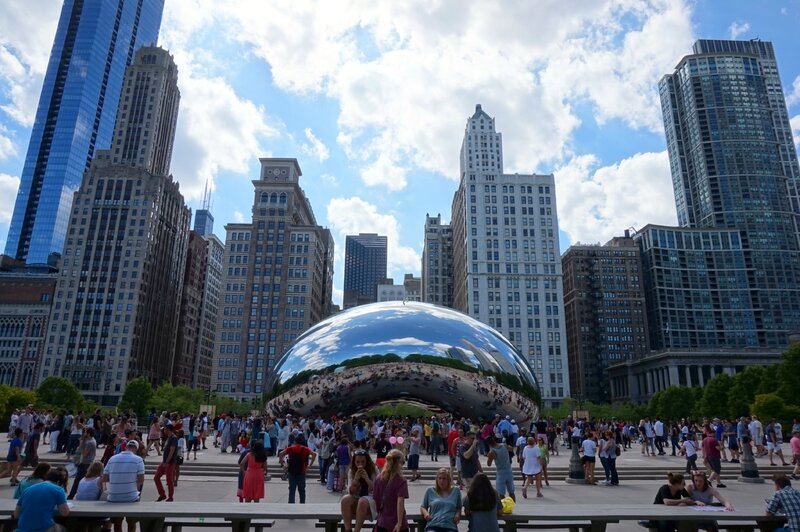 Notre guide nous laisse là, on va ensuite faire un petit tour de «L », le métro aérien (L pour elevated). C'est sympa, on se croirait revenu dans le passé. On passe aussi chez Garrett, une enseigne de popcorn connue ici. On ne se risque pas au mélange «Cheddar/Caramel » et on se contente d'un Amande Caramel délicieux.
Pour finir la journée on se dirige vers le Hancock Center pour profiter du coucher de soleil avec vue sur la ville. On arrive donc en bas vers 18h20, la personne à l'entrée de la file d'attente nous prédit une heure d'attente, ça ne nous réjouit pas mais on sait qu'on a de la marge pour un coucher de soleil à 20h15. Au final on attend près de 2h, et on arrive en haut juste pour voir le soleil disparaître à l'horizon… Cela ne nous met pas dans les meilleures conditions pour profiter de la vue… Mais bon c'est quand même joli avec les immeubles d'un côté, les plaines à perte de vue de deux autres, et finalement le lac.
Our guide lets us here, then we go around in the "L", the elevated subway (L for elevated). It's enjoyable, it's like we come back in the past. We also make a stop at Garrett, a famous popcorn shop here. We don't try the mix "cheddar/caramel" and we content ourselves with a delicious almond caramel popcorn. To end the day we head towards the Hancock Center to enjoy the sunset with a view on the city. We arrive in the entry at 6.20 pm, the hostess at the start of the wait line tells us that there is a 1-hour wait to take the elevator. We don't enjoy that but we know we have some time to maneuver because the sunset will be at 8.15pm. Finally we wait 2 hours, and we arrive at the top of the building just in time to see the sun disappear on the horizon ... That doesn't give us the best light to enjoy the view and the details ... But that is still beautiful with buildings on one side, plains as far as you eyes can see on 2 others sides, and finally the lake.
La suite ici.
28 mai 2016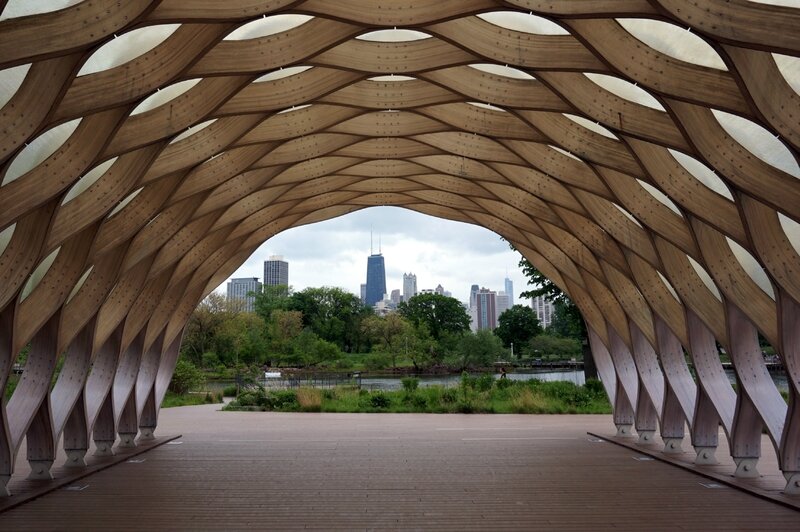 Nouveau week-end de 3 jours, cette fois-ci direction Chicago ! Notre avion est à 7h, donc on se lève à 4h30 pour prendre un Uber pour l'aéroport. 2h de vol, et on arrive à Chicago (avec une heure de décalage horaire dans le bon sens, donc on a toute la journée devant nous !). 45 minutes de métro, et nous voilà dans le centre de Chicago : le Loop (appelé ainsi parce que le métro aérien fait une boucle – loop en anglais-- autour de ce quartier). On dépose notre valise à l'hotel, et on se dirige vers le nord de la ville, au Lincoln Park (après un arrêt petit déjeuner très léger à base d'omelette, hashbrown et pancake). Le Lincoln park est un grand parc dans la ville, avec un zoo gratuit et des serres tropicale (il nous a rappelé le parc de la tête d'or à Lyon). On a aussi une très jolie vue sur la skyline de Chicago, qui est un peu triste sous le ciel gris… Le zoo est immense et très varié : tigres, lamas, girafes, suricates…
Another holiday week-end, this time direction Chicago ! Our flight is at 7am, therefore we wake up at 4.30am to take an Uber to the airport. A 2-hour flight later we arrive in Chicago (with 1 hour time difference in the good way, so we have all day in front of us !). 45 min by subway, and we are in downtown Chicago : the Loop (named like this because the aerial subway makes a loop around this district). We put our luggage in the hotel, and we head towards the North of the city, to Lincoln park (after a very light breakfast made of omelet, hashbrown and pancakes). Lincoln park is a big park in the city, with a free zoo and tropical greenhouses (it reminded us the Parc de la tête d'or in Lyon). We also have a very nice view of the Chicago skyline, which is a bit sad with the gray sky ... The zoo is huge and very varied : tigers, lamas, giraffes, meerkats ...
On se dirige ensuite vers la plage. Et oui il y a une plage à Chicago ! Même si la ville n'est pas au bord d'un océan, elle est au bord du lac Michigan, un des 5 grands lacs d'Amérique du nord. Et il est vraiment très grand, on ne voit pas le bout ! La plage est sympa, au pied des gratte-ciel, en particulier du haut John Hancock Center (le building noir avec deux antennes sur le toit).
Then we go to the beach. Yes, there is a beach in Chicago ! Even if the city is not at the edge of an ocean, it is at the edge of the Lake Michigan, one of the 5 big lakes in North America. And it is really very big, we can't see the other side ! The beach is nice, at the foot of buildings, in particular the tall John Hancock Center building (the black one with 2 antennas on the roof).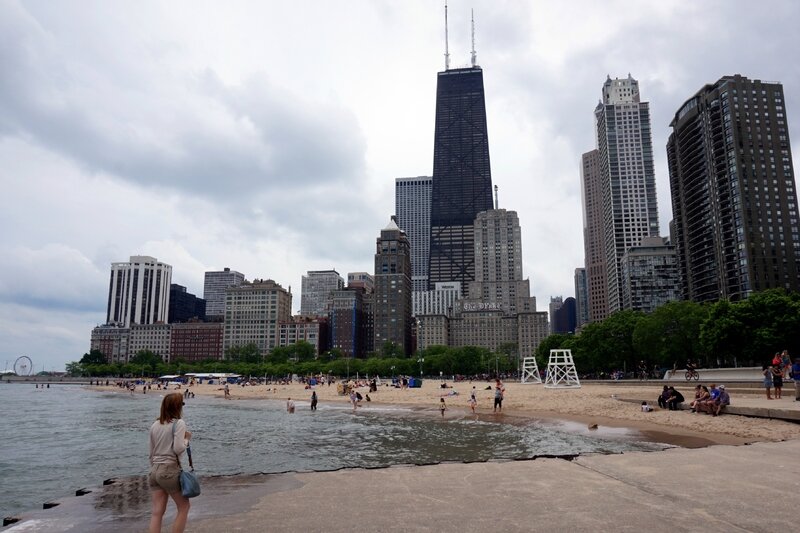 On se promène ensuite sur le Magnificent Mile, une grande avenue avec des magasins de luxe (Chanel, Burberry…). On s'arrête dans le magasin American Girl Place, un temple de la consommation à l'américaine. Il s'agit d'un immense magasin de poupée sur deux étages. Les petites filles choisissent une poupée leur ressemblant (il y a des dizaines de modèles classés par couleur de peau et coiffure), puis des vêtements (chaque vêtement est décliné en taille poupée et taille humaine, pour pouvoir être assorties). Il y a bien sûr un tas d'accessoires et de meubles, mais le plus hallucinant reste à venir. Au bout du magasin on trouve un coiffeur pour poupée, et un salon de thé avec chaises haute pour les poupées…
Then we walk on the Magnificent Mile, a broad way with luxury shops (Chanel, Burberry ...). We make a stop in the America Girl Place shop, an opulent consumers paradise like Americans love. This is a huge 2-floor shop with dolls. Little girls choose a doll which looks like them (there are tens of models sorted by skin color and hair cut), then clothes (each clothes could be bought in different sizes : for dolls and girls, to be assorted). There are of course a lot of accessories and furniture, but the most incredible is yet to come. At the end of the shop we find a hair-stylist for dolls, and a tea house with tall seats for dolls ...
On avait ensuite réservé une croisière architecturale sur la rivière et le lac. Le soleil est de la partie, donc on peut profiter de la vue magnifique sur les gratte-ciels de Chicago. Pour aller sur le lac le bateau doit passer par une écluse. Le guide nous explique que cela est dû au fait que la rivière a été inversée ! Les Chicagoens avaient pour habitude de balancer tous leurs déchets dans leur rivière, et donc direction le lac, qui est une des plus grandes réserves d'eau douce du monde. La pollution est donc vite devenue problématique, et la solution trouvée a été très simple : et si on inversait la rivière ? Du coup ils ont creusé un canal, et inversé le flux avec une série d'écluse ! Maintenant la pollution de déverse dans le Mississipi, et ce n'est plus le problème des Chicagoens !
Then we have reserved a cruise on the river and the lake. The sun is shining, so we can enjoy the wonderful view of Chicago skyline. To go on the lake, the boat must go through a lock. The guide explains us that is because the river was reversed ! The residents of Chicago used to throw their garbage into the river, which then went to the lake, which is one of the biggest freshwater stocks in the world. The pollution quickly became a problem, and the solution was very simple : what if we reversed the river ? Thus they dug a canal, and reversed the flow of the river with a succession of locks ! Now the pollution goes into the Mississippi, and that's not the Chicagoens' problem anymore !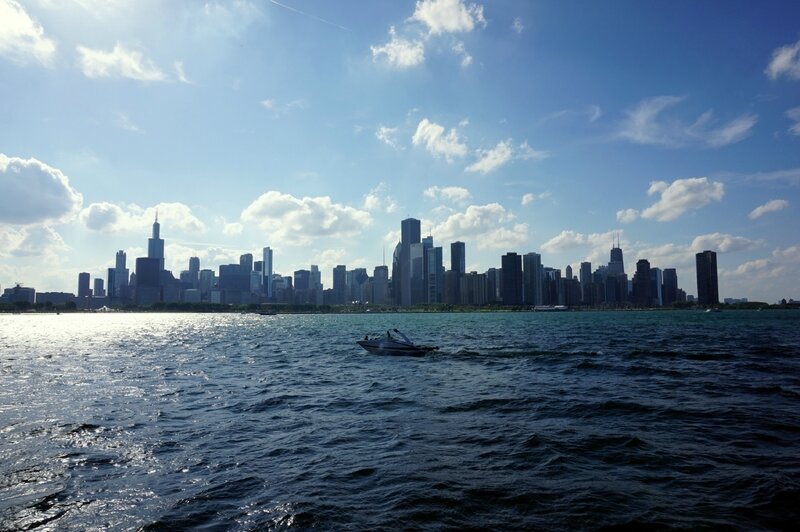 On fait donc une petite virée sur le lac avant de revenir sur la rivière pour admirer tous les gratte-ciels aux architectures originales. Vous remarquerez sur les photos la Trump Tower (on ne peut malheureusement pas louper son nom…), ou les deux tours en épis de maïs de Marina City (avec un parking en spirale sur les premiers étages, et des appartements avec balcon au-dessus).
So we are on the boat and we go on the lake before coming back on the river to admire all buildings with original architectures. You'll notice on pictures the Trump Tower (we sadly can't avoid his name ...), or the 2 towers which looks like ear of corn in Marina City (with a spiral parking on the first floors, and apartments with balcony above).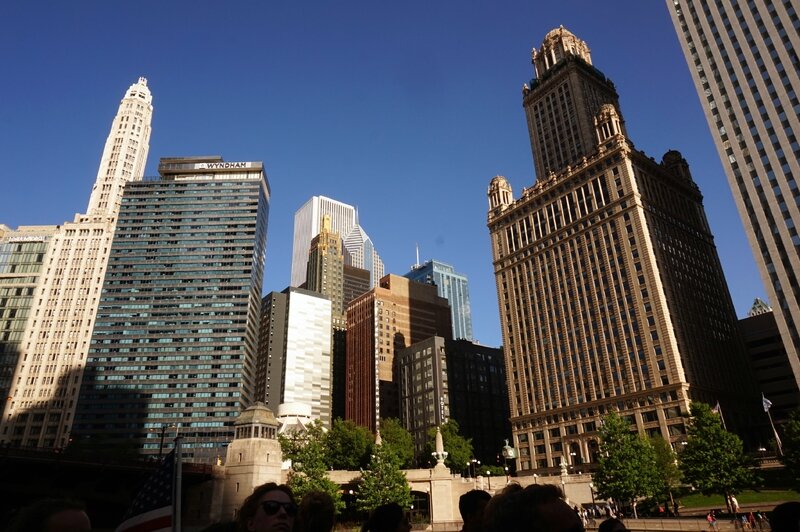 Après en avoir pris plein la vue, on va reprendre des forces avec une Deep Dish pizza, une spécialité de Chicago. Il s'agit d'un mélange entre quiche et pizza, avec de la pâte brisée pour le fond de tarte, une épaisseur de chair à saucisse, puis une épaisseur de fromage, puis de la sauce à pizza. Encore une spécialité culinaire toute en légèreté ! On est content d'avoir gouté, mais on n'en reprendra plus…
After a full day of visits, we want to regain strength with a Deep Dish pizza, a Chicago specialty. This is a mix between quiche and pizza, with short pastry on the bottom, a layer of sausage meat, then a layer of cheese, and then pizza's sauce. Once again this is a light recipe ... We are happy to have tried it, but we are not going to eat that one more time ...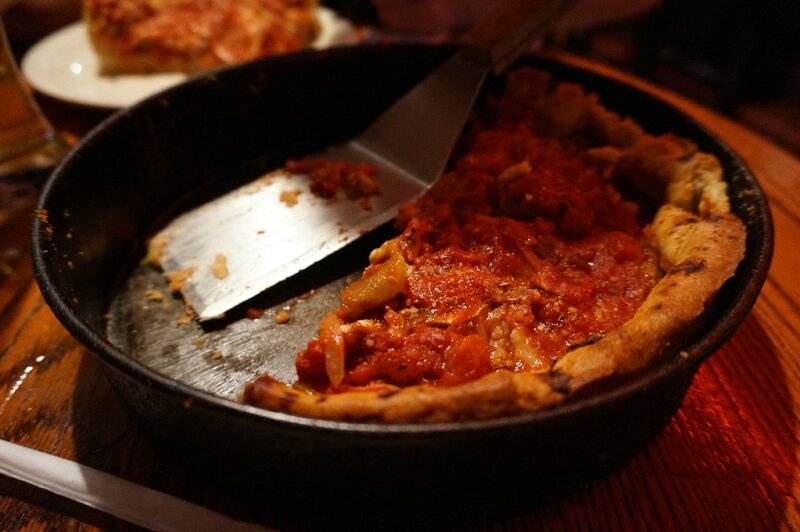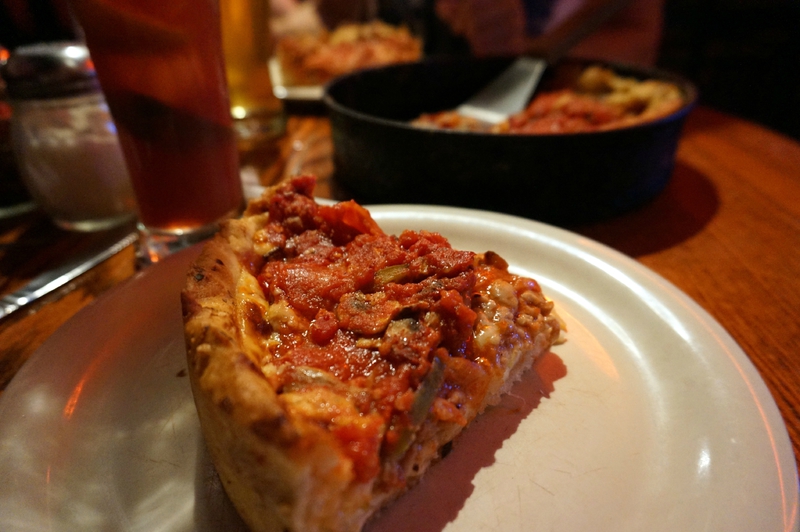 On finit la soirée sur le Museum Campus avec une jolie vue sur la skyline de nuit, et en prime un feu d'artifice sur le port.
We end the night on the Museum Campus with a beautiful view on the skyline at night, and bonus we can watch a firework on the harbor.
La suite ici.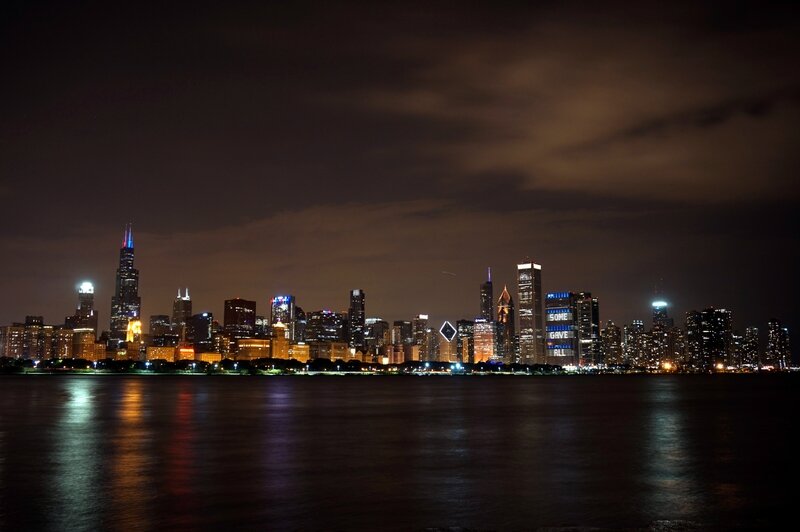 Note : Cette visite a été fortement inspirée par le blog de Mathilde
Memo : this visit was strongly inspired by le blog de Mathilde.