29 janvier 2017
Le mardi 10, on commence notre journée dans le quartier de Wynwood à Miami, un quartier plein de Street art. On prend un bon brunch au milieu des fresques, puis on se promène. C'est impressionnant, ce quartier paraît immense, et tous les murs sont peints !
On Tuesday 10, we start our day in the Wynwood district in Miami, a neighborhood full of street art. We have a good brunch in the middle of the murrals, then we have a walk. It's impressive, this neighborhood looks huge, and all the walls are painted !
Les murs sont peints par de très bon artistes, au pinceau ou à la bombe de peinture. J'ai essayé de retrouver les artistes pour certains d'entre eux.
The walls are painted by very good artists, with a paintbrush or paint bomb. I tried to find the artists for some of them.
Portraits de Andy Wahrol et Jean-Michel Basquiat, réalisé au pinceau par Elisabetta Fantone
Portraits of Andy Wahrol and Jean-Michel Basquiat, made with a paintbrush by Elisabetta Fantone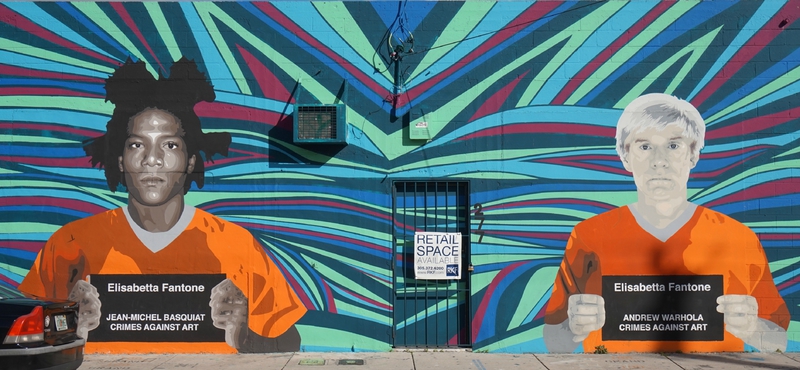 Oeuvre de Martin Whatson sur un mur d'une école primaire
Work of Martin Whatson on a wall of a primary school.
The sun Godesses, par Kevin Ledo et Fin Dac, fait au spray et feuilles d'or
The sun Godesses, by Kevin Ledo and Fin Dac, made by spray and gold leaf.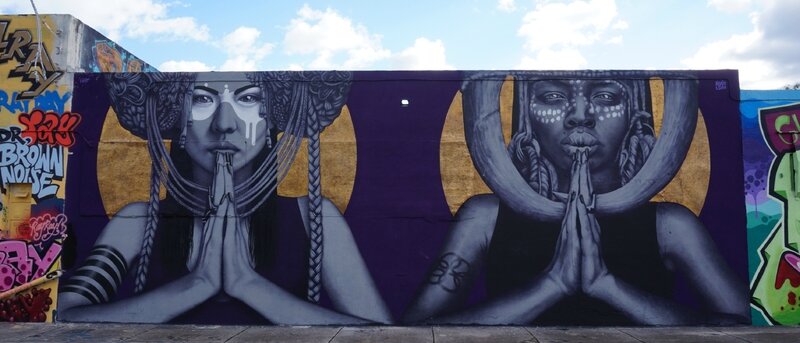 J'ai pas trouvé l'artiste...
Could not find the artist...

26 janvier 2017
En ce début 2017 nous sommes partis en road trip en Floride. Notre périple commence à Orlando, où nous arrivons le dimanche 8 janvier en fin de soirée. On dort dans un motel au bord d'un petit lac avant de prendre la route, direction Miami, enfin Miami Beach pour être exact. Il s'agit d'une ville balnéaire où tout tourne autour de sa magnifique plage de sable blanc. On se promène donc sur la plage, mais le temps est plutôt maussade (il fait 20°, ce qui est tout de même 30° de plus qu'à Boston au même moment), et il y a du vent, du coup pas grand monde sur le sable !
At the beginning of 2017 we went on a road trip in Florida. Our journey begins in Orlando, where we arrive Sunday, January 8 at night. We sleep in a motel at the edge of a small lake before heading to Miami, well, Miami Beach to be exact. It is a seaside town where everything is about its beautiful white sand beach. We walk on the beach, but the weather is rather gloomy (it is 20°C / 68°F, which is still 30° / 54°F more than in Boston at the same time), and there is wind, therefore there are not many people on the sand !
Le boulevard Ocean Drive longe la plage, on y trouve des superbes hôtels art déco construits dans les années 30, classés monuments historiques dans les années 80, et superbement rénovés plus récemment. On aime beaucoup ces façades blanches avec quelques touches de couleur. C'est aussi très joli la nuit, avec de nombreux néons.
Ocean Drive runs along the beach, there are superb art deco hotels built in the 1930's, classified as historic monuments in the 80's, and superbly renovated more recently. We love these white facades with touches of color. It is also very pretty at night, with many neon lights.
On marche ensuite jusqu'à la pointe sud de la ville, d'où on a une jolie vue sur la plage, mais aussi sur le centre-ville de Miami, de l'autre côté d'un bras de mer. On s'arrête dans un bar au bord d'une piscine, Le Monty's, pour déguster un cocktail sous les palmiers. Puis on se balade sur Lincoln Road, une rue commerçante piétonne, qui nous fait penser aux ramblas de Barcelone. On a été très agréablement surpris de notre visite à Miami Beach, c'est très agréable de s'y promener, et beaucoup moins bling-bling que ce qu'on attendait.
Then we walk to the southern tip of the city, from where we have a nice view of the beach, but also the downtown of Miami, on the other side of an inlet. We have a break in a bar with a pool, Le Monty's, to enjoy a cocktail under the palm trees. Then we walk on Lincoln Road, a pedestrian shopping street, which reminds us of the ramblas of Barcelona. We were very pleasantly surprised by our visit to Miami Beach, it was very pleasant to walk around, and much less bling than expected.