17 octobre 2016
Rappel : nous sommes toujours le 10 Septembre, après avoir passé la matinée près du Lac Powell on part en direction de Monument Valley.
Previously : we are still September the 10th, after spending morning nearby the Lake Powell we leave the area direction Monument Valley.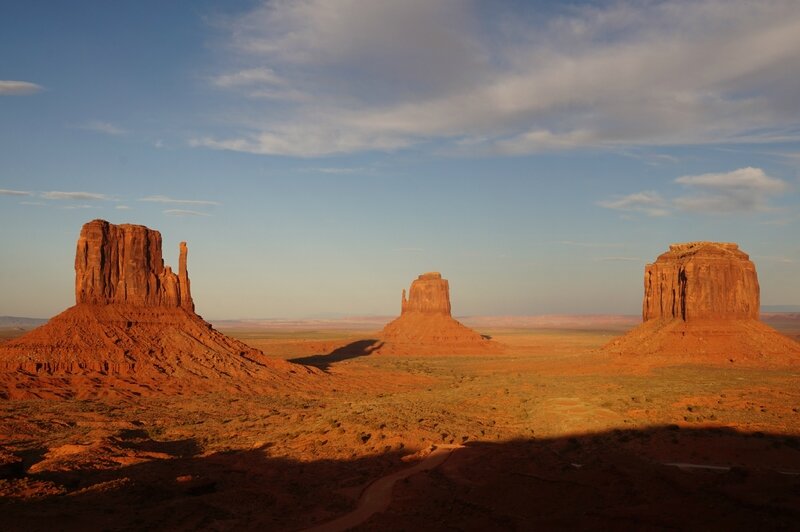 Après deux heures de route, nous voilà à Monument Valley, un autre territoire Navajo. On paie notre entrée, et on se dirige vers le camping the View, le seul camping dans l'enceinte du parc. Il s'agit juste d'un chemin, avec des tables de pique-nique pour chaque emplacement. Pas top comme installation, par contre la vue est exceptionnelle : devant nous se trouvent les rochers les plus célèbres du parc : les fameuses Mittens (oui, mitaine en français).
After a 2h-drive, we arrive at Monument Valley, another Navajo territory. We pay the entry, and we head towards the campground The View, the only campground in the park. It is just a path, with a pic-nic table for each spot. Facilities are not great, however the view is exceptional : in front of us is the most famous rocks in the park : the famous Mittens.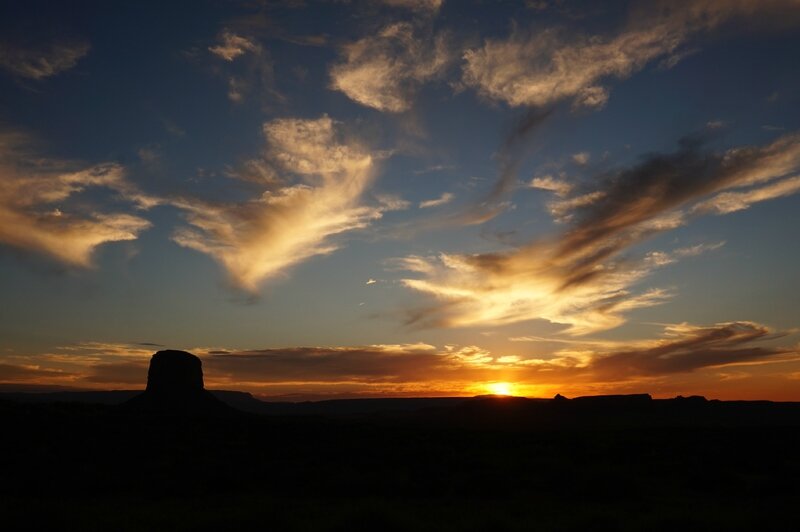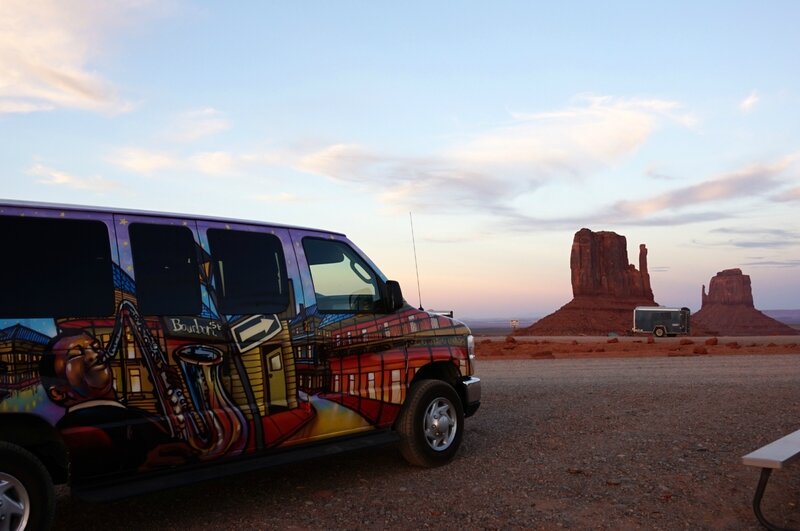 On profite du coucher du soleil, et on va se coucher tôt. Le lendemain matin, lever à 5h30 pour voir le magnifique lever de soleil sur les Mittens. Malgré les nuages c'est magnifique.
We enjoy the sunset, and we are going to sleep early. The next day, we get up at 5:30 am to watch the splendid sunrise on the Mittens. Despite clouds, it's magnificent.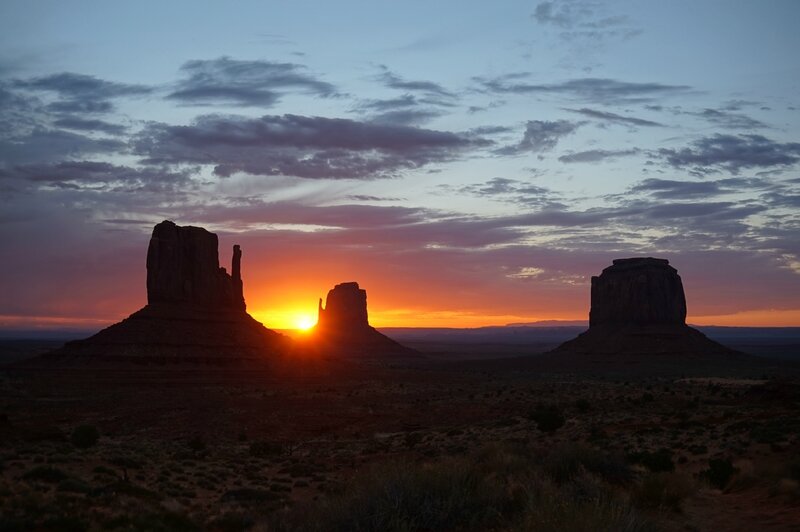 On se dirige ensuite vers la Valley Drive, un chemin de terre de 25km. On voit de nombreux points de vue sur les formations rocheuses. La pluie menace, mais finalement on ne prendra que quelques gouttes. On finit le tour après 2h30, et on s'arrête au dernier point de vue, le John Ford point, nommé pour le réalisateur de western qui a rendu John Wayne célèbre. On imagine très bien la scène du film, avec le cow-boy sur son cheval, en fond les magnifiques rochers.
Then we head to Valley Drive, a 25km-path (16 miles). We see many viewpoint on rock formations. The rain is threatening, but finally we got only few drops of rain. We end the tour after 2h30, and we stop at the last viewpoint : the John Ford point, named for the western director who made John Wayne famous. We could easily imagine the movie scene, with the cow-boy on his horse and in the background the wonderful monuments.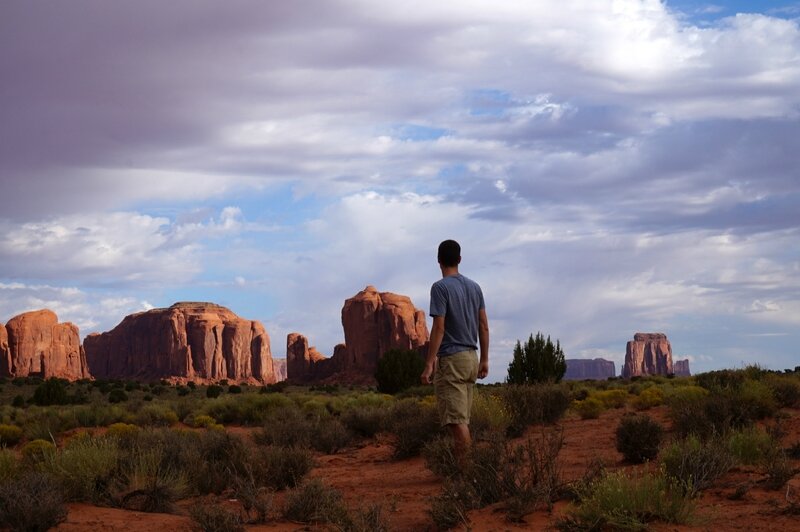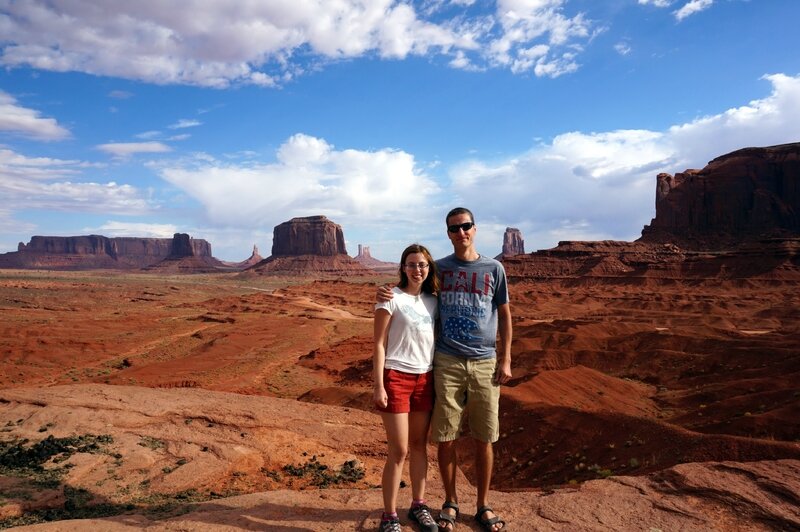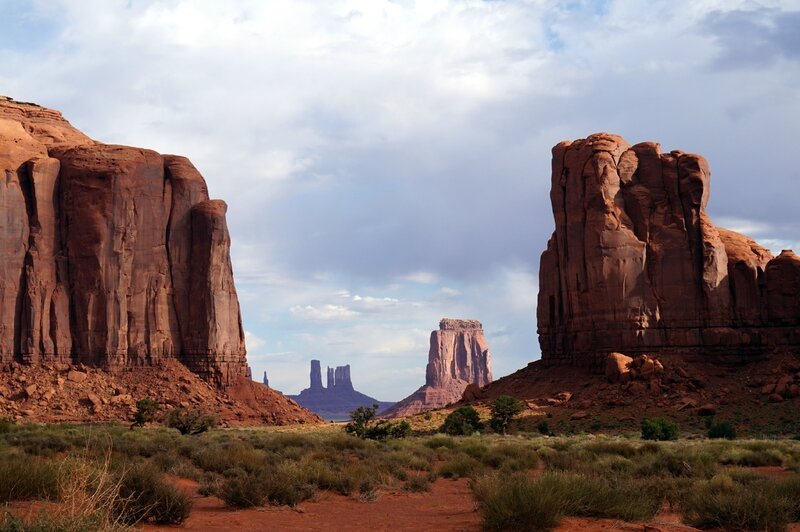 On sort finalement du parc en fin de matinée, et on roule encore 20 minutes vers l'Est, jusqu'au Forrest Gump point. Les amateurs du film reconnaitront sur la photo le point où Forrest décide d'arrêter de courir après avoir fait 3 fois l'aller-retour Est-Ouest. On repart finalement vers l'Ouest pour la dernière étape de notre road-trip.
Finally we get out of the park at the end of the morning, and we drive 20 more minutes towards East, to Forrest Gump Point. Fans of this movie will recognize on the picture the exact point where Forrest decides to stop running after having done 3 times the 2-ways trip East-West. Finally we leave to the West for the last step of our road-trip.