21 janvier 2017
Pour conclure le récit de notre road trip dans l'Oregon et Seattle, fait du 18 au 28 Novembre, voici une carte qui résume notre trajet, ainsi qu'une petite vidéo montrant les différents paysages qu'on a vu. Regardez la vidéo jusqu'au bout si vous voulez voir le lancer de poisson de Pike Market !
To conclude the story of our road trip in Oregon and Seattle, from November 18th to 28th, here is a map of our ride, and a short movie showing the different scenery we enjoyed. Watch the video until the end if you want to see the fish throwing at Pike Market !
06 janvier 2017
On passe nos 3 derniers jours à visiter Seattle. On se promène dans le centre-ville, où on découvre le premier Starbucks (qui n'a rien de spécial). A Pike Market, un marché couvert avec pleins de boutiques, on achète une spécialité locale : le crabe Dungeness. La poissonnerie où on l'achète est très connue pour ses lancers de poisson : quand quelqu'un achète un poisson, les vendeurs se les lancent d'un bout à l'autre de l'étal ! Le soir on se régale avec notre crabe ! On passe aussi devant le Gum Wall, un mur où tout le monde pose son chewing-gum mâché.
We spent our last 3 days visiting Seattle. We walk in the downtown, where we discover the first Starbucks (which has nothing special). At Pike Market, a covered market with plenty of shops, we buy a local specialty : Dungeness Crab. The fish shop where we bought 2 crabs is well known for its fish throws : when someone buys a fish, sellers throw them from one end of the stall to the other ! In the evening we enjoy our crab ! We also pass the Gum Wall, a wall where everyone places his chewed chewing gum.
On se promène dans les différents quartiers. Pas de quoi prendre des photos, mais les promenades sont très agréables. On découvre que Seattle est une ville très étalée, avec de nombreux quartiers très différents les uns des autres. On voit de jolies maisons, et beaucoup beaucoup d'espaces verts !
We walk in the different districts. Not special enough to take pictures, but the walks are very pleasant. We discover that Seattle is a very spread out city, with many neighborhoods very different from each other. We see pretty houses, and lots of green areas!
Enfin le dernier jour il est temps de monter en haut de la célèbre Space Needle. Cette tour a été construite pour l'exposition universelle de 1962. Elle fait 184m (605ft) de haut et peut résister aux vents forts et aux tremblements de terre. Elle a été construite pendant la période de la course à l'espace, d'où son nom et sa forme de soucoupe volante. En entrant dans la base, on voit d'abord une petite exposition qui nous explique sa construction, et le contexte de la conquête de l'espace. Puis on prend un ascenseur vitré pour monter. En haut la vue est jolie sur la ville. Par contre les nuages ne nous permettent pas de voir les montagnes. A l'Ouest, on devine les monts Olympiques, au Sud on est sensé voir le Mont Rainier, mais on ne voit rien… Par contre l'espace d'observation est très bien fait, il y a en particulier des écrans tactiles qui permettent de voir à 360° la vue depuis la tour pour n'importe quel jour de l'année précédente. Du coup on passe un moment à regarder des timelapses magnifiques qui nous montrent la vue lors de jours ensoleillés (pour voir quelques exemple de la vue, faites un tour sur le blog d'Amélie).
Finally on the last day it is time to go up the famous Space Needle. This tower was built for the 1962 Universal Exhibition. It is 184m (605ft) high and can resist strong winds and earthquakes. It was built during the space race, that's where its name and flying saucer shape comes from. Entering the base, we first see a small exhibition that explains its construction, and the context of the conquest of space. Then we take a glazed elevator to go up. At the top the view of the city is pretty. But clouds don't allow us to see the mountains. In the West, we can guess the Olympic mountains, in the South we are supposed to see Mount Rainier, but we see nothing ... However, the observation space is very well done, there are in particular touch screens that allow us to see a 360​​° view from the tower for any day of the previous year. So we spend a moment watching beautiful timelapses that show us the view on sunny days (to see some example of the view, take a look at Amélie's blog).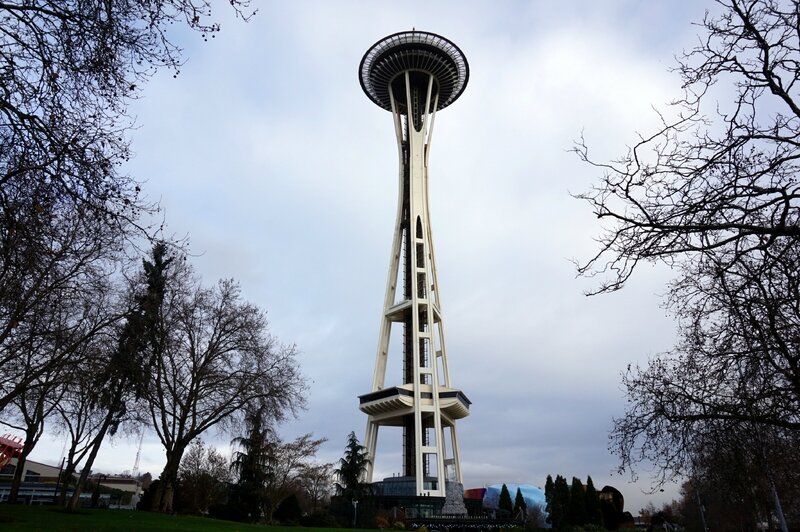 On passe ensuite sur le campus de l'université où travaille Natha : University of Washington. C'est un superbe campus à l'américaine : bâtiments gothiques, espaces verts. L'université est au bord du Lake Washington, il reste quelques couleurs d'automne et c'est magnifique.
We then pass on the campus of the university where Natha works: University of Washington. It is a superb American campus: Gothic buildings, green spaces. The university is on the edge of Lake Washington, it still has some autumn colors and it's beautiful.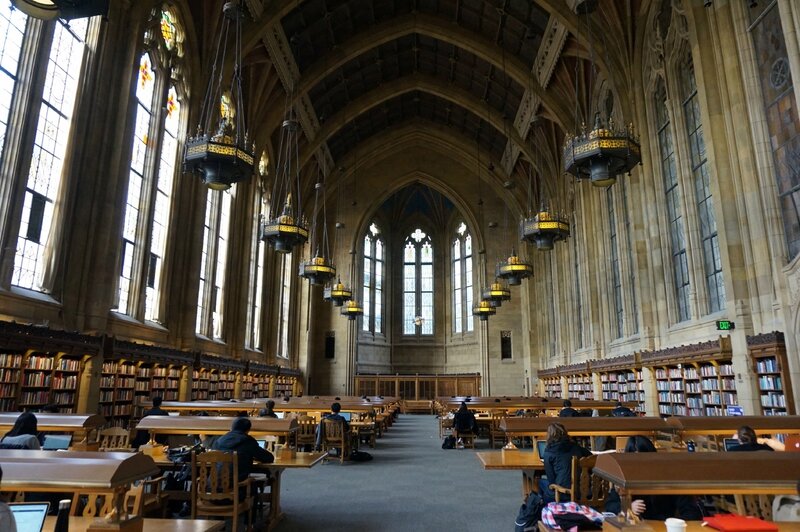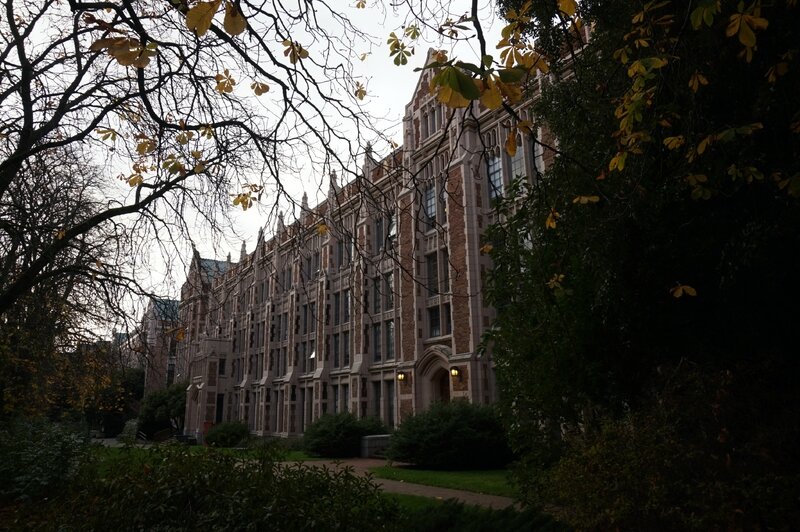 Notre séjour finit en beauté par un coucher de soleil vu depuis le toit de l'immeuble de Natha et Amélie, qui est aménagé avec sièges et barbecue. Encore une fois, merci à Natha et Amélie de nous avoir fait visiter leur ville !
Our stay finishes beautifully with a sunset seen from the roof of the building of Natha and Amelie, which is equipped with seats and barbecue. Again, thanks to Natha and Amelie for making us visit their city!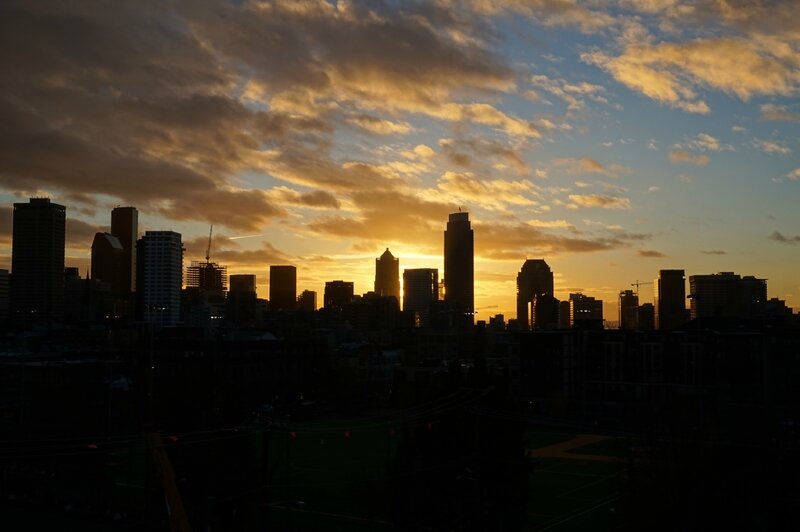 04 janvier 2017
On arrive à Seattle le vendredi 25 Novembre au soir. On profite d'avoir la voiture pour aller voir différents points de vue sur la ville éclairée.
We arrive in Seattle on Friday, November 25 at night. We took advantage of having the car to go see different views of the illuminated city.
Premier arrêt, Gas works Park, situé de l'autre côté du Lake Union par rapport au centre-ville. On a donc une magnifique vue sur les buildings éclairés. La particularité de ce parc est qu'il a été construit sur le site d'une ancienne usine, on peut donc voir le contraste entre les machines industrielles et le parc. Bon on n'a pas de photo de ça, parce que de nuit ça ne rendait rien, et quand on y est retourné de jour il pleuvait… Du coup vous pouvez aller faire un tour sur le blog d'Amélie pour voir à quoi ça ressemble…
First stop, Gas Works Park, located on the other side of the Lake Union from the city center. We have a magnificent view of the illuminated buildings. The particularity of this park is that it was built on the site of an old factory, so we can see the contrast between the industrial machines and the park. Well, we don't have a picture of it, because at night we could not see anything, and when we went back during daylight it was raining ... You can click on Amelie's blog to see what it looks like…
Ensuite, direction Kerry Park, au sommet d'une colline. On a une superbe vue sur la Space Needle, et le centre-ville !
Then, we head towards Kerry Park, at the top of a hill. We have a great view of the Space Needle, and downtown !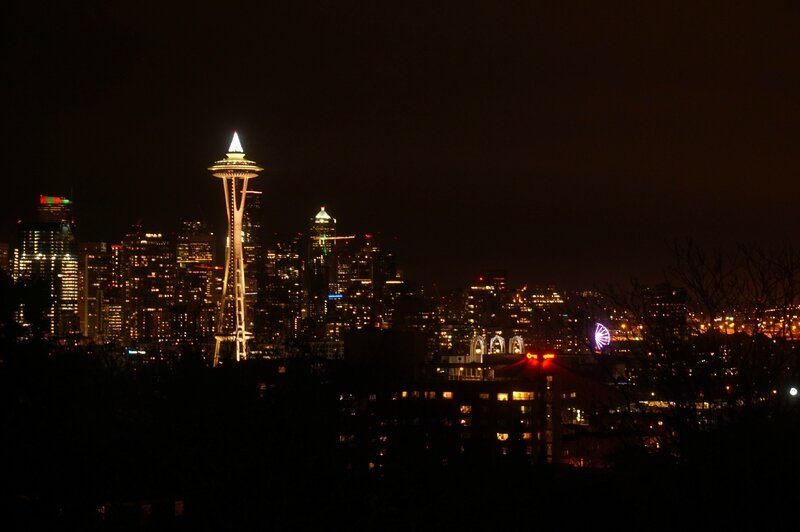 Enfin, on va à Alki Beach, de l'autre côté de la baie. On voit les buildings au loin, c'est très joli mais il pleut à nouveau du coup la photo est très floue…
Finally, we go to Alki Beach, on the other side of the bay. We see the buildings in the distance, it is very nice but it is raining again so the picture is very blurry ...
Merci Natha et Amélie de nous avoir fait découvrir votre nouvelle ville !
Thank you Natha and Amélie for making us discover your new city!
03 janvier 2017
Après notre passage dans les dunes, on continue notre remontée de la côte de l'Oregon. On s'arrête sur quelques plages pour profiter de la vue jusqu'à arriver à l'étape suivante qui est Cape Perpetua, où on trouve des falaises et des rochers. La marée est montante, les vagues viennent s'écraser contre les rochers. A un endroit particulier, les formations rocheuses forment un geyser : lorsque le courant est suffisamment fort, l'eau s'y engouffre et ressort sous forme de geyser. C'est super impressionnant, on reste un moment à admirer le spectacle.
After our walk on the dunes, we continue our trip to the North of Oregon coast. We stop on some beaches to enjoy the view until we arrive at the next step which is Cape Perpetua, where we find cliffs and rocks. The tide is rising, the waves crash against the rocks. At a particular place, the rock formations form a geyser : when the current is strong enough, the water gets into rock formations and emerges as a geyser. It is very impressive, we stay a moment to admire the show.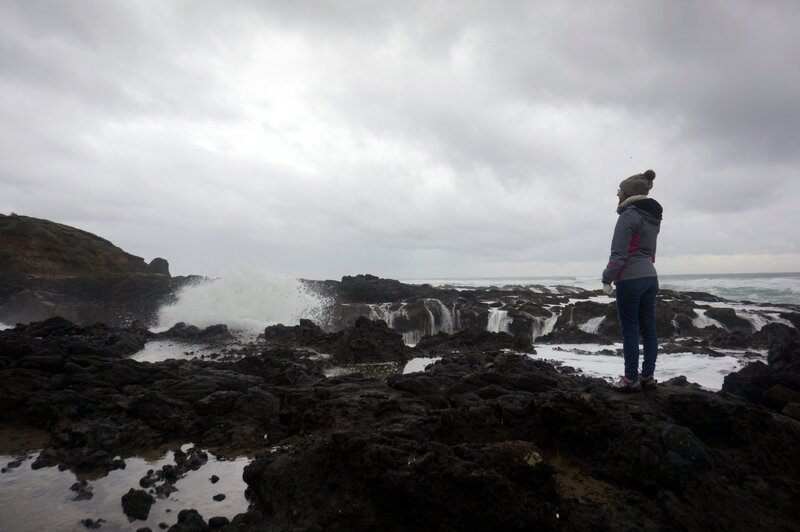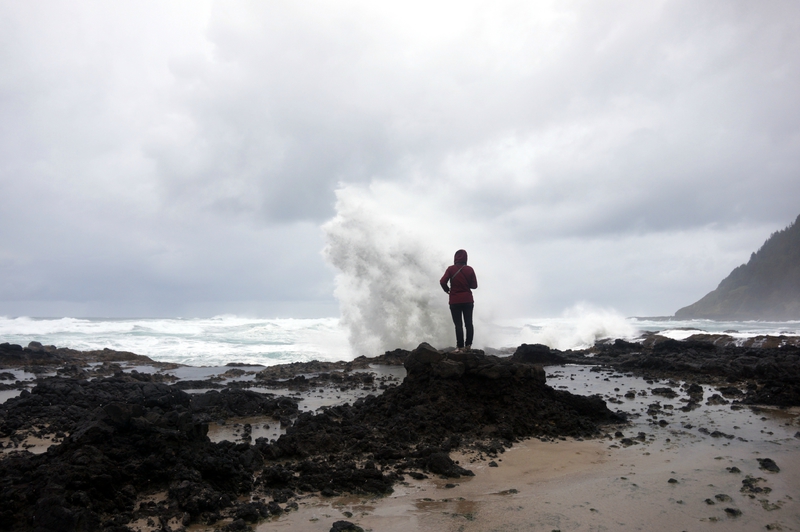 Après nous avoir laissé tranquilles une bonne partie de la journée, la pluie revient, et ne s'arrêtera pas pendant plus de 24h… On passe la nuit dans un super airbnb à Newport. Le lendemain, c'est Thanksgiving. Au réveil, c'est la tempête. De la fenêtre, on regarde les vagues au loin. On se décide à partir vers 11h. Premier arrêt sous la pluie : le phare de Yaquina. Le vent souffle fort, on manque de s'envoler (enfin surtout moi !). Pas de photos de cette étape, c'était trop risqué ! Le reste de la journée est pas palpitant, on roule jusqu'au airbnb suivant, sur la plage de Rockaway Beach. L'appartement est vraiment sur la plage, on a une superbe vue. On se balade 15 minutes sous la pluie avant de se remettre au chaud !
After leaving us alone for a good part of the day, the rain returns, and will not stop for more than 24 hours ... We spend the night in a superb airbnb in Newport. The next day is Thanksgiving. When we wake up, there is a storm. From the window, we look at the waves in the distance. We decide to leave around 11am. First stop with the rain: the lighthouse of Yaquina. The wind blows hard, we are almost flying (especially me !). No photos of this stage, it was too risky ! The rest of the day is not exciting, we drive to the next airbnb on the Rockaway Beach. The apartment is really on the beach, we have a great view. We have a 15-minutes walk under the rain before getting warm and dry !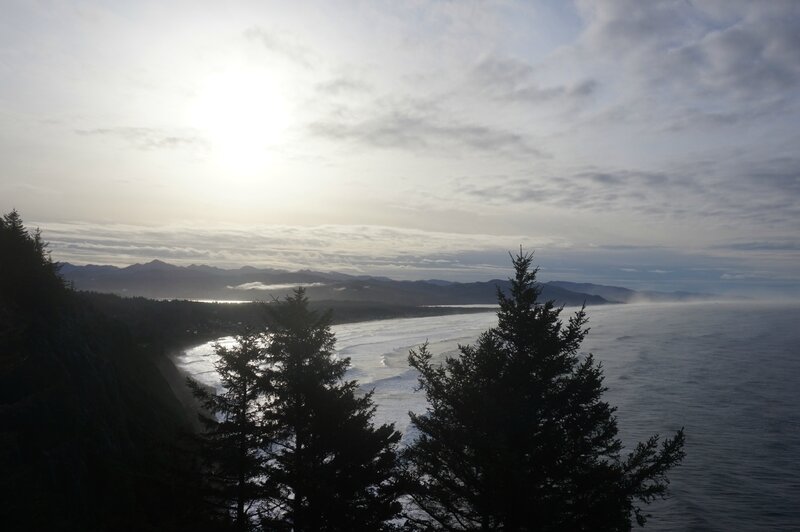 Pour notre dernier jour de road trip, le soleil revient un peu. On en profite pour se promener longuement sur la plage Cannon Beach, avec ses jolis rochers. On monte au Ecola State Park qui donne un joli point de vue sur la plage.
For our last day of road trip, the sun comes back a little. We take the opportunity to have a long walk along Cannon Beach, with its pretty rocks. We drive to the Ecola State Park which gives a nice view on the beach.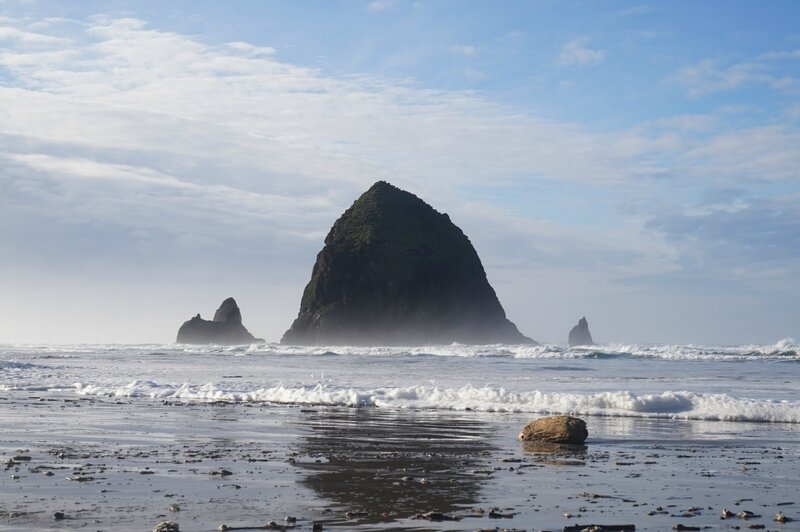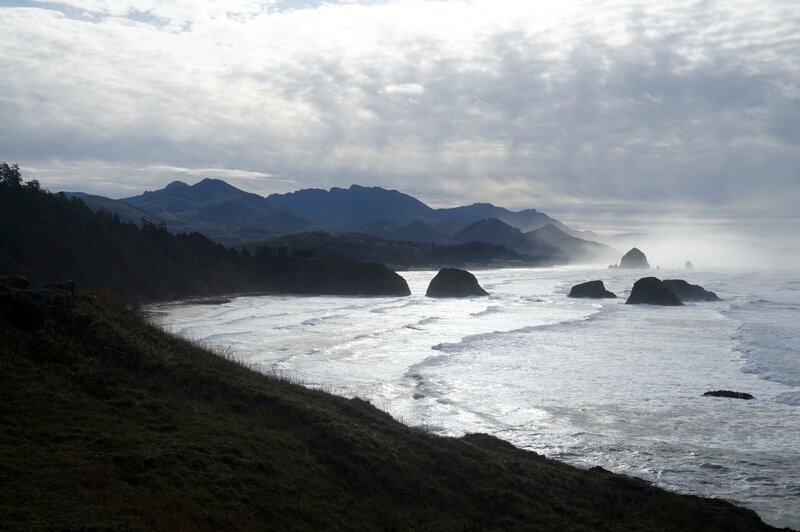 23 décembre 2016
Après notre conférence, du coup le mercredi 23 novembre, on part à la découverte de la côte de l'Oregon. Le but est de reprendre la route 1, celle qu'on avait prise de San Francisco à Los Angeles en décembre 2015. On commence notre exploration par la Oregon Dunes National Recreation Area, vous l'aurez compris : il s'agit de dunes ! On à de la chance, la pluie nous quitte un moment, on peut aller se promener. Après 10 minutes de marche dans une forêt envahie par les fougères et la mousse, on arrive sur les dunes, c'est un autre monde ! Le sable est mouillé, tant mieux c'est plus facile pour marcher !
After our conference, Wednesday November 23rd, we leave to discover the Oregon coast. The goal is to take the highway 1 again, the one we took from San Francisco to Los Angeles in December 2015. We start our exploration at the Oregon Dunes National Recreation Area. We are lucky, the rain goes away for a moment, we can have a walk. After a 10-minute walk in a forest with ferns and moss, we arrive on the dunes, it's another world ! The sand is wet, it's easier to walk on it !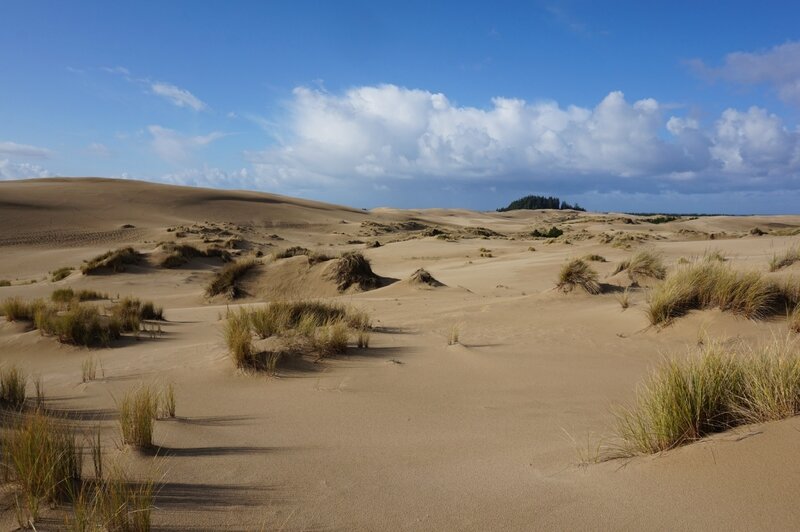 On est seuls au monde dans ce parc, on monte au sommet des dunes, on s'amuse à détruire les structures créées par le vent, on dévale les pentes ! Au loin on voit l'océan d'un côté, et des forêts de sapin de l'autre, c'est surprenant !
We are the only persons in this park, we climb to the top of the dunes, we have fun destroying wind made structures, we hurtle down the slopes ! In the distance we see the ocean on one side, and pine forests on the other side, it's surprising !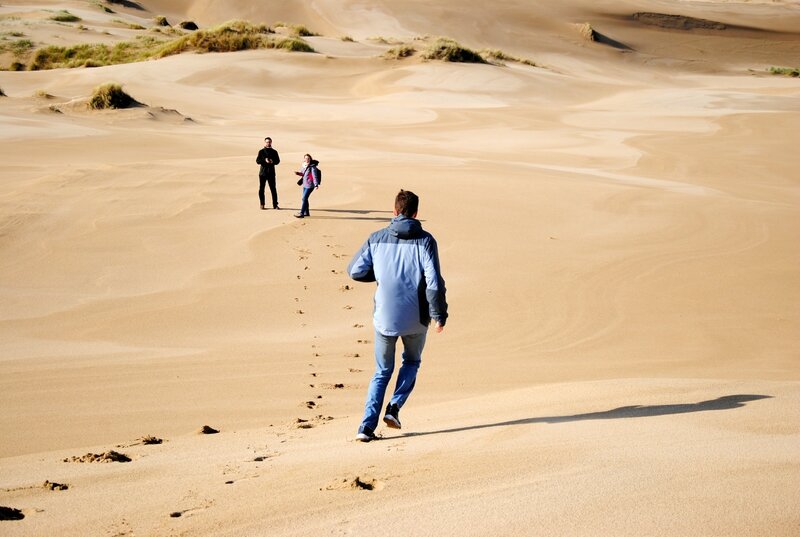 On finira par se faire rattraper par les nuages, qui nous offrent de beaux contrastes, et même un magnifique arc-en-ciel !
In the end, the clouds catch up with us, which gives good contrasts, and even an amazing rainbow !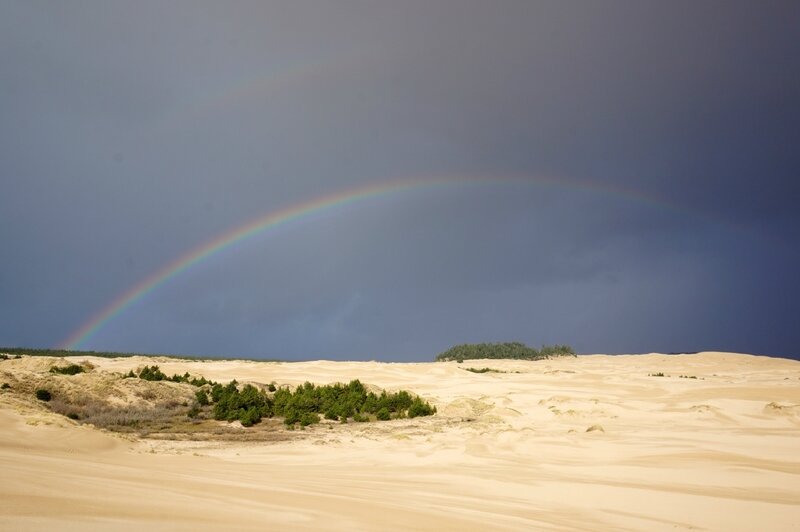 Les photos où on est tous les deux sont bien sûr d'Amélie, merci :)
Pictures of the two of us were taken by Amélie of course, thanks :)
20 décembre 2016
La semaine du 18 Novembre, MJ a assisté à une conférence de 3 jours à Portland, dans l'Oregon. Nous profitons donc de ce déplacement pour organiser un road trip avec nos amis Amélie et Nathanaël, qui habitent désormais à Seattle. C'est donc une occasion en or pour découvrir la partie Nord de la côte Ouest. Bon je ne vous cache pas que la météo a été plutôt humide durant notre séjour. Bon d'accord il a plu tous les jours ... Mais à chaque fois qu'il y avait une éclaircie, je me suis jeté sur l'appareil photo pour vous faire partager les endroits que nous avons découvert.
The week of November 18th, MJ was in a 3-day conference in Portland, Oregon. We take advantage of this business trip in order to organize a road trip with our friends Amélie et Nathanaël, who now live in Seattle. This is a golden opportunity to discover the North-West coast part. I will not hide from you the fact that the weather has been quite wet during our trip. Ok, it was raining every days ...But each time there was a sunny spell, I jumped on my camera to share with you the splendid spots we discovered.
On commence donc par la ville de Portland dans l'Oregon. Ancienne ville industrielle avec un port bien développé qui donne sur la rivière Columbia, il s'agit quand même de la 3ème ville la plus peuplé du nord-ouest Pacifique, après Seattle et Vancouver. Portland est réputée comme l'une des villes les plus écologiques du pays. Elle traite 67 % de ses déchets quand même ! Dans la ville on trouve des fresques et des oeuvres d'art. La ville elle est aussi réputée pour ses nombreuses brasseries et ses doughnuts. Alors pourquoi je vous raconte tout ça, ben parce que dans la ville il n'y a pas grand chose à visiter ... C'est sûrement une ville très agréable à vivre mais pas trop pour faire du tourisme.
We start with the city of Portland in Oregon. An old industrial city with a well developed industrial harbour on the Colombia river, this is the third most populous city in the North-West Pacific area, after Seattle and Vancouver. Portland is known as one of the most ecological cities in the country. It handles 67% of its waste ! In the city there are murals and works of art. The city is also known for its many breweries and doughnuts. But why I am telling you all this, well, because in the city there is not much to visit ... It is certainly a very pleasant city to live, but not too much for tourism.
C'est pourquoi nous avons assez vite quitté la ville pour aller se promener dans la campagne et découvrir les Multnomah Falls, des chutes d'eau d'une hauteur de 189 m. Pendant que MJ et Natha sont enfermés dans le centre des congrès pour leur conférence, avec Amélie on en profite pour faire une randonnée au bord de ces chutes, puis on monte tout en haut. Ensuite on mange un plat "american barbecue Hawaien style" c'est-à-dire du boeuf, du porc et du poulet avec du riz, une tranche d'ananas et une salade de pâtes avec sauce Hawaienne. Etrange mariage de saveurs mais très bon on se régale.
That's why we leave the city and we drive to the countryside and discover the Multnomah Falls, waterfalls of 189 meter (620 feet). While MJ and Natha are inside the congress center for their conference, with Amélie we enjoy the view and we hike to the top. Then we eat an "american barbecue Hawaiian style", that is beef, pork and chicken with rice, a pineapple slice and a pasta salad with hawaiian sauce. An unusual flavors combination but very good we enjoy it.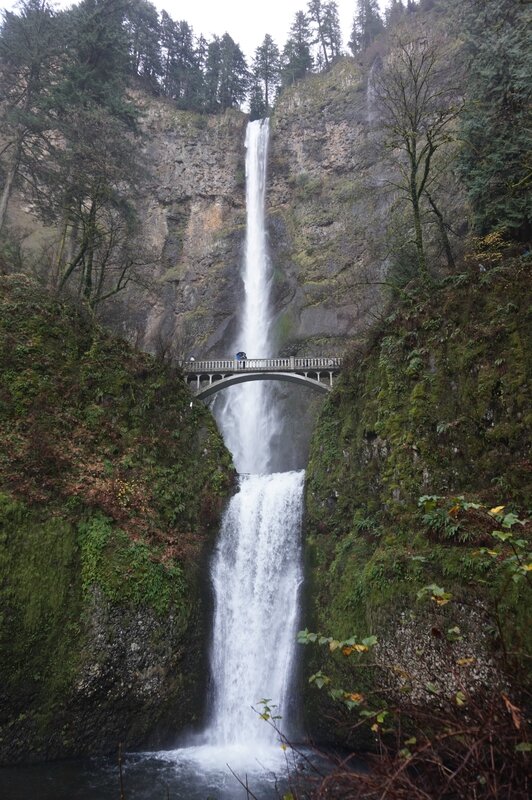 On termine ensuite la journée en se baladant sur les bords de la rivière Columbia, qui marque la frontière entre l'Oregon et l'Etat de Washington.
We then finish the day walking along on the banks of the Colombia river, which marks the boundary between the Oregon and the Washington State.