18 septembre 2016
Rappel des épisodes précédents : nous sommes toujours le dimanche 4 septembre, nous avons passé la matinée à visiter Las Vegas et récupérer le van.
Previously : we are still Sunday the 4th, we spent the morning visiting Las Vegas and picking up the van.
Après un rapide arrêt dans un supermarché, on prend la route de la Death Valley (2h30 de route). Ce parc national est l'endroit le plus chaud des Etats-Unis, et se situe en grande partie en dessous du niveau de la mer. Ce jour-là il fait plutôt frais pour la saison : 35° à l'ombre… sauf qu'il n'y a pas d'ombre… Pour ménager le moteur (comme conseillé par rangers du parc), on ne met pas la clim… on a chaud !
After a quick stop in a supermarket, we hit the road towards Death Valley (2h30-drive). This National Park is the warmest place in the United States, and is located for the most part below the sea level. Today is quite cool for the season : 95°F/35°C in the shade ... except there is no shade ... To spare the engine (as advised by rangers in the park), we don't put the AC on ... we are warm !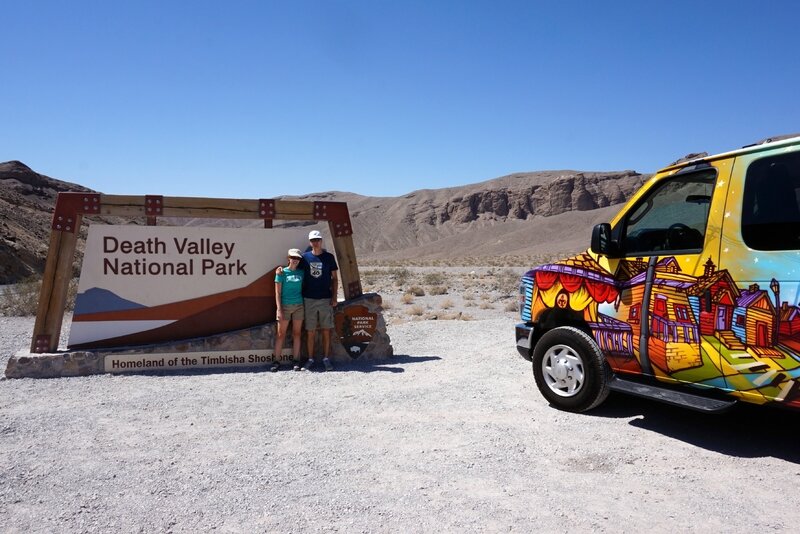 Premier arrêt : Zabriskie Point, un joli point de vue sur des montagnes plissées de différentes couleurs. C'est très joli, et très désertique ! Ensuite arrêt au Visitor Center pour payer l'entrée au parc (on prend le pass pour tous les parcs nationaux à l'année, qui sera bien rentabilisé durant ce voyage) et regarder un petit film sur l'histoire de la Death Valley, et des Native Americans qui y vivent. Un thermomètre au soleil indique 106°F – soit 41°C.
First stop : Zabriskie Point, a nice viewpoint on pleated and colorful mountains. This is very beautiful, and very arid ! Then we stop at the Visitor Center to pay the entry of the park (we buy the pass for all National park for one year, which will be well used) and watch a quick movie about Death Valley's history, and Native Americans who live here. A thermometer in the sun shows 106°F / 41°C.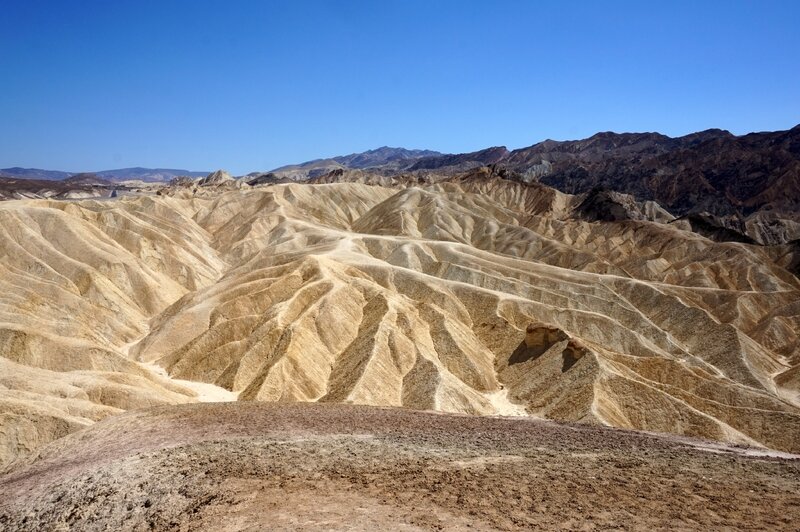 On roule ensuite jusqu'à Badwater, le point le plus bas des Etats-Unis (-86m). Le sol est tout blanc car recouvert de plaques de sel. Un aquifère relâche de l'eau en surface et crée des mares, trop salées pour être bues (d'où le Badwater…). On reste que quelques minutes, il fait encore plus chaud qu'au Visitor Center !
Then we drive to Badwater, the lowest point of the USA (-86m / -282 feet). The ground is all white due to salt patches. An aquifer releases water to the surface and made ponds, too salty to be drinkable (that's why the name is badwater...). We stay a few minutes, it is warmer here than at the Visitor Center !
On prend ensuite Artist's Drive, une petite route au milieu des collines. Différents minéraux ont créés différentes couleurs : du rouge, du vert, du jaune… C'est très joli, et on aime beaucoup le contraste entre les collines et la vallée blanche en contrebas. Malheureusement le soleil tapait fort, du coup les photos ne rendent pas vraiment compte de ces couleurs…
Then we take Artist's Drive, a small road in the hills. Different minerals made different colors : red, green, yellow ... That is very beautiful, and we like a lot the contrast between hills and the lower white valley. Sadly the sun was shining a lot, thus our pictures do not give reality of the colors ...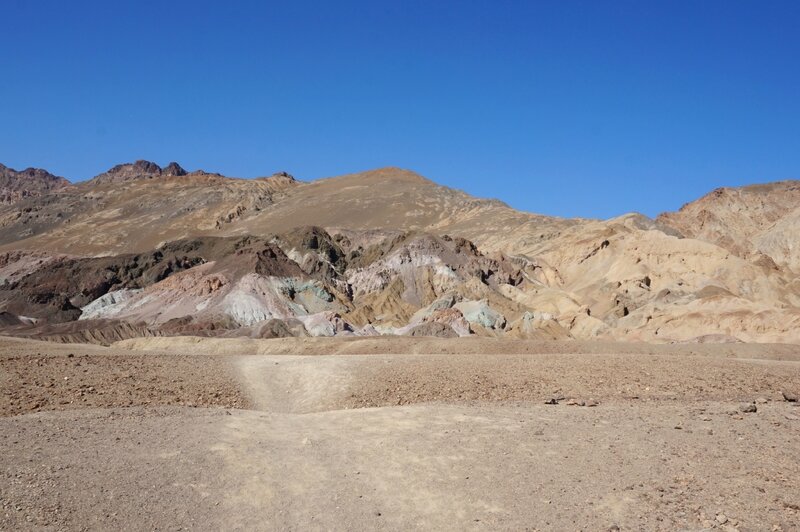 Pour finir, on se dirige vers les Mesquite Dunes. Des dunes de sable fin, ça change du désert de poussière et de petits arbustes qu'on voit ailleurs ! On aime beaucoup cet endroit, on reste un moment à se promener dans le sable.
To finish, we head to Mesquite Dunes. Some fine sand dunes, it's a change from the desert of dust and small bushes we see everywhere else ! We like this place very much, we stay a moment just walking in the sand.
On se décide à quitter la Death Valley, on n'a pas trop envie de dormir dans un camping qui ressemble plutôt à une plaque chauffante… On roule donc jusqu'à Lone Pine, à l'Ouest du parc. On arrive à la tombée de la nuit dans le camping Lake Diaz, un joli camping au bord d'un petit étang.
We decide to leave Death Valley, we don't really want to sleep in a campground which looks like a stove ... So we drive to Lone Pine, in the West of the park. We arrive at dusk in the Lake Diaz Campground, a nice campground at the edge of a small pond.
Nous sommes arrivés à Las Vegas le samedi 3 Septembre à 22h. On a testé pour la première fois la compagnie aérienne Spirit, une low cost semblable à Easy Jet en Europe. Dans le billet de base, rien n'est compris à part le trajet (il faut même payer si on ne peut pas imprimer sa carte d'embarquement chez soi) mais au moins c'était vraiment pas cher ! Après une courte nuit à l'hotel Fortune (qui avait comme seuls avantages son prix faible et sa navette pour l'aéroport gratuite), nous sommes allés explorer un peu Las Vegas en attendant que notre van soit disponible.
We arrived in Las Vegas Saturday September the 3rd at 10pm. We tested for the first time Spirit Airline, a low cost company similar to Easy Jet in Europe. The price of your ticket includes only the flight and nothing else (you even need to pay your boarding pass if you can't print it yourself) but at least it was very cheap ! After a short night in the Fortune Hotel (which has the only advantages that it is cheap and has a free shuttle from the airport), we explored a bit Las Vegas waiting for our van to be available.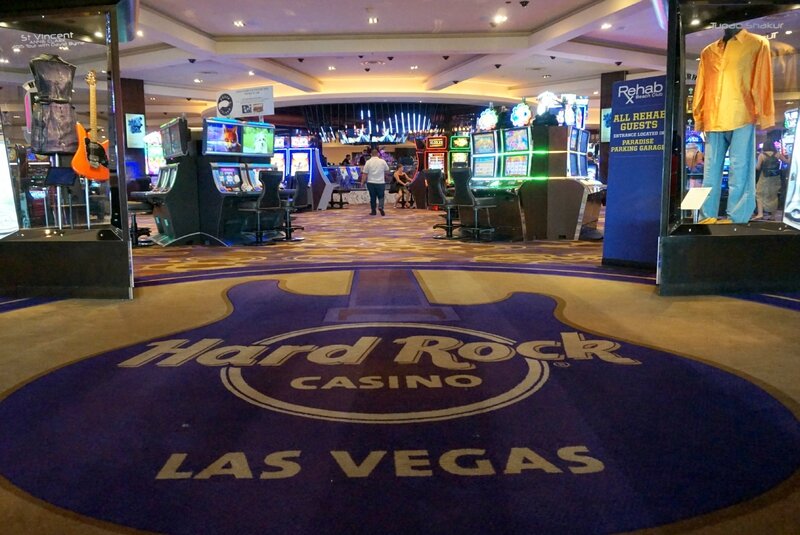 Nous avons fait un tour dans le Hard Rock Casino Hotel, qui est un peu à l'écart du Strip, la rue où sont concentrés la plupart des hôtels-casino. Ça nous a donné un aperçu de la folie vegasienne : des centaines de machine à sous et de table de jeux, avec des gens qui jouent tout seul à 8h du matin, un verre à la main… La décoration du casino est faite d'objets ayant appartenu à des stars du rock (enfin de toute sorte de star musicales en fait) : guitares, costume, de David Bowie à Beyoncé, en passant par les Beatles et Mariah Carey… C'était plutôt sympa… On a aussi fait un tour à la piscine, immense, avec une (petite) plage de sable… On lit dans le guide que la piscine se transforme en boîte de nuit select les soirs de week-end : tenue de plage classe exigée !
We went in the Hard Rock Casino Hotel, which is a bit away from the Strip, the street where are concentrated most of hotel-casinos. This one gave us a glimpse of the extravagance and madness of Las Vegas : hundreds of slot machines and gaming tables, everywhere there are people gambling alone at 8AM, with a drink in their hand ... The casino's decoration is composed of items that were owned by Rock stars (in fact every kind of music are represented) : guitars, costumes, from David Bowie to Beyonce, passing through The Beatles and Mariah Carey ... That was quite nice ... We also went around the swimming pool, huge, with a (small) sand beach ... We read in the guide book that the swimming pool turns into a select night club during the week-end nights : appropriate beach dress required !
On rejoint ensuite l'agence de location de van en bordure d'autoroute, et on découvre notre maison pour les 9 prochains jours : notre van s'appelle Bourbon Street, et est peint dans le style de la Nouvelle Orléans. Tous les vans de cette compagnie sont peints par des artistes de manière originale, une manière pour eux de se faire de la pub (et ça marche, un nombre incalculable de personnes ont pris notre van en photo durant notre voyage…).
Then we head to the van rental agency close to a highway exit, and we discover our home for the next 9 days : our van's name is Bourbon Street, and is painted in the New-Orleans' style. All vans in this company are painted by artists in a original style, a way for them to make advertisement (and that works, an incredible number of people took a picture of our van during our trip ...)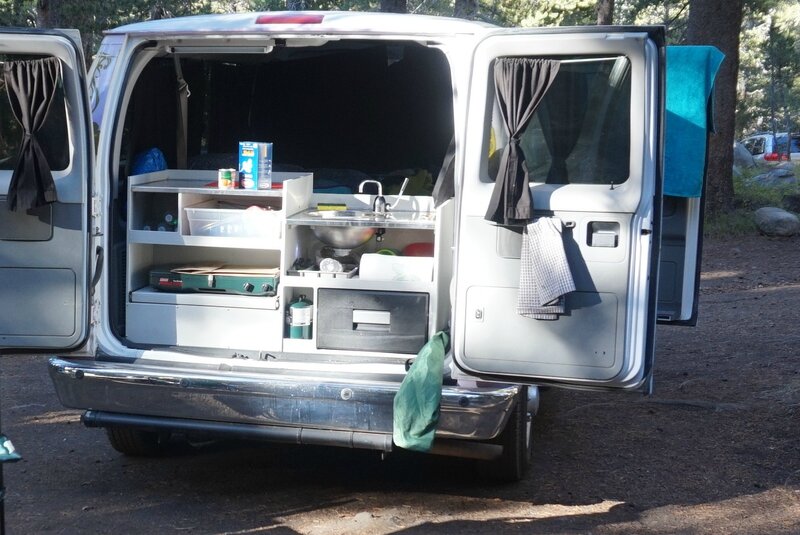 Derrière la cabine de conduite, on trouve un espace avec une table et deux banquettes, qu'on peut transformer en lit. Dans les faits on l'a laissé en lit tous les jours, il a fait tellement beau qu'on a toujours mangé à l'extérieur. Drap, couette et oreillers sont fournis, ce qui est bien pratique quand on vient en avion et qu'on n'a pas trop de place dans les bagages ! Au bout du lit on trouve des grands rangements. Au niveau du coffre, il y a une petite cuisine, avec une plaque de cuisson à gaz, avec deux feux, un petit frigo qui fonctionne sur une batterie indépendante (à énergie solaire) et un évier avec pompe à main. Vaisselle, bouteille de gaz et même deux chaises pliantes étaient fournis !
Vous l'aurez compris, on a vraiment beaucoup aimé notre van ! Si ça vous intéresse, voici l'agence qui nous l'a loué. Et pour finir une petite vidéo pour vous montrer tout ça en détail :
Behind the driving cab, we find a space with a table and 2 bench seats, that we can turn into a bed. In fact we left the bed every day, the weather was so nice that we always ate outside. Sheets, duvets and pillows are furnished, which is useful when we fly in and we don't have much space in our bags ! At the end of the bed we find big closets. At the location of the trunk, there is a small kitchen, with a 2-spots gas stove, a small fridge that works with solar panels batteries and a small sink with a hand pump to get water. Crockery, gas bottles and even 2 collapsible chairs were furnished !
You got it, we really enjoyed our van ! If you are interested in, here is the van rental agency website. And finally here is a short video to show you all this in details :
15 septembre 2016
Nous sommes de retour à Boston après un Road Trip de 12 jours dans l'Ouest Américain. On a fait le road trip « classique », celui qui passe par les grands parcs connus comme Yosemite ou Grand Canyon. Pour moi c'est un retour sur les traces d'un road trip que j'ai fait avec mes parents il y a 11 ans, pour Charly c'est une grande découverte !
We are back in Boston after a 12-days road trip in the American West. We did the classic road trip, the one which crosses over famous parks like Yosemite or Grand Canyon. I already did that kind of road trip with my parents 11 years ago but for Charly this is a great discovery.

Après avoir lu les récits de différents blogueurs sur le camping dans les parcs au Etats-Unis (entre autre sur le blog de Mathilde), j'avais très envie d'y goûter. Mais bon la tente c'est pas trop mon truc, surtout qu'au mois de Septembre les températures peuvent descendre bien bas… Le camping-car (ou RV comme ils disent ici) c'est tentant, mais on n'avait pas envie de conduire un engin aussi imposant… Du coup on a opté pour une option intermédiaire : le van. Il s'agit d'une petite camionnette aménagée avec lit à l'arrière, réchaud au gaz, et même un petit évier avec une pompe à main ! On n'a pas regretté notre choix ! On a pu dormir dans des endroits magnifiques, le lit était confortable, et pas de tente à démonter et remonter tous les jours !
After reading blogger's stories about camping in parks in USA (in particular le Blog de Mathilde), I really wanted to try it. But camping in a tent is not my thing, particularly in September because temperature could be very cold at night ... A RV was tempting, but we didn't want to drive a vehicle that big ... Thus we opted for an intermediary option : the van. This is a small truck equipped with a bed in the rear, portable gas stove and even a small sink with a hand pump to get water ! We didn't regret our choice ! We were able to sleep in wonderful places, the bed was comfortable, and no tent to set up and disassemble every day !
En attendant des articles détaillés par étapes (on a plus de 1000 photos à trier) voici une carte de notre parcours et quelques chiffres :
- 2118 miles, soit 3409 km en 9 jours
- 5 National Parks
- 2 parcs Navajo
- 2 National Recreation Area
- Des températures extrêmes de 5° et 45°
Before articles with step by step details (we have more than 1000 photos to sort out) here is a map that represent our road trip and some numbers :
- 2118 miles, or 3409 km in 9 days
- 5 National Parks
- 2 Navajo Parks
- 2 National Recreation Area
- Extremes temperature from 5°C to 45°C (from 41°F to 113°F)
13 août 2016
Non nous n'avons pas oublié notre blog ! Il est juste en pause, faute de voyages. Mais ne vous inquiétez pas, on repart bientôt vers de nouveaux horizons !
En attendant, à part une dizaine de jours en France en Juillet, on a passé l'été à Boston, où on a profité du temps caniculaire.
Voilà certaines choses qu'on a eu l'occasion de faire :
- Visite du quartier de East Boston, avec une jolie vue sur la skyline de Boston
No we haven't forgotten our blog ! It is just on standby, lack of travels. But don't worry, we are going to travel again soon to news destinations !
Meanwhile, except 10 days in France in July, we spent the summer in Boston, where we enjoyed a scorching weather.
Here are some things we did :
- Visit of East Boston Area, with a nice view on the Boston skyline.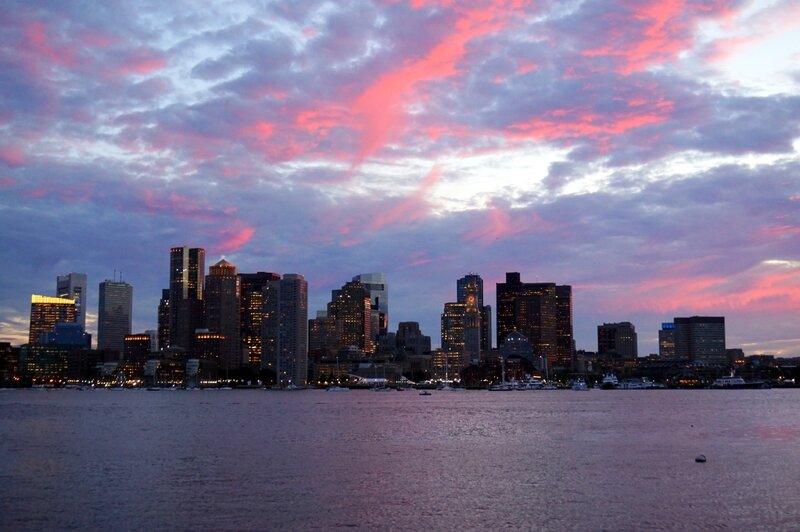 - Pique nique devant un film projeté dans un parc
- Visite de la brasserie de Samuel Adams, avec explication du processus de fabrication de la bière et dégustation gratuite
- Promenades en ville
- Picnic in a park in front of a projected movie.
- Visit of the Samuel Adam's brewery, with explanations about the manufacture of the beer and free degustation.
- Walks in the city
- Beaucoup de sorties plage (c'est la première fois de ma vie que j'habite à 40 minutes d'une plage, accessible en métro, alors j'en profite !)
- Barbecue américain, avec hot-dogs et burgers au menu
- Spectacle du Blue Man Group, un groupe connu à Boston. Après avoir vu des affiches partout dans la ville, et plusieurs recommandations d'amis on y est allé sans trop savoir à quoi s'attendre. On pensait qu'il s'agissait juste d'un groupe de percusionnistes peints en bleus, qui jouent sur des tambours recouverts de peinture. Les sièges de devant sont d'ailleurs des "ponchos seats", car risque d'éclaboussures. En fait le spectacle était très différent ! Il y avait bien des percussions et de la peinture, mais aussi plein de sketchs comiques. On a passé un bon moment et on a bien rigolé !
- Promenade le long du Emerald Necklace, une succession de parcs dans Boston. On passe au bord de rivière et d'étangs, par moment on oublierait presque qu'on est en ville !
- Candlepin Bowling : il s'agit d'une variation du bowling surtout jouée en Nouvelle Angleterre et dans les provinces Maritimes du Canada (d'après wikipedia). Les quilles sont plus petites, mais surtout la boule qu'on lance est beaucoup plus petite (11.43cm). Du coup c'est un peu plus aléatoire que bowling normal, et on n'est pas sûr d'avoir bien compris la technique...
- Many outings to the beach (this is the first time I live in a city with a 40-minutes subway access to the beach, thus I take advantage of it !)
- American barbecue, with hot-dogs and burger
- The Blue men group show, a famous group in Boston. After seeing posters everywhere in the city and several friends recommendations, we went without knowing what would happen. We thought that it was just a percussionist group painted in blue, who play on drums covered by paint. Seats in the front are named "ponchos seats", due to splash risks. In fact, the show was very different ! There really were percussions and paint but also a lot of comedy sketches. We spent a nice moment and we laughed a lot !
- Walk along the Emerald Necklace, a succession of parks in Boston. We walk along rivers and ponds, sometime we'd almost forget we are in the city !
- Candlepin Bowling : this is a variation of Bowling especially played in New England and maritime provinces of Canada (according to wikipedia). Pins are smaller, and the ball that we throw is much smaller in size (11.43 cm / 4.33 inches). Thus it is more random than normal bowling, and we are not sure that we understood the technique ...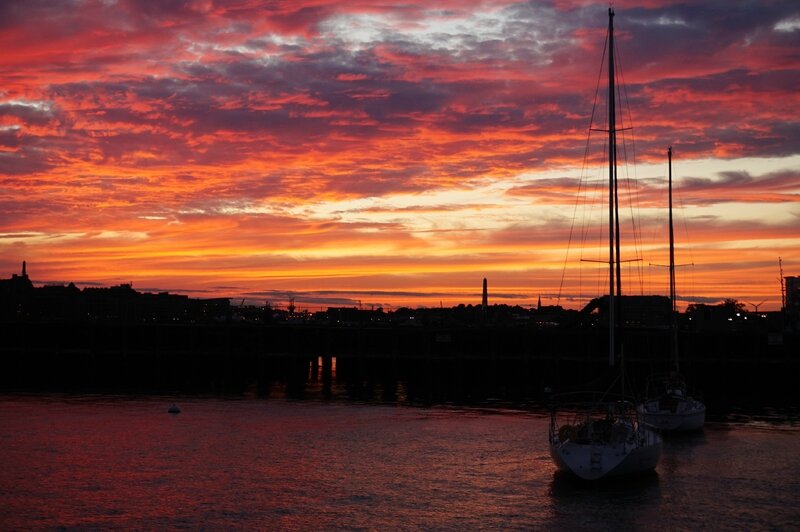 - Et beaucoup, beaucoup de magnifiques couchers de soleil, comme vous pouvez voir sur ces films !
- And many, many wonderful sunsets, as you can see on these movies !
18 juin 2016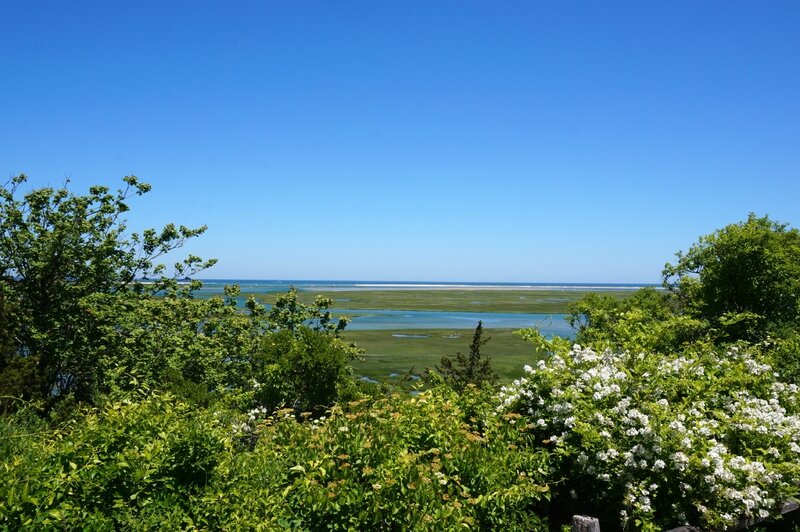 Ce week-end Tristan et Pauline sont venus nous rendre visite. Il fait beau et chaud, direction la plage au Cape Cod. On commence par s'arrêter pour manger un déjeuner léger : un lobster roll (sandwich au homard). On se promène ensuite le long de la mer, en passant devant la maison du baleinier Penniman et son arche en os de baleine. On rejoint ensuite notre motel à North Truro, presque au bout du cap, et on profite de la plage privée. On part ensuite visiter Provincetown, la ville tout au bout du cap. Pour dîner, on mange le traditionnel homard à la vapeur, c'est toujours aussi bon !
This weekend, Tristan and Pauline came to visit us. The weather is nice and warm, we head towards the beach at Cape Cod. We begin by stopping to eat a light lunch : a lobster roll (a sandwich with lobster). Then we walk along the sea, passing in front of the house of the whaler Penniman, with his whalebone ark. Then we go to our motel in North Truro, almost at the end of the cape, and we enjoy the private beach. Then we go to visit Provincetown, the town at the end of the cape. For dinner, we eat the traditional steamed lobster, which is as good as last time!
Le dimanche on commence la journée par monter en haut du Pilgrim Monument. Cette tour en granit a été érigée en 1907 pour commémorer l'arrivée des premiers colons aux Etats Unis, les 'Pères pèlerins' à bord du Mayflower en 1620. En effet, même si Plymouth est considérée comme la première ville fondée aux Etats-Unis, le bateau des pèlerins a d'abord accosté à Provincetown. Mais la terre a été jugée trop sableuse, donc les colons ont explorés tout le cap avant de décider de se fixer à Plymouth. On monte les 116 marches jusqu'au sommet, d'où on a une jolie vue sur le cap. Au loin, on peut même apercevoir Boston (avec beaucoup d'imagination…) Au pied de la tour on trouve un musée qui raconte l'histoire des pèlerins, et celle de la ville.
On Sunday, we begin the day by climbing up the Pilgrim Monument. This granite tower was erected in 1907 to commemorate the arrival of the first settlers in the USA, the 'Pilgrim Fathers' on the Mayflower in 1620. Even if Plymouth is considered as the first city founded in the USA, the pilgrims' boat first landed in Provincetown. But the land was considered too sandy, so the settlers explored the entire cap before deciding to settle in Plymouth. We climb the 116 steps to the top, from where we have a nice view on the Cape. In the distance we can even see Boston (with a lot of imagination ...) At the bottom of the tower there is a museum that tells the story of the pilgrims, and the one of the city.
Du haut de la tour, on a vu de jolies dunes qu'on a envie d'aller voir de près. On se gare donc au niveau de Pilgrim Heights Road, et on commence notre promenade au milieu d'étang. On rejoint ensuite une piste cyclable qui longe les dunes. Puis finalement on trouve une route de sable qui va vers la côte. On marche 2 minutes, quand on entend une voiture derrière nous. Une jeep s'arrête à côté de nous, et nous propose de nous emmener à la plage. On monte, et c'est parti pour un tour de jeep dans les dunes. On arrive sur la plage, et on voit des 4x4 garés à perte de vue le long de la mer ! Les américains ont sortis leur barbecue et leurs drapeaux… On se pose sur le sable, et on aperçoit quelque chose bouger dans l'eau. Des phoques s'amusent à moins de 25m du rivage ! On les regarde de loin, on ne les rejoint pas car à l'entrée de la plage des panneaux préviennent : les phoques c'est de la nourriture pour les requins qui rodent… De toute façon l'eau était trop froide !
From the top of the tower, we saw beautiful dunes we want to see closer. We park our car at the level of Pilgrim Heights Road, and we start our walk between ponds. Then we join a bike path along the dunes. Finally there is a sandy road leading to the coast. We walk 2 minutes, when we hear a car behind us. A jeep stops besides us, and offers us to take us to the beach. We go into, and let's go for a jeep ride in the dunes. We arrive at the beach, and we see 4x4 parked out of sight along the sea ! Americans have their grills and flags ... We lay down on the sand, and we see something moving in the water. Seals are having fun within 25m of the shore ! We watch them from the shore, we can't join them in the water because at the beach entrance there are warning signs : seals are food for the sharks that are hunting ... Anyway the water was too cold !

Après cette journée pleine de surprises, on reprend la route pour la maison.
After this day full of surprises, we hit the road for home.
11 juin 2016
Il reste encore quelques musées qu'on n'a jamais visités à Boston, cette après-midi direction le Isabella Stewart Gardner Museum. Ce musée a été ouvert par Isabella Stewart Gardner en 1903. Cette riche collectionneuse voulait exposer ses nombreuses œuvres d'art, et ouvrir sa maison au public.
There are still some Museums we have never visited in Boston, therefore this afternoon we go to the Isabella Stewart Gardner Museum. This museum has been open by Isabella Stewart Gardner in 1903. This wealthy collector wanted to exhibit her many art works, and opened her house for the public.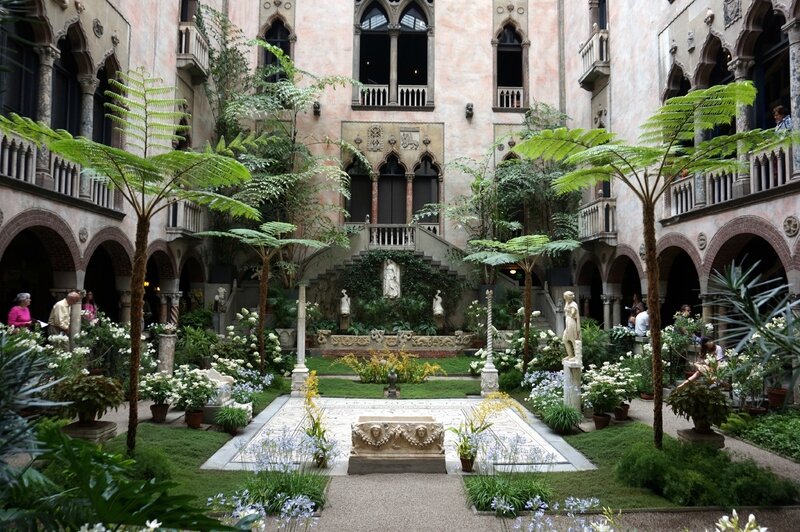 La maison est construite sur le modèle d'un palais vénitien. D'extérieur ce n'est pas génial, mais l'intérieur est très sympa. Toutes les salles sont situées autour d'un très joli patio. Les salles ne sont pas organisées comme les musées dont on a l'habitude, mais comme des pièces à vivre, avec un amoncellement de tableaux aux murs. Ca ne met pas forcément les œuvres en valeur, mais c'est original. On trouve de nombreux tableaux, mais aussi des ''bouts d'églises'' importés d'Europe : chaires, rosace, vitraux…
The house has been built based on a venetian palace. From outside this is not great, but the inside is very nice. All rooms are located around a very nice patio. Rooms are not organized like we are used to see them in a traditional museum, but as living rooms, with a ton of paintings on the walls. It does not necessarily put the work in value, but it is original. There are many paintings, but also some "church's furniture" imported from Europe, chairs, rose windows, stained-glass windows ...
Le musée est aussi tristement célèbre pour avoir été le théâtre du plus grand vol d'art dans une propriété privée : en 1990 des hommes déguisés en policiers ont volé des tableaux estimés à 500 millions de dollars…
The museum is also notorious for being the scene of the largest art theft of private property: in 1990 men disguised as policemen stole paintings valued at $ 500 million ...
30 mai 2016
Dernier jour de visite à Chicago. Après un bon petit déjeuner à base d'omelette et d'œufs Bénédicte, on se promène dans le Loop, encore. Ce coup-ci on part de l'est de la rivière, en passant par la gare dans le même style que Central Station à New York. On profite encore de la vue sur les gratte-ciels, dont de tous nouveaux encore en construction, avec une structure plus petite à la base qu'au sommet.
Last day in Chicago. After a good breakfast with omelet and Benedict eggs, we have a walk in the Loop, again. This time we start from the East side of the river, we go through the train station, which is the same style as Central Station in New York. We enjoy again the view on buildings, including one still in construction, with its base smaller than its top.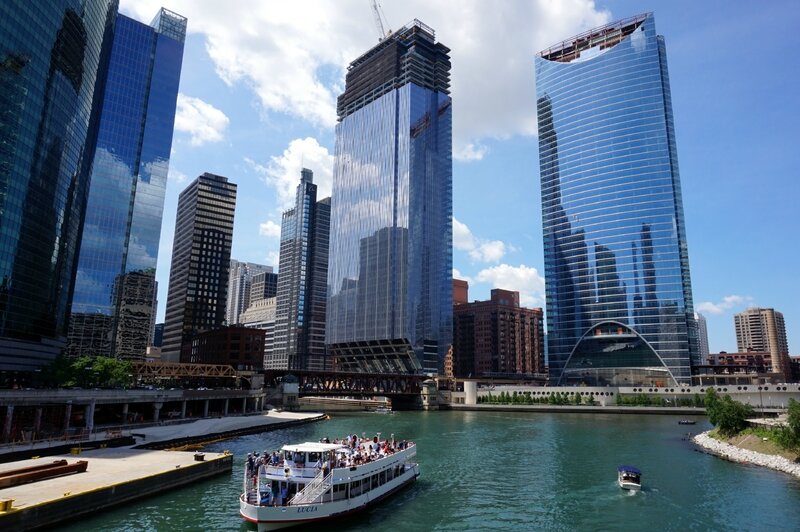 On marche ensuite jusqu'à la Navy Pier, une jetée sur le lac avec grande roue et carrousel. La grande roue a d'ailleurs été inventée à Chicago pour l'exposition universelle de 1893, dans l'espoir de créer une structure aussi emblématique que la Tour Eiffel…
Then we walk to the Navy Pier, a pier on the lake with a big wheel and carrousel. By the way, the big wheel was invented in Chicago for the 1893 Universal Exposition, in the hope of making a structure as emblematic as the Eiffel Tower ...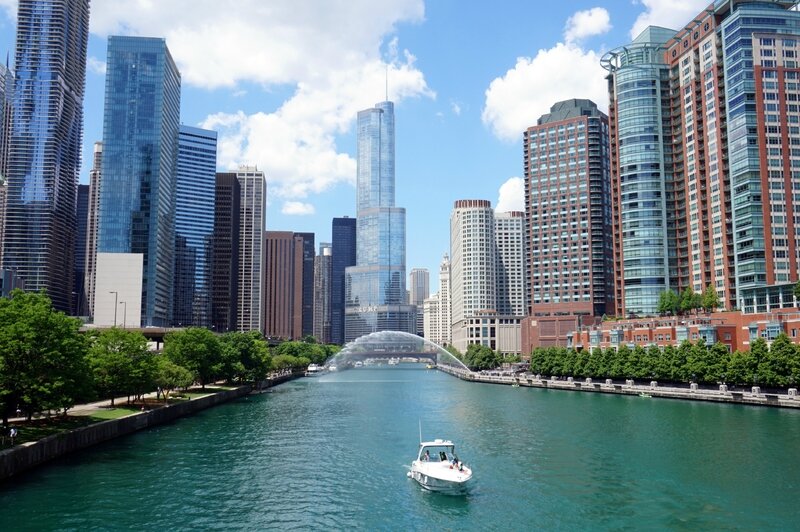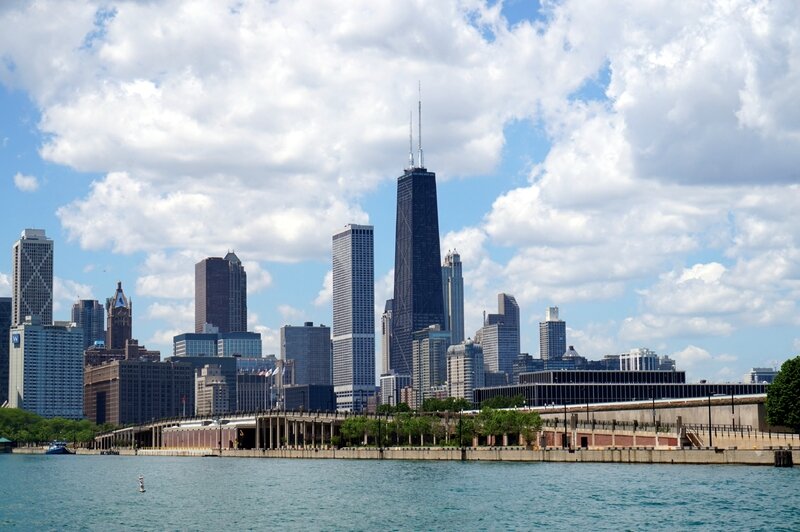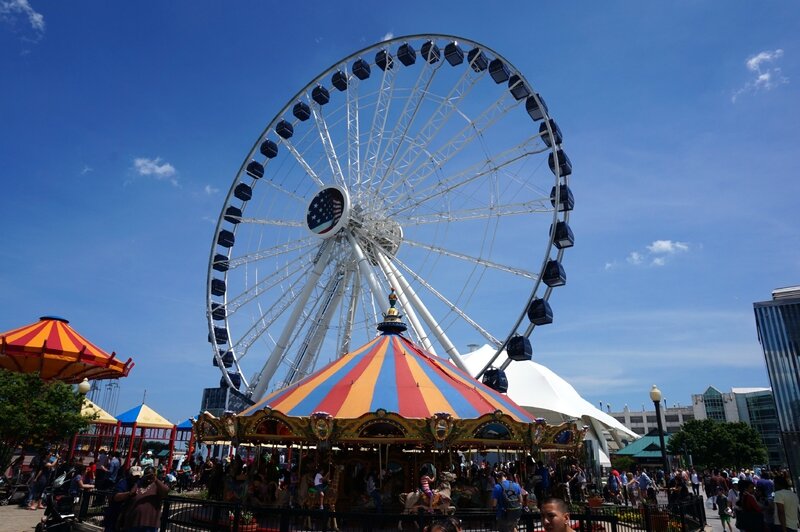 Un dernier tour dans Millenium Park, puis on repasse à l'hôtel chercher la valise. On en profite pour prendre une photo du panneau de la route 66 : après avoir vu l'arrivée à Los Angeles, voilà le départ à Chicago ! Ensuite le retour à l'aéroport, puis à Boston.
One last walk in the Millenium Park, then we go to our hotel to get our luggage back. We take a picture of the Road 66 sign : after seeing the end in Los Angeles, here we have the start in Chicago ! Then we return to the airport, then to Boston.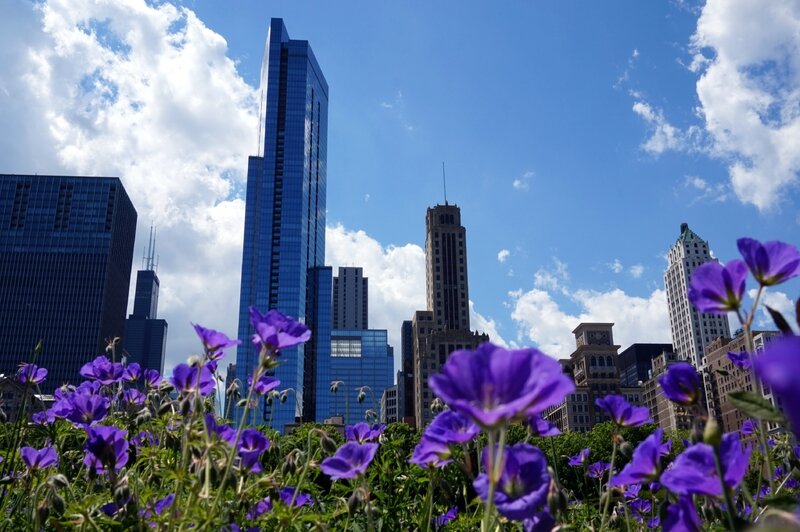 29 mai 2016
On commence notre deuxième journée par une promenade sur le museum campus, le même parc où on était la veille de nuit. On marche ensuite le long du lac jusqu'à la Buckingham Fountain, inspirée d'une fontaine de Versailles, en deux fois plus grand…
We start our second day with a walk on the Museum campus, the same park we were in last night. Then we walk along the lake to the Buckingham Fountain, which was inspired by a fountain in Versailles but this one in Chicago is twice bigger ...
On retrouve ensuite Sean, un guide des Chicago Greeters. Cette association propose des visites gratuites, dont on choisit le thème en avance. Sean est venu avec sa femme, et passe 3 heures en notre compagnie pour une promenade dans le Loop et Millenium Park. Il nous explique d'abord l'histoire de Chicago, en particulier que si Chicago est un haut lieu d'architecture c'est grâce au feu de 1871 qui a ravagé toute la ville. Du coup tout a été reconstruit, et de nombreux architectes connus sont venus laisser leur trace dans la skyline. On déambule ensuite au milieu des gratte-ciel, entre les anciens avec une base immense pour soutenir la hauteur, et les nouveaux tout fins avec une armature de fer. On trouve aussi de nombreuses œuvres d'art en ville, comme un Picasso ou le Flamingo (Flamand Rose) de Calder.
Then we meet Sean, a guide from Chicago Greeters. This association offers free visits, and we can choose the theme of the visit. Sean came with his wife, and spends 3 hours with us for a walk in the Loop and Millenium Park. First, he explains us the history of Chicago, in particular that if Chicago is a famous city for architecture, thanks to the 1871 big fire that destroyed the entire city. Thus everything was rebuilt, and many famous architects came to leave their mark on Chicago's skyline. Then we walk around buildings, between ancients with broad walls to support the height, and thin news buildings with iron armature. We also find many works of art, like a Picasso or the Flamingo from Calder.
On se dirige ensuite vers le Millenium Park, un grand parc construit sur les déchets de l'incendie de 1871. Comme on l'a déjà vu hier, Chicago est une ville très verte, c'est agréable de s'y promener. Le Millenium Park est composé de plusieurs parties, une très touristique avec des sculptures, et une plus tournée vers les habitats avec aires de jeux et minigolfs. On y trouve aussi une scène en plein air, avec des concerts gratuits l'été. Le design de la scène est très joli, et nous rappelle le Walt Disney Concert Hall de Los Angeles (et après vérification les deux ont bien été réalisés par le même architecte Franck Gehry). On se dirige ensuite vers le Bean, cette sculpture en forme de haricot très connue à Chicago. En vrai la sculpture s'appelle the Cloud Gate (la porte des nuages) et il parait que l'artiste déteste qu'on l'appelle le Bean… Qu'importe, nous on la trouve très jolie, et comme de nombreux touristes on s'amuse avec notre reflet et celui des immeubles.
Then we head towards the Millenium Park, a big park built above remains of the 1871 fire. As we already saw yesterday, Chicago is a very green city, it's very pleasant to walk in. The Millenium Park is composed of multiple areas, one is very touristic with sculptures, and another one is more for leisure time with playgrounds and mini-golfs. There is also an open air scene with free concerts in summer. The design is very nice and reminds us of the Walt Disney Concert Hall in Los Angeles (and after verification they were both made by the same architect Franck Gehry). Then we head towards the Bean, this sculpture with a Bean shape, very famous in Chicago. In fact, the sculpture's name is the Cloud Gate and it seems that the artist hates that we call his art work the Bean ... It doesn't matter, we love it, and like many tourists we enjoy taking picture of our reflection and the one of buildings.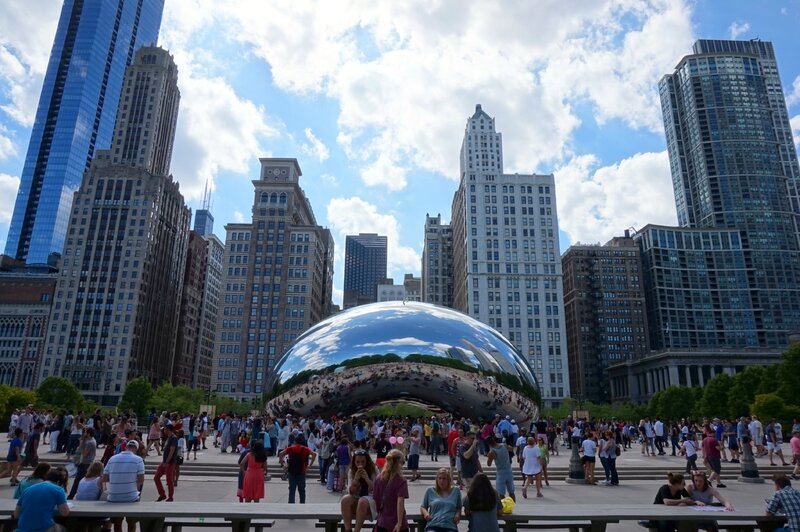 Notre guide nous laisse là, on va ensuite faire un petit tour de «L », le métro aérien (L pour elevated). C'est sympa, on se croirait revenu dans le passé. On passe aussi chez Garrett, une enseigne de popcorn connue ici. On ne se risque pas au mélange «Cheddar/Caramel » et on se contente d'un Amande Caramel délicieux.
Pour finir la journée on se dirige vers le Hancock Center pour profiter du coucher de soleil avec vue sur la ville. On arrive donc en bas vers 18h20, la personne à l'entrée de la file d'attente nous prédit une heure d'attente, ça ne nous réjouit pas mais on sait qu'on a de la marge pour un coucher de soleil à 20h15. Au final on attend près de 2h, et on arrive en haut juste pour voir le soleil disparaître à l'horizon… Cela ne nous met pas dans les meilleures conditions pour profiter de la vue… Mais bon c'est quand même joli avec les immeubles d'un côté, les plaines à perte de vue de deux autres, et finalement le lac.
Our guide lets us here, then we go around in the "L", the elevated subway (L for elevated). It's enjoyable, it's like we come back in the past. We also make a stop at Garrett, a famous popcorn shop here. We don't try the mix "cheddar/caramel" and we content ourselves with a delicious almond caramel popcorn. To end the day we head towards the Hancock Center to enjoy the sunset with a view on the city. We arrive in the entry at 6.20 pm, the hostess at the start of the wait line tells us that there is a 1-hour wait to take the elevator. We don't enjoy that but we know we have some time to maneuver because the sunset will be at 8.15pm. Finally we wait 2 hours, and we arrive at the top of the building just in time to see the sun disappear on the horizon ... That doesn't give us the best light to enjoy the view and the details ... But that is still beautiful with buildings on one side, plains as far as you eyes can see on 2 others sides, and finally the lake.
La suite ici.
28 mai 2016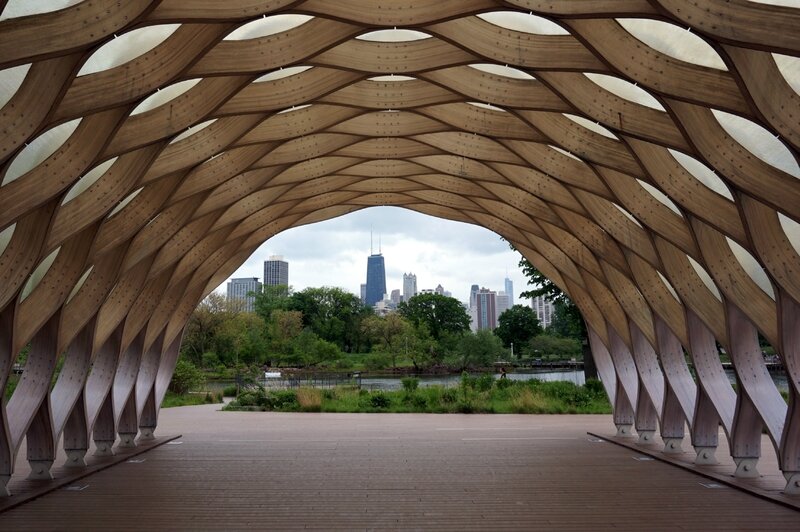 Nouveau week-end de 3 jours, cette fois-ci direction Chicago ! Notre avion est à 7h, donc on se lève à 4h30 pour prendre un Uber pour l'aéroport. 2h de vol, et on arrive à Chicago (avec une heure de décalage horaire dans le bon sens, donc on a toute la journée devant nous !). 45 minutes de métro, et nous voilà dans le centre de Chicago : le Loop (appelé ainsi parce que le métro aérien fait une boucle – loop en anglais-- autour de ce quartier). On dépose notre valise à l'hotel, et on se dirige vers le nord de la ville, au Lincoln Park (après un arrêt petit déjeuner très léger à base d'omelette, hashbrown et pancake). Le Lincoln park est un grand parc dans la ville, avec un zoo gratuit et des serres tropicale (il nous a rappelé le parc de la tête d'or à Lyon). On a aussi une très jolie vue sur la skyline de Chicago, qui est un peu triste sous le ciel gris… Le zoo est immense et très varié : tigres, lamas, girafes, suricates…
Another holiday week-end, this time direction Chicago ! Our flight is at 7am, therefore we wake up at 4.30am to take an Uber to the airport. A 2-hour flight later we arrive in Chicago (with 1 hour time difference in the good way, so we have all day in front of us !). 45 min by subway, and we are in downtown Chicago : the Loop (named like this because the aerial subway makes a loop around this district). We put our luggage in the hotel, and we head towards the North of the city, to Lincoln park (after a very light breakfast made of omelet, hashbrown and pancakes). Lincoln park is a big park in the city, with a free zoo and tropical greenhouses (it reminded us the Parc de la tête d'or in Lyon). We also have a very nice view of the Chicago skyline, which is a bit sad with the gray sky ... The zoo is huge and very varied : tigers, lamas, giraffes, meerkats ...
On se dirige ensuite vers la plage. Et oui il y a une plage à Chicago ! Même si la ville n'est pas au bord d'un océan, elle est au bord du lac Michigan, un des 5 grands lacs d'Amérique du nord. Et il est vraiment très grand, on ne voit pas le bout ! La plage est sympa, au pied des gratte-ciel, en particulier du haut John Hancock Center (le building noir avec deux antennes sur le toit).
Then we go to the beach. Yes, there is a beach in Chicago ! Even if the city is not at the edge of an ocean, it is at the edge of the Lake Michigan, one of the 5 big lakes in North America. And it is really very big, we can't see the other side ! The beach is nice, at the foot of buildings, in particular the tall John Hancock Center building (the black one with 2 antennas on the roof).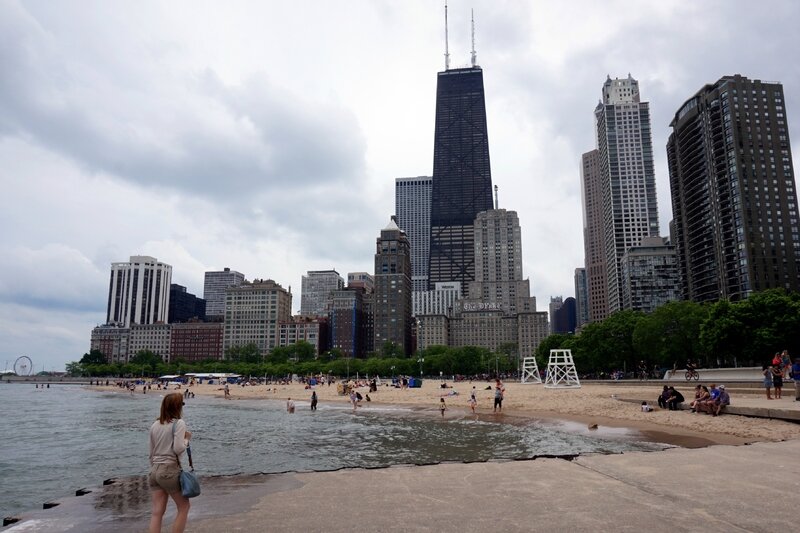 On se promène ensuite sur le Magnificent Mile, une grande avenue avec des magasins de luxe (Chanel, Burberry…). On s'arrête dans le magasin American Girl Place, un temple de la consommation à l'américaine. Il s'agit d'un immense magasin de poupée sur deux étages. Les petites filles choisissent une poupée leur ressemblant (il y a des dizaines de modèles classés par couleur de peau et coiffure), puis des vêtements (chaque vêtement est décliné en taille poupée et taille humaine, pour pouvoir être assorties). Il y a bien sûr un tas d'accessoires et de meubles, mais le plus hallucinant reste à venir. Au bout du magasin on trouve un coiffeur pour poupée, et un salon de thé avec chaises haute pour les poupées…
Then we walk on the Magnificent Mile, a broad way with luxury shops (Chanel, Burberry ...). We make a stop in the America Girl Place shop, an opulent consumers paradise like Americans love. This is a huge 2-floor shop with dolls. Little girls choose a doll which looks like them (there are tens of models sorted by skin color and hair cut), then clothes (each clothes could be bought in different sizes : for dolls and girls, to be assorted). There are of course a lot of accessories and furniture, but the most incredible is yet to come. At the end of the shop we find a hair-stylist for dolls, and a tea house with tall seats for dolls ...
On avait ensuite réservé une croisière architecturale sur la rivière et le lac. Le soleil est de la partie, donc on peut profiter de la vue magnifique sur les gratte-ciels de Chicago. Pour aller sur le lac le bateau doit passer par une écluse. Le guide nous explique que cela est dû au fait que la rivière a été inversée ! Les Chicagoens avaient pour habitude de balancer tous leurs déchets dans leur rivière, et donc direction le lac, qui est une des plus grandes réserves d'eau douce du monde. La pollution est donc vite devenue problématique, et la solution trouvée a été très simple : et si on inversait la rivière ? Du coup ils ont creusé un canal, et inversé le flux avec une série d'écluse ! Maintenant la pollution de déverse dans le Mississipi, et ce n'est plus le problème des Chicagoens !
Then we have reserved a cruise on the river and the lake. The sun is shining, so we can enjoy the wonderful view of Chicago skyline. To go on the lake, the boat must go through a lock. The guide explains us that is because the river was reversed ! The residents of Chicago used to throw their garbage into the river, which then went to the lake, which is one of the biggest freshwater stocks in the world. The pollution quickly became a problem, and the solution was very simple : what if we reversed the river ? Thus they dug a canal, and reversed the flow of the river with a succession of locks ! Now the pollution goes into the Mississippi, and that's not the Chicagoens' problem anymore !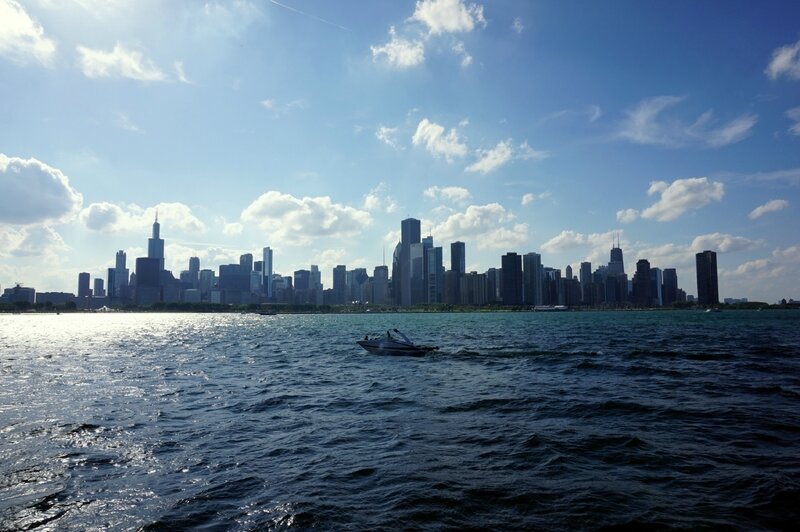 On fait donc une petite virée sur le lac avant de revenir sur la rivière pour admirer tous les gratte-ciels aux architectures originales. Vous remarquerez sur les photos la Trump Tower (on ne peut malheureusement pas louper son nom…), ou les deux tours en épis de maïs de Marina City (avec un parking en spirale sur les premiers étages, et des appartements avec balcon au-dessus).
So we are on the boat and we go on the lake before coming back on the river to admire all buildings with original architectures. You'll notice on pictures the Trump Tower (we sadly can't avoid his name ...), or the 2 towers which looks like ear of corn in Marina City (with a spiral parking on the first floors, and apartments with balcony above).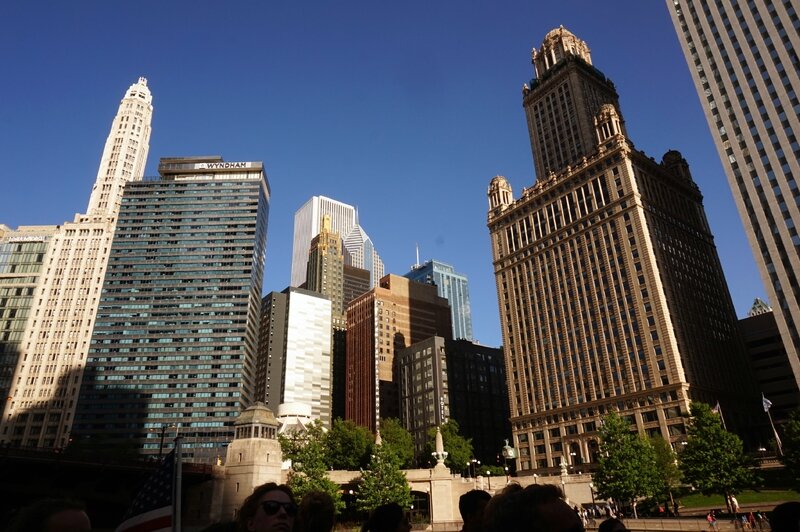 Après en avoir pris plein la vue, on va reprendre des forces avec une Deep Dish pizza, une spécialité de Chicago. Il s'agit d'un mélange entre quiche et pizza, avec de la pâte brisée pour le fond de tarte, une épaisseur de chair à saucisse, puis une épaisseur de fromage, puis de la sauce à pizza. Encore une spécialité culinaire toute en légèreté ! On est content d'avoir gouté, mais on n'en reprendra plus…
After a full day of visits, we want to regain strength with a Deep Dish pizza, a Chicago specialty. This is a mix between quiche and pizza, with short pastry on the bottom, a layer of sausage meat, then a layer of cheese, and then pizza's sauce. Once again this is a light recipe ... We are happy to have tried it, but we are not going to eat that one more time ...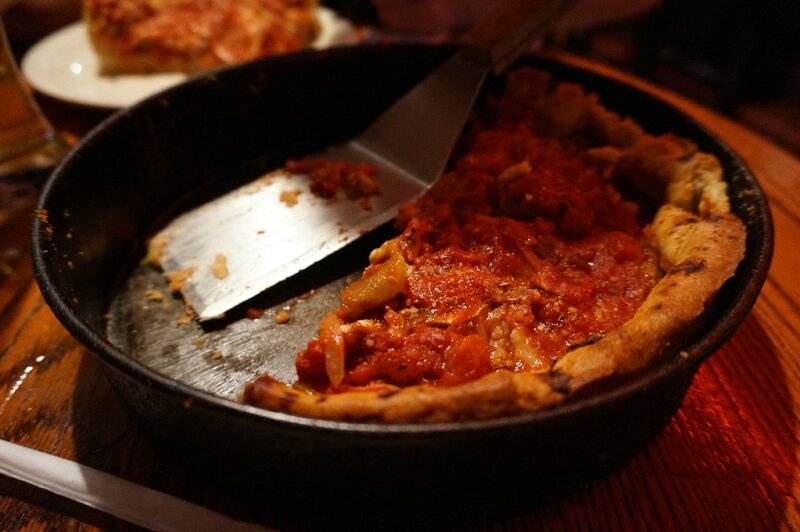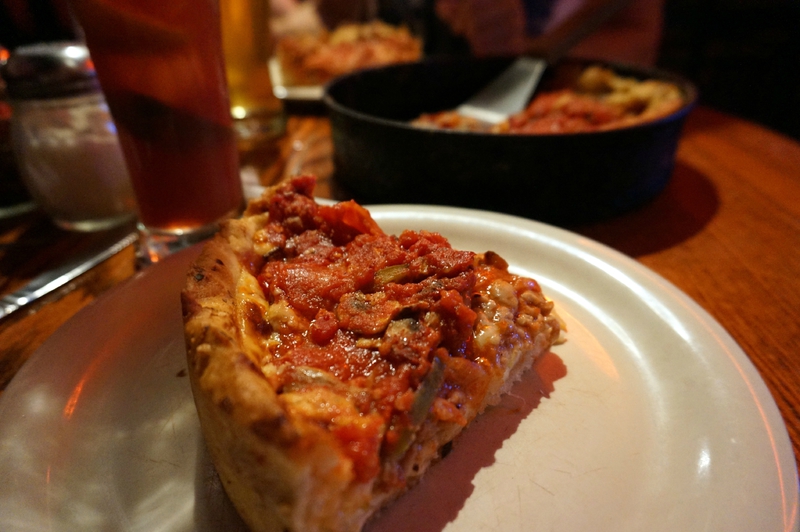 On finit la soirée sur le Museum Campus avec une jolie vue sur la skyline de nuit, et en prime un feu d'artifice sur le port.
We end the night on the Museum Campus with a beautiful view on the skyline at night, and bonus we can watch a firework on the harbor.
La suite ici.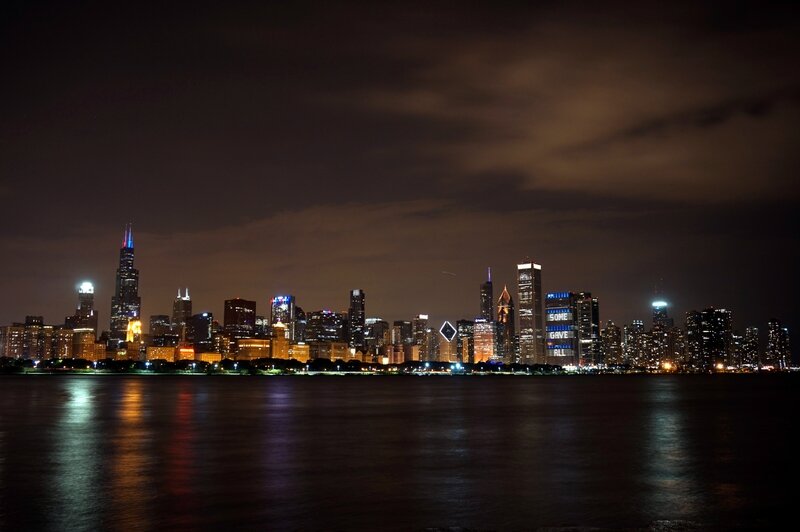 Note : Cette visite a été fortement inspirée par le blog de Mathilde
Memo : this visit was strongly inspired by le blog de Mathilde.
22 mai 2016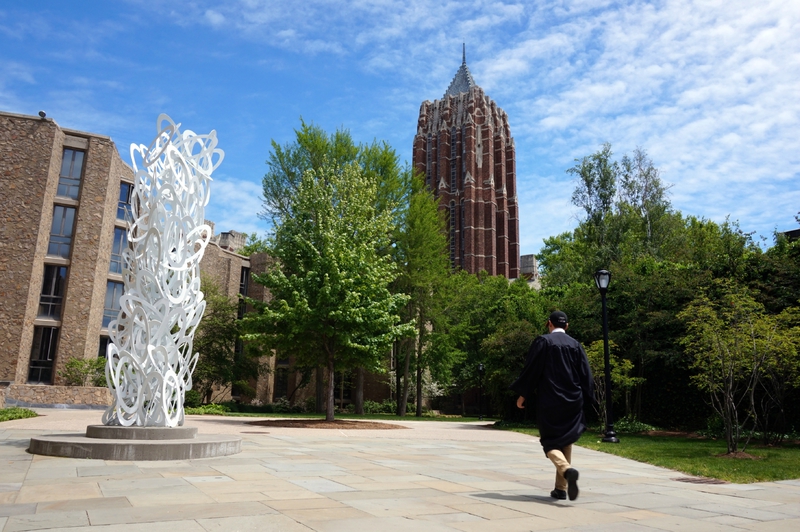 Deuxième jour dans le Connecticut ! Après un brunch bien copieux, direction l'université de Yale. L'année dernière on avait été déçu de la voir sous la pluie, mais aujourd'hui on a de la chance, le soleil décide d'être de la partie. On commence par passer devant de jolis batiments, dont le gymnase (oui, c'est le gymnase la photo ci-dessous). Lundi c'est la remise des diplômes, donc l'ambiance est festive sur le campus. Une de leur tradition est le "Class Day Exercise", où tous les élèves diplômés se retrouvent pour assister à des remises de prix, et un discours d'un invité prestigieux : cette année c'est l'ambassadrice des US à l'ONU. Ca nous permet de voir tous les étudiants en robe de remise de diplôme, mais au lieux des chapeaux traditionnels, aujourd'hui ils portent des couvre-chefs farfelus : de vraies œuvres d'art représentant des ballons, des globes terrestres, des oiseaux...
Second day in Connecticut ! After a generous brunch, we head towards Yale University. When we went there last year, it was raining all day therefore we were disappointed, but today we are lucky it's a sunny day. We start by walking along beautiful buildings including the gymnasium (yes this is the gymnasium on the picture below). The graduation is Monday, so there is a festive atmosphere on the campus. One of their tradition is the "Class Day Exercise" : every graduate students meet together to attend awards ceremonies and a speech from a prestigious guest : this year this is USA's ambassadress to the UN (United Nation). That allows us to see all students with their graduation gowns, but instead of their traditional hat, today their wear eccentric hats : art works with balloons, Earth globe, birds ...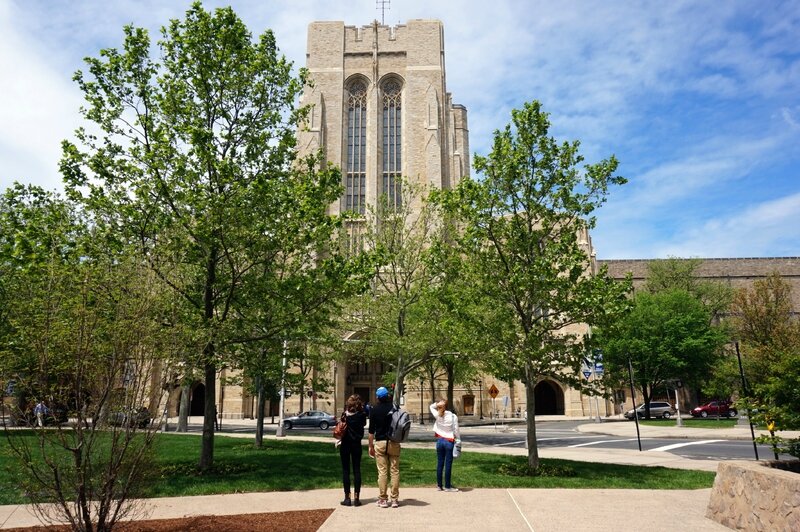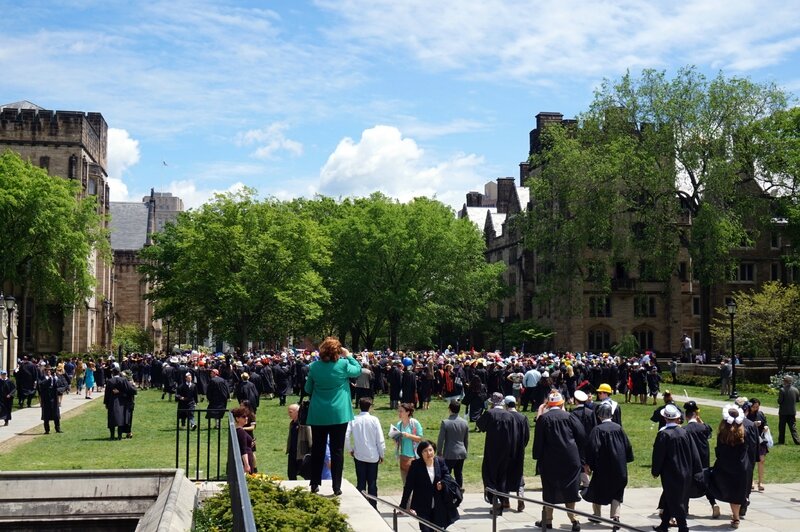 Les bâtiments de l'université sont vraiment magnifiques. On visite la bibliothèque, construite selon le modèle d'une cathédrale, c'est magnifique. Les festivités du jour nous permettent aussi de rentrer dans des "colleges", où dorment les étudiants. Ils ont été créés sur le modèle des colleges de Oxford ou Cambridge, mais contrairement à ces derniers ils n'offrent pas de cours indépendants, il s'agit plus de "maisons", un peu comme dans Harry Potter. Et en entrant dedans on se croiraient dans Harry Potter : une salle commune avec des tables en bois massif, une bannière représentant un lion vert trône sur le mur. A l'extérieur se trouve un jardin clôturé trop mignon, impossible à voir depuis l'extérieur. On se verrait bien étudier à Yale !
University buildings are really wonderful. We visit the library, built like a cathedral, it's splendid. Thanks to festivities, we are able to enter some "colleges", were you can find students' dorms. They were built with the model of the colleges of Oxford or Cambridge in England, but in opposition to this ones, they don't offer independent lessons. They are more like "houses" in Harry Potter. And when we enter inside, we feel like we are in Harry Potter : a common room with solid wood table, on a wall a banner which represents a green lion. Outside we find a cute closed garden, impossible to see from outside. We would easily see us study at Yale !
Pour finir la journée, on passe par Hartford, la capitale du Connecticut. Le capitol, situé au bout d'un grand parc, a une très jolie coupole dorée.
To end the day, we stop in Hartford, the capital of Connecticut. The capitol, located at the end of a big park, has a very beautiful golden dome.